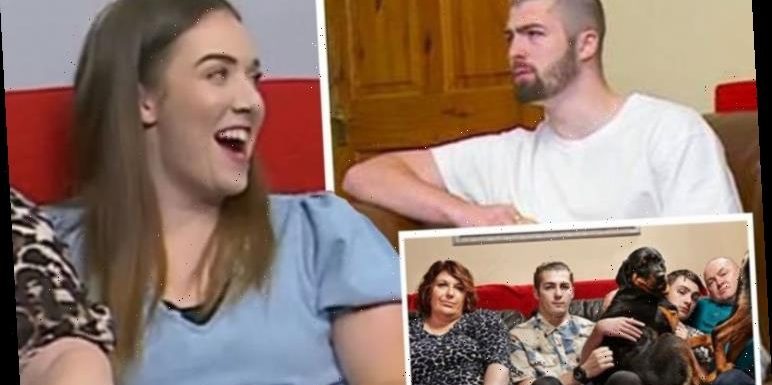 Gogglebox: Vanessa Malone is introduced to show
When you subscribe we will use the information you provide to send you these newsletters.Sometimes they'll include recommendations for other related newsletters or services we offer.Our Privacy Notice explains more about how we use your data, and your rights.You can unsubscribe at any time.
The funny family usually appears with their many dogs and either one or both of the sons, but tonight the Channel 4 show saw them joined by a daughter. Several fans took to Twitter to express their surprise at having a new family member appear on Gogglebox.
One said: "Love how the Malones just spring family members upon us, I remember when they showed the grandkids for the first time and now a random sister appears #Gogglebox."
Another added: "Woah woah woah who's the new girl in the Malones? #Gogglebox."
"Who is the new girl in the Malone family? #Gogglebox," another asked.
Another confused viewer said: "THE MALONES HAVE A DAUGHTER?!?!?! #Gogglebox."
While one more wrote: "Didn't know The Malones has a daughter!???, where has she been all this time…. #gogglebox."
While one wrote: "Didn't know The Malones has a daughter!???, where has she been all this time…. #gogglebox."
Another Gogglebox fan said: "Not sure how I feel about there being a new Malone. Can't cope with change #gogglebox."
"I missed the first 10 minutes #Gogglebox Who's the new Malone," one more asked.
The Malones have been popular with viewers ever since they first appeared on the show back in 2014 for the fourth series of the hit show.
Gogglebox: Mary tells Giles to 'stop being nasty'
They are a family of six, with parents Tom and Julie heading up the household, and children Lee, Vanessa, Tom Jr, and Shaun.
Their four beloved Rottweilers: Dave, Lucy, Izzy and Joe, also make regular and often humorous appearances.
Lee and Vanessa don't usually appear on the series, with bodybuilder Lee running a property renovations business.
The Malones live in Manchester and continue with their day jobs as well as taking part in the show.
DON'T MISS…
Doctor Who's Rose Tyler returns in explosive twist? [SPOILER]
Midsomer Murders: DS Jamie Winter on 'ruining filming' [INTERVIEW]
Escape to the Country left couple 'blown away' – but there was a catch [VIDEO]
Tom, 27, recently quit the reality show after six years in order to focus on new opportunities. Discussing his "dream" job with Express.co.uk, he revealed he would love to combine television work with his dance career.
The reality star has been a professional break dancer since the age of 14 and previously danced in an opening number on Strictly Come Dancing as one of the B-Boys.
On his next desirable move, he spilled: "Ideally I'd love to be involved in both dance and TV, to some capacity in the future.
"Whether that was presenting dance shows or judging on dance shows or something.
"I'd definitely be interested in doing something in TV still, but that is still kind of attached to dance.
"Those two things I enjoy a lot, I've danced since I was six."
On whether he'd like to return to Strictly, he said: "I would love to!
"If the opportunity came up to go on Strictly as a contestant, I've never done Ballroom in my life, so it'd be interesting to see how as someone who breaks, I'm used to dancing upside down, how those two worlds could come together."
Gogglebox airs on Fridays on Channel 4 at 9pm.
Source: Read Full Article