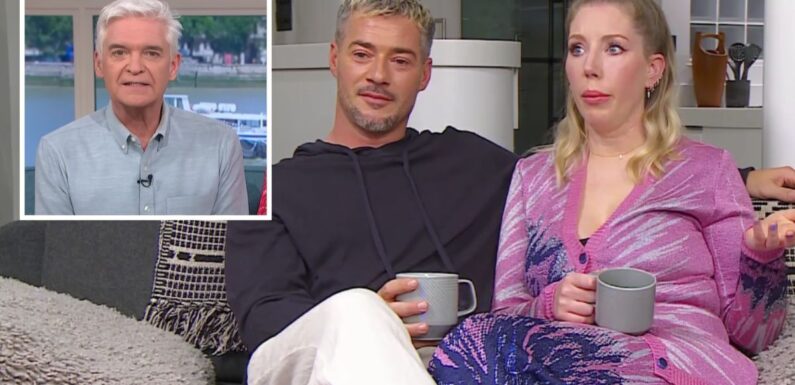 Gogglebox: Best moments and shows episode
Nick Grimshaw and niece Liv watched a clip of This Morning hosts Alison Hammond and Dermot O'Leary dressed in rave gear and dancing as they presented the ITV show.
As the This Morning cameras went backstage to show the crew, Liv exclaimed: "Is that all the people that work at This Morning? I thought there would more?"
"Oh everyone's been fired, haven't they?!" Nick cut in, mocking Phillip Schofield's recent exit from ITV.
He also joked: "Normally they're being shouted at and today they're allowed to have a dance!"
The pair weren't the only ones to joke about Phillip's departure with Katherine Ryan remarking: They're like, 'See, what toxic work environment? Look how non toxic we are!'"
Roman Kemp also chipped in as he sang along to the This Morning theme tune: "Nothing is wrong, nothing is wrong, with our show…."
The jokes came as ITV bosses responded to claims This Morning was a "toxic" work environment.
Speaking in front of MPs at a committee held by Department for Digital, Culture, Media & Sport (DCMS), Carolyn said it was "disappointing" and "deeply distressing to hear" former employees called ITV a "terrible place to work".
She added they "do not recognise" toxicity at ITV and the "vast majority" at the broadcaster as "extremely engaged and very motivated".
Don't miss…
Gogglebox fans 'heartbroken' as they share concern for 'missing' favourite[INSIGHT]
Gogglebox viewers express 'crushing disappointment' minutes into best bits show[LATEST]
Gogglebox fan favourites taking a break from the show[UPDATE]
Gogglebox viewers certainly enjoyed the jibes made at ITV and Phillip, and took to Twitter to comment on the episode.
@MrsCarter22 posted: Celebrities throwing shade at This Morning! So funny "Nothing going on here" #CelebrityGogglebox #Gogglebox #ThisMorning."
"The shade thrown at #ThisMorning on #Gogglebox tonight was immense," @thepanda84 shared.
@vickinotaro tweeted: "Screaming at #CelebrityGogglebox absolutely ripping the p**s out of This Morning."
We use your sign-up to provide content in ways you've consented to and to improve our understanding of you. This may include adverts from us and 3rd parties based on our understanding. You can unsubscribe at any time. More info
@LauraCassels1 shared: "In stitches at all the snarky comments about This Morning. "What toxic work environment?" "Everyone's been fired, haven't they?" "And they say This Morning's in crisis." On a side note, there's no force on this earth to make me rave my stress away."
@FizzyBlue22 added: "I loved the celebs #CelebrityGogglebox joking about #ThisMorning."
@TwellyWatcher tweeted: "The fact that it's the CELEBRITIES joking about This Morning too and not just us regulars #CelebrityGogglebox ur makes it even funnier but also very embarrassing for This Morning…" (sic)
Celebrity Gogglebox continues Friday on Channel 4 at 9pm.
Source: Read Full Article