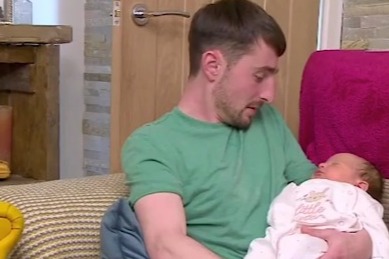 GOGGLEBOX star Pete Sandiford has become a dad for a second time.
The reality TV favourite introduced the world to his newborn daughter on last night's show and shared her sweet name.
The nonchalant reveal came as sister Sophie was loading the washing machine out of shot.
Pete shouted: "Hey Sophie, have I told you her name? We think we're going to call her Evie Sylvie Sandiford."
Sophie called back: "Oh I love that!"
The dad-of-two announced his wife Paige's pregnancy with a remark to their son Jimmy in a December episode.
He told the lad: "Jimbers, you're going to have a little brother or sister coming. You're going to have to milk it!"
Sophie, who had him on her knee, added: "You're going to be a big brother."
Elsewhere in the show, Ellie Warner revealed she had given birth to her first child.
She rocked the newborn before handing him over to his auntie Izzi for a cuddle.
Most read in News TV
Phil reveals brother was reason behind broken friendship with Holly
This Morning set for midweek shake-up as TWO presenters will join Holly
Grand Tour filming halted ahead of new series – thanks to Jeremy Clarkson
Christine McGuinness shares shock pic of her new face – but is all as it seems?
Fans flocked to Twitter to share their joy over his on-screen debut, with one user tweeting: "Ellie on Gogglebox and her beautiful baby are making me broody."
A second wrote: "Congrats to Ellie on the birth of her baby boy."
"Congratulations Ellie!!! He's gorgeous," a third gushed.
Ellie gave her fans a closer look at her son on Instagram and confirmed his name.
In the snap, the newborn could be seen sleeping in his basket covered by a yellow blanket.
She captioned the post: "Sweet baby Ezra 💛 he has made our lives complete 🥰 we love you so much son."

Source: Read Full Article