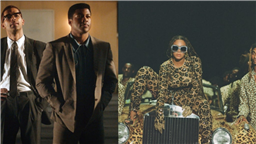 Think less "Harriet," more "Sister Act 2"
Now a federal holiday, Juneteenth (June 19) commemorates the end of slavery in the U.S. Although this day marks just the beginning of an ongoing battle for equality, Juneteenth represents an opportunity to celebrate the joy of the Black experience as much as the hardship. And TheWrap's got a great list of films to get the celebration started.

Once you've checked out some of the more educational Juneteenth-related fare, like "13th" or "I Am Not Your Negro," consider adding some of these joyful flicks to your streaming list.
"Soul" (Disney+)
"Soul," Pixar's first film to feature an African American protagonist, follows Joe Gardner, a middle school music teacher with dreams of becoming a jazz star. When Joe dies prematurely before receiving his big break, he gets a second chance at his fantasy when he accidentally enters the Great Before — a place that prepares unborn souls for real life. Not only does this film explore the intricacies of life and death, "Soul" features a predominantly Black voice cast, ranging from Jamie Foxx to Angela Bassett to Daveed Diggs.
Co-director and screenwriter Kemp Powers, who is also Pixar's first Black writer-director, doesn't view the film as a "Black" movie, but instead honors the universal story from the perspective of a Black man. "Joe could have been of any race — but if Joe was going to be a Black man it was really important that he feel authentically of that group. I didn't want him to seem like a stereotypical character that was just painted black," Kemp told TheWrap.
"(In)visible Portraits" (Amazon Prime Video)
"(In)visible Portraits" celebrates the strength and courage of Black women, beginning the healing process from decades of generational trauma. Released on Juneteenth of 2020, filmmaker Oge Egbuonu devoted her film to weaving together narratives of struggle and celebration from Black women and scholars.
"I think it's really important that we reclaim the narrative of who we are, especially as Black women, and to cultivate a space that allows so many different Black women and girls to tell their story," Egbuonu told WrapWomen. While this emotional documentary explores painful traumas Black women have faced throughout U.S. history, it acknowledges Black women's role as uniting communities — building its own community in the process. 
"Black Is King" (Disney+)
As a musical film and visual album written and directed by Beyoncé, "Black Is King" accompanies "Lion King: The Gift," album curated by Beyoncé for the 2019 remake of "The Lion King." The film follows Simba, represented as a young Black boy, but adds in layers of depth by drawing from traditional and contemporary elements African culture.
Featuring numerous African and American collaborators, including her daughter, Blue Ivy, Beyoncé weaves in Pan-African symbolism while remaining true to the plot. Although the directors had additional plans to shoot with Beyoncé in South Africa until the COVID-19 Pandemic prohibited them, "Black is King" is a triumphant masterpiece that celebrates the divine Black identity.
"One Night in Miami…" (Amazon Prime Video)
The Academy Award-nominated film tells the fictionalized account of Black icons Malcolm X, Cassius Clay (who later renamed himself Muhammad Ali), Jim Brown and Sam Cooke one night in 1964. While the dialogue and exact events are fictionalized, "One Night in Miami…" touches on pressing issues with these Black leaders debating how to move forward as the Civil Rights Movement advanced — Malcolm's challenges with Nation of Islam leadership, Clay's impending conversion to Islam and Cooke's struggle to use his platform to push the perception of the Black community forward. Directed by "Watchmen" star Regina King, "One Night in Miami…" celebrates Black leaders of the past and inspires those to come.
"Sylvie's Love" (Amazon Prime Video)
"Sylvie's Love" offers a whimsical and old-fashioned love story centering on two Black leads in 1960s New York City. Writer and director Eugene Ashe's refreshing take on this classic tale offers Black audiences the opportunity to see themselves in a time period and genre they aren't usually reflected in.
"We generally see (Black characters) only through the lens of the civil rights movement if we're handling subject matter that deals with Black folks in the '60s," Ashe told theWrap. "So I just kind of wanted to do something a little different."
"Girls Trip" (FuboTV)
This uproarious comedy sees a group of pals reuniting for the trip of a lifetime. Hollywood veterans Regina Hall, Queen Latifah and Jada Pinkett Smith guarantee a good time, but it's Tiffany Haddish that steals the show in her star-making performance as Dina. The women's chemistry is off the charts and the crazy scenarios more than pay off, earning "Girls Trip" a well-deserved spot in the annals of raunchy comedy history alongside "Bridesmaids" and "The Hangover." The movie was both a critical and commercial smash, with critics applauding how rarely films focus on Black women in their 40s are, let alone ones this funny.
"Cinderella" (1997) (Disney+)
Although this charming fairytale is typically best-remembered for its diverse cast, it should actually be remembered for being the best adaptation of Rodgers and Hammerstein's "Cinderella." Brandy, hot off the success of her sitcom "Moesha," stars as the titular heroine with Whitney Houston in the role of her Fairy Godmother. Everything about the film is magical, from the excellent musical numbers to the vibrant costumes to a heart that far outsizes its made-for-TV budget. Don't believe us? Mashable's review called it a "masterpiece." 
"The Watermelon Woman" (Showtime)
With an impressive 100% Rotten Tomatoes score, you can't go wrong with "The Watermelon Woman." Part narrative feature, part documentary, the movie follows filmmaker Cheryl Dunye as she researches an obscure Black actress from the 1930s simply credited as "The Watermelon Woman." Written and directed by Dunye, a queer Black woman, this flick is just as much about the love of film as it is about the importance of representation in film. One review likened the film's plot progression to "the ecstasy of newfound romance."
"Waiting to Exhale" (Epix)
This classic 1995 romantic comedy follows four Black women as they navigate the pitfalls of romance, family, career and everything in between. Directed by Forest Whitaker and starring Whitney Houston and Angela Bassett, "Waiting to Exhale" is a testament to the healing power of friendship. In addition to a highly-GIF'd scene of Bassett strutting away from a burning car, the movie also gave us a popular soundtrack written and produced by Baby Face. Newsweek lauded its "moonstruck romantic fantasies" and "language of self-empowerment."
"Sister Act 2: Back in the Habit" (Disney+)
Don't listen to the critics, "Sister Act 2: Back in the Habit" is a "Joyful Joyful" gem, as the song goes. Whoopi Goldberg reprises her role of nightclub singer-turned-nun Sister Mary Clarence as she coaches a group of inner city youth to gospel choir greatness.The movie also features a young Lauryn Hill pre-Fugees and five years before her seminal album "The Miseducation of Lauryn Hill." The music in this film is irresistible, with one glowing review stating that it could only have been made by people who "understand on an intuitive level why we sing in the first place."
Source: Read Full Article