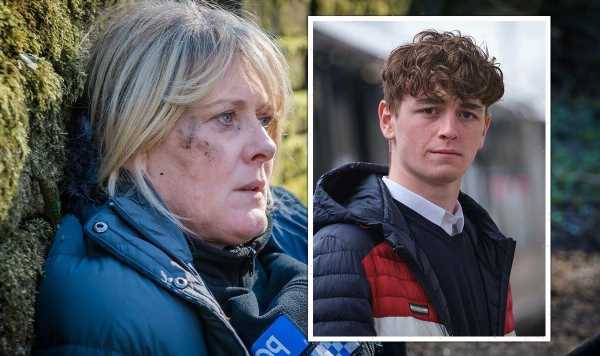 Happy Valley: Joanna is attacked by Faisal
We use your sign-up to provide content in ways you've consented to and to improve our understanding of you. This may include adverts from us and 3rd parties based on our understanding. You can unsubscribe at any time. More info
Catherine Cawood (played by Sarah Lancashire) confronted her sister Clare (Siobhan Finneran) about her betrayal on last week's dramatic instalment of Happy Valley. Clare had been taking Ryan Cawood (Rhys Connah) to see his vile father Tommy Lee Royce (James Norton) in prison behind her back. Catherine gave her grandson an ultimatum and the episode ended with a beaten Joanna Hepworth (Mollie Winnard) looking like she was going to get killed by dodgy pharmacist Faisal Bhatti (Amit Shah).
Catherine was furious when she discovered 16-year-old Ryan was being taken to a Category-A prison to see murdering rapist Tommy.
She has been trying to protect Ryan from the serial killer who has been behind bars for several years.
The police sergeant does not feel Ryan is old enough to know his mother – and her daughter – Becky was raped by Tommy and took her own life six weeks after he was born.
Catherine gave Ryan an ultimatum during the tense episode, telling him he could no longer live with her if he continued to speak to her nemesis.
She later confided in her ex-husband Richard Cawood (Derek Riddell) about the prison visits.
She told him: "It sounds like they [Tommy and Ryan] get on like a house on fire."
Was her comment to Richard a chilling clue about how the series, written by Sally Wainwright, will conclude?
Happy Valley viewers have been trying to connect the dots about how the series will end for Catherine, Ryan and Tommy, for weeks.
Some are convinced a fire will rip through either Catherine or Joanna's house.
@Randomone penned on Twitter: "Two references to fire in one episode.
Is that a hint? #HappyValley."
DON'T MISS…
Happy Valley star opens up on 'bittersweet' final season [INTERVIEW]
Happy Valley star details James Norton 'switching into psychopath' [LATEST]
Happy Valley character most likely to be killed off next exposed [UPDATE]
Rebecca Shekleton, who hosts Shrine Podcasts, said: "I watched the opening credits very closely, there was someone grabbing a petrol can out of the boot of a car.
"Someone else messaged us saying they think the series will end with Catherine using a fire extinguisher the way it started with her in [the park].
"I think there is going to be a fire, and Dan's [Cawood] house is beautiful and it does look like a scene where a fire could happen."
Her co-host Brendan O'Loughlin noted how Alison Garrs (Susan Lynch), who is living in a high-rise block of flats following her release from prison, told Catherine there are no sprinklers inside the building.
Could the block of flats end up going up in flames later on in the series or will Catherine be left fighting for her life if her house is torched while she's inside?
Tommy is in prison as it stands, but could he persuade someone on the outside to set fire to Catherine's house? She recently caught Ryan with a lighter – but would he turn on her?
The villain got hold of a phone in prison in episode two, so he is able to text people outside his cell walls.
Happy Valley continues on Sunday at 9pm on BBC One.
Source: Read Full Article