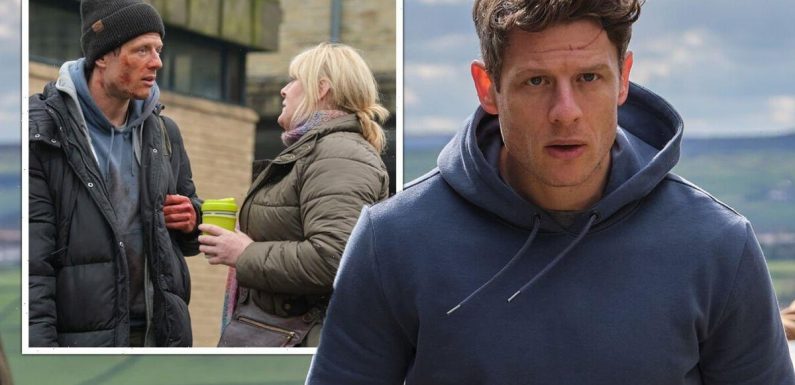 Happy Valley: Rhys Connah teases spin-off
We use your sign-up to provide content in ways you've consented to and to improve our understanding of you. This may include adverts from us and 3rd parties based on our understanding. You can unsubscribe at any time. More info
WARNING: The following article contains spoilers from Happy Valley season three.
After years of waiting, Tommy Lee Royce (played by James Norton) and Catherine Cawood's (Sarah Lancashire) story came to a dramatic and emotional conclusion. Happy Valley fans across the nation had their heart in their mouths as Catherine was finally able to leave Tommy and his hold over her family behind her.
Ahead of the series finale, there were rumours multiple endings had been filmed to keep the conclusion a surprise.
Many of the cast also confirmed they had redacted scripts so they too watched in an anticipation on Sunday night.
Now, actor James has cleared up rumours of alternate endings, claiming it's all "nonsense".
His comments come after Amit Shah, who played corrupt pharmacist Faisal, said bosses kept his storyline open.
Speaking on The News Agents podcast withto hosts Emily Maitlis and Lewis Goodall, James said it was "very special" to conclude the show.
He commented: "Everyone knew that this day was very special.
"No one knew what was going to happen because they only gave the scripts to Sarah and myself and the people, the producers who needed to know, so everyone was really excited to see what happened.
"And the crew, the cast, everyone was walking around in whispers.
"The energy was palpable. It was crackling. And Sarah and I, I think we knew the pressure on us, but often you thrive in that kind of environment.
"I mean, I could say so many platitudes about her. She's genuinely very, very special and brilliant."
Addressing rumours of a different ending, James confirmed: "No, that's complete nonsense. I can put that to bed now.
"That was the media taking something which was said completely out of context.
"I think what happened is Amit Shah, who played Faisal said that… I think they shot his final scene in lots of different ways, different sort of interpretations, which was then misconstrued and then was a rumour that we'd shot hundreds of different endings, which would have been a hugely wasteful and impractical way of shooting."
James said it would be "nonsense" to spend time filming alternate endings as they were "against the clock" to finish the series.
It comes after James' co-star Rhys Connah said there was only one reason he would return to his role as Ryan Cawood.
Speaking to Richard Arnold on Good Morning Britain, he explained: "If Sally asked me to do pretty much any role again I would be completely up for it.
"Let me say this clear, I don't want anything taken out of context, there are no plans for season four.
"As of now, Sally is completely happy with how she has left the series.
"But like you said, if in seven years Sally came to me and said, 'Do you want play Ryan seven years on when he's a police officer? If he was an Inspector or something.'
"I would absolutely do that without a second heartbeat, I would 100 percent go for it."
Happy Valley is available to watch on BBC iPlayer now.
Source: Read Full Article