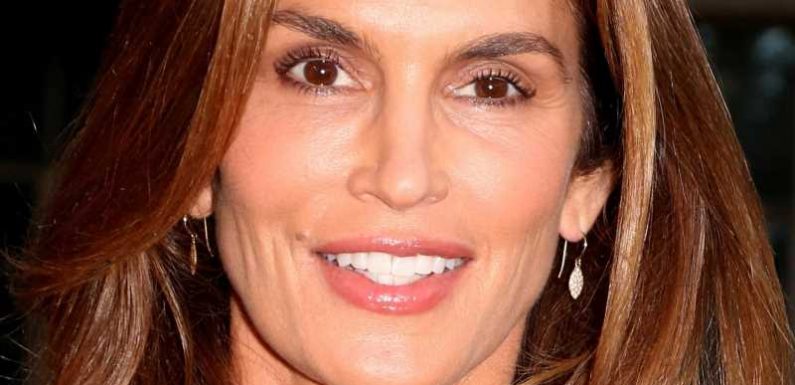 Cindy Crawford will surely go down in pop-culture history as one of the most famous models — or rather, supermodels — to ever strut down a catwalk or pose for a magazine cover shoot. However, these days, we don't tend to hear about Crawford as much as we did in the past. That's partially because she's retired from the world of full-time modeling.
In 2016, Crawford told Hemispheres (via Glamour), "I'm sure I'll have my picture taken for 10 more years, but not as a model anymore. And that's OK. I've done it." She added, "I've worked with all these incredible photographers. What else do I need to do? I can't keep reinventing myself. I shouldn't have to keep proving myself. I don't want to." While the star has every right to step back from the spotlight and settle into a life away from the cameras, Vanity Fair deemed it "the end of the Cindy Crawford era" while also noting that "it was quite a magnificent, lucrative run she had."
Indeed, thanks to Crawford's incredibly successful career, she now has a massive fortune. However, she wasn't always as rich as she is nowadays.
Cindy Crawford had a serious motivation for making money
Before Cindy Crawford was famous, she was Cynthia Ann Crawford from DeKalb, Ill., per Biography. By the time she was in high school, Crawford's parents had divorced, and she told TheLeapTV that while her family had been "barely making it" before the split, afterward, it put her mother in an incredibly precarious position financially.
One reason for that was the fact that Crawford's father would use "his financial power in a way that … was controlling." Specifically, he would "[withhold] the money that he was supposed to give [Crawford's mother] every week to help support [her and the star's siblings]." Because of this, Crawford was determined to make her own money.
In turn, as a teen, Crawford ended up getting jobs on local farms where she spent her time "cleaning and shucking corn." Eventually, she ended up in front of the camera, however, her work ethic remained the same. In fact, according to Elle, Crawford's "career, as both a model and a business­woman" was so successful and so inspirational that it "fundamentally changed the way today's top … models approach their work."
That's why it shouldn't be surprising to find out that all of Crawford's effort and savviness paid off. Along with her husband, Rande Gerber, Crawford has a whopping $400 million, according to Celebrity Net Worth. However, the outlet also noted that "on her own, Cindy's fortune would easily top $200 million." That's certainly not bad for someone who started out shucking corn!
Source: Read Full Article