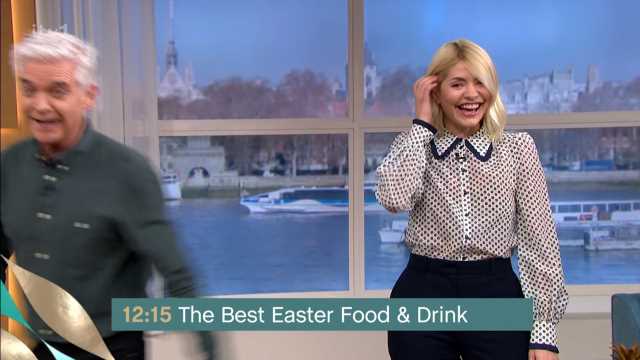 PHILLIP Schofield pretended to storm off This Morning today after Holly Willoughby told viewers "leave the room" in an autocue blunder.
Holly, 42, jumbled her words while reading the text on their telly prompter.
She said: "Did I say leave the room?" before taking another stab at it.
Phil, 60, quickly corrected her in a bid to carry on and said: "We leave room."
It dawned on Holly that she'd essentially ordered them all to evacuate, and laughing, she added: "Oh, we leave room! Not, leave the room!"
Behind-the-scenes editors decided to switch cameras to show viewers the text on the autocue, but when it flashed up on the screen Phil got in a flap.
READ MORE ON THIS MORNING
This Morning star gets huge tattoo on his neck and reveals who it's dedicated to
This Morning's Alison Hammond forced to apologise after guest swears live on air
He teased: "Don't transmit the autocue, if you transmit the autocue there's no need for us!
"You may as well run the autocue and you can read it at home."
The star added: "Read it for youself, bye bye" before pretending to march off, leaving Holly in stitches.
Holly has previously opened up about struggling with dyslexia in her younger years.
Most read in TV
Bond casts Daisy May Cooper to play MI5 boss M as they replace Ralph Fiennes
'Real reason' why Gino D'Acampo quit show with Gordon Ramsay and Fred Sirieix
Emmerdale villain makes sensational return to soap after a decade off screen
Gordon Ramsay and Fred Sirieix break silence after Gino D'Acampo quits show
Holly said she spent years feeling "terrified" people would think she was stupid after being diagnosed with dyslexia.
Holly said she spent years feeling "terrified" people would think she was stupid after being diagnosed with dyslexia.
Holly opened up how the learning disorder shattered her confidence but said she is ready to take the "power" back as she heads into her 40s.
The mum-of-three told Red magazine: "I've struggled with dyslexia since I was young and it used to hold me back.
"At school, reading out loud absolutely terrified me because I'd get all the words wrong and I was convinced everybody thought I was stupid.
"It still happens now – most of the mistakes I make on This Morning are because of it, but it doesn't do what it did to me back then because I don't let it have power. I now know that it's all about how you package it in your head."
Holly uses coloured scripts to help her prepare for the daytime show.
She also said she worries for her three children as dyslexia can be hereditary and her own mother can be just like her.
Read More on The Sun
We got loads of free food – here's how to bag a burrito & Greggs sausage roll
Primark fans scramble to buy the new Chloé dupe sandals that are £356 cheaper
She said: "I do bear it in mind quite a lot. Although my mum hasn't been officially tested she has very similar tendencies to me.
"I don't know whether that's hereditary or not, but I do think about that.  Schools are so much more advanced in looking out for it than when I was at school."

Source: Read Full Article