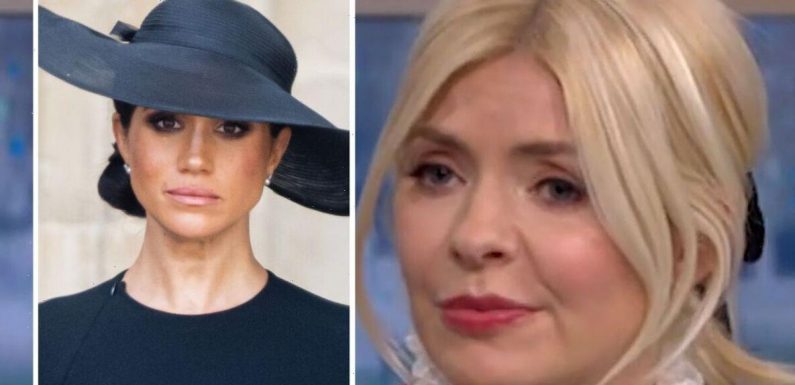 This Morning: Panel clash in Meghan and Harry series debate
We use your sign-up to provide content in ways you've consented to and to improve our understanding of you. This may include adverts from us and 3rd parties based on our understanding. You can unsubscribe at any time. More info
Holly Willoughby and Phillip Schofield spoke about Meghan Markle and Prince Harry's Netflix documentary on Tuesday's This Morning after the latest trailer for the series was dropped. However, the conversation soon took a turn when the ITV host and royal expert Camilla Tominey clashed over the royal's privacy and being photographed.
"Can anyone name a paparazzi shot that was taken covertly of the couple in this country that was published in a National newspaper?" Camilla asked.
Holly was quick to point out: "There were comparisons at the time between how Kate was being treated and how she was being treated."
"Holly, even the footage of Kate," Camilla interrupted as Holly fired back: "I am trying to offer another side to this."
"I don't like for anyone who is not here…," the host trailed off as Camilla cut in: "The truth of the matter is and I work on a national newspaper, I have covered the Royal Family since 2005.
READ MORE: BBC Breakfast viewers slam 'appalling' and 'biased' Rayner interview
"The absolute truth of this matter is, there is no market for royal paparazzi shots anymore.
"Like post-Leveson, you don't see any pictures of the children, you don't see any pictures of the couple in private.
"And actually, as far as viewers are concerned, quite rightly, the Diana years were too intrusive.
"So this idea that they were treated like… they were living in the middle of Windsor Great Park, in a grade two listed mansion, completely unbothered."
The segment sparked a strong reaction from viewers, with many defending the royals.
User sbe47umk pleaded: "Please Leave Harry & Meghan alone Just Stop harassing them." (sic)
User @OldSoulHighs added: "Leave Meghan and Harry alone. We have bigger worldwide issues.. we're being steered away from the truth of what's actually going on." (sic)
While Sue Tilbury added: "Just leave the Harry and Meghan thing alone now please, enough is enough."
The discussion came after Netflix released a new trailer for the docu-series focused on the life and struggles of the Duke and Duchess of Sussex.
However, not all six episodes of the series titled Harry and Meghan will be released on the same day.
The first half of the show will be available to watch from Thursday.
The following week, on December 15, will see the release of the second instalment.
This means episodes four to six of the docu-series will broadcast on the same day Kate, Princess of Wales, is to host her second special Christmas Carol service.
The one-minute trailer begins with the royals in a car, while a voiceover by Harry says: "It's really hard to look back on it now and go, what on earth happened?"
As a flash of images are shown from the couple's relationship, Meghan can be heard saying: "And then…"
Prince Harry added: "Everything changed."
This Morning airs weekdays at 10am on ITV.
Source: Read Full Article