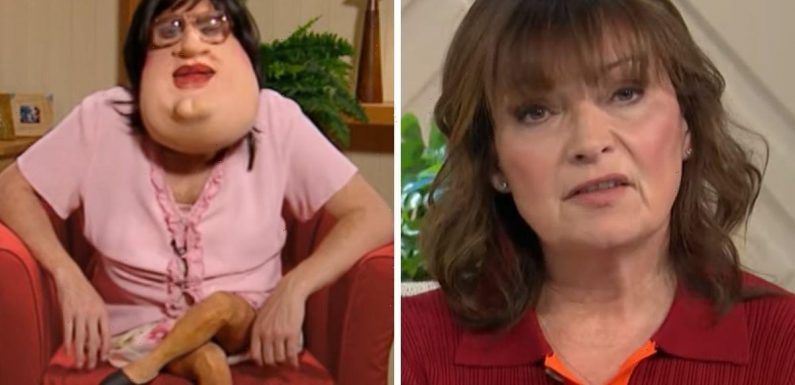 Lorraine Kelly teases interview with Piers Morgan
We use your sign-up to provide content in ways you've consented to and to improve our understanding of you. This may include adverts from us and 3rd parties based on our understanding. You can unsubscribe at any time. More info
Bo' Selecta was a comedy created by comedian Leigh Francis, who is also known as his alter-ego Keith Lemon. The Channel 4 programme which aired between 2002 and 2009, saw the presenter wearing masks as he imitated the likes of Craig David, Mel B and Trisha Goddard.
Despite the Celebrity Juice star apologising for some of his sketches, ITV host Lorraine has since hit out at Keith for his imitation of her.
When asked whether she complained about the show at the time, Lorraine said: "I didn't complain, but I should have.
"To be honest I never saw it, because I didn't watch the show.
"I was actually very, very upset at the portrayal of Craig David because I adore Craig.
"He's the kindest, loveliest man, and that absolutely destroyed his career."
"For a few years that did badly affect him and his career," the ITV host added to Jojo Sutherland and Bruce Devlin on the latest episode of their Be Honest podcast.
"With me, I just found it really distasteful, really horrible and I should have complained at the time, and I certainly would complain now.
"I think any woman would. The portrayal of everybody was actually very cruel."
In June 2020, Channel 4 bosses decided to remove Bo' Selecta from the streaming service All 4.
The decision came after creator Leigh issued an apology for causing offence with his use of blackface in the show.
At the time, the host said he didn't realise the offence it caused the celebrities in question.
Taking to Instagram, he shared a clip with his followers apologising to the likes of Craig David and Trisha Goddard.
He continued: "Hi, my name is Leigh Francis and I play a character called Keith Lemon on television," he explained.
"It's been a weird few days and I've sat and thought about things and what I could post to try and help things.
"Back in 2002 I did a show called Bo' Selecta! and portrayed many black people.
"I didn't think anything about it, people didn't say anything, I'm not going to blame it on other people."
He concluded the clip by saying sorry to the 7 Days hitmaker.
"I've been talking to some people and I didn't realise how offensive it was back then and I just want to apologise," Leigh said.
"I just want to say sorry for any upset I caused, whether I was Michael Jackson, Craig David, Trisha Goddard, all people that I'm a big fan of."
"I guess we're all on a learning journey."
Lorraine airs weekdays at 9am on ITV.
Source: Read Full Article