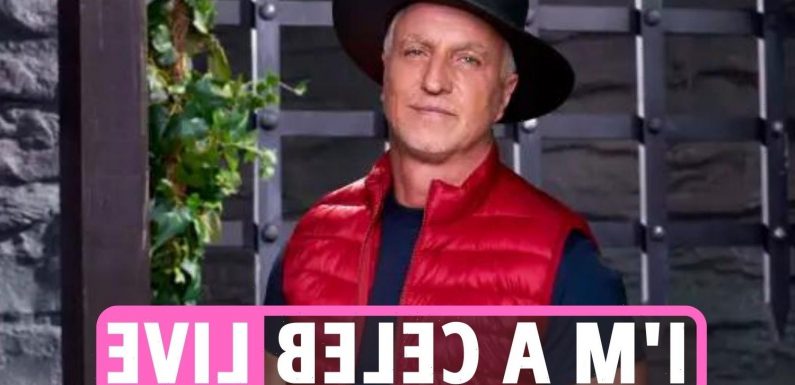 DAVID Ginola's partner says she is 'scared' the football legend will suffer cardiac arrest in the castle after he suffered a horror heart attack five years ago.
Model Maëva Denat, 37, says he eats "like a Viking" — despite being clinically dead for nine minutes after collapsing in 2016.
Meanwhile there was shock after soap star Danny Miller suddenly quit Emmerdale after 13 years.
The 30-year-old, who has played Aaron Dingle on the ITV soap since 2008, made the decision to exit ahead of appearing on I'm A Celebrity.
A source said: "Danny has been on the soap for a very long time and had been thinking about leaving. When I'm A Celeb came up he knew it was the perfect opportunity and would leave him financially secure. Becoming a dad to Albert has really changed his perspective on things."
Read our I'm A Celeb live blog below for the latest news and gossip…
Joseph Gamp




Official: The most DANGEROUS IAC trial

The 12 stars lined up for this year's series of I'm A Celeb have been revealed. But with trials containing killer snakes, contaminated animal 'danglies' and fatal falls, do the contestants really know the real risks that lie ahead? 

Life insurance experts at I'm Insured have analysed the trials from last year's Gwrych Castle and previous seasons to reveal which challenges pose the biggest risk to this year's celebs.

Joseph Gamp




Richard Madeley agreed £200k contract to appear on I'm A Celeb

Richard Madeley is said to have agreed a contract worth an estimated £200,000 to head into Gwrych Castle near Abergele, North Wales.

Previously he flew to Oz in 2019 to support contestant and former rugby star James Haskell, 36, who is married to Richard's daughter, Chloe, 34.

That year, he also appeared on I'm A Celeb's ITV2 spin-off Extra Camp.

He proved braver than boxer Amir Khan, 34, in a "Critter-cal Rescue" trial in a giant termites nest. He collected every key while Amir screamed when he grabbed a live snake.

Joseph Gamp




Explained: Does the winner of IAC WIN anything?

Nope, the winner of an I'm a Celebrity series receives nothing as a prize.

However, thery are given the title of King or Queen of the Jungle – but this year it will be King or Queen of the Castle.

A lot of celebrities are paid a fee to agree to appear on the show.

Giovanna Fletcher was crowned the series' first winner of a show held at the Gwrych Castle in Abergele, Wales.
Joseph Gamp




I'm a Celebrity 2021: Your questions answered

When does I'm a Celebrity start?
Where is I'm A Celebrity 2021 filmed?
How to vote on I'm A Celebrity
Where are Ant and Dec staying in Wales?
I'm A Celebrity full line up – meet all the contestants below:

Prince Charles says 'its time for action on the ground' after COP26

In the banquet suite, the foreign monarch made a short speech and said: "We are tremendously delighted to welcome you back."

He spoke of his late father and his own pride at being "the third generation" to have had such a warm relationship with Charles.

He said it continued with "our two young men" – a reference to the meeting between the Duke of Cambridge and the Crown Prince when the pair watched the World Cup together in 2018.

The King also thanked Charles for his environmental efforts: "I want to say how proud we all are of the successes in Glasgow because that was something you started way beforehand."

Charles said: "You're very kind to mention (Cop26) but now hopefully the talking has gone on for so long, it's time for action on the ground."

I'm A Celebrity: Where to find out about the cast

This year's initial line-up for IAC has been revealed.

You can follow the links for handy information on: 

Naughty Boy
Kadeena Cox
Snoochie Shy
Louise Minchin
David Ginola
Matty Lee
Richard Madeley
Adam Woodyatt
Simon Gregson

Dungeon inmates will have to rough it on ground in sleeping bags

The Sun understands that one of the camps will be fully protected from the elements and feature off-the-floor beds, while the other will have only limited protection and will see contestants have to rough it on the ground in sleeping bags.

The show is being staged in the castle in Abergele, Conwy, for a second year after bosses learned that they would not be able to return to Australia.

So they decided to make changes to last year's format after having slightly longer to prepare.

A source said: "There were some accusations last year that the celebs had it too easy, with lots of food and more comfortable living arrangements.

"This year that seems to be set to change. Producers worked flat out last year to get it ready against all odds in the midst of a pandemic when other shows were falling flat on their faces.

"This year they've got a bit more time so have tried to be even more ambitious with the show.

"They don't want to change too much as they were really happy with last year but a few subtle tweaks here and there will keep everyone on their toes."

Stars could face night in DUNGEON if they misbehave

I'M A Celebrity … Get Me Out of Here! stars face a night in a castle dungeon if they misbehave.

Producers on the ITV show have started to build a prison called The Clink as part of an overhaul of the Gwrych Castle set.

They are also introducing a second, more basic, sleeping area to the Grade I-listed castle in a nod to the Snake Rock and Croc Creek camps that were such a hit when the show was in Australia.

An ITV source said: "The Clink will be an unpleasant place to spend much time, as will the sister camp.

"If you're one of the initial ten going into the castle, you'd better hope you get the main camp with its relative luxury in comparison."

Frankie Bridge proving to be a popular choice with bookmakers

Frankie Bridge is proving popular with bookmaker Coral to win I'm A Celebrity Get Me Out of Here where she is the 4-1 favourite.

Soap stars Simon Gregson and Danny Miller are next best at 5-1, Louise Minchin is 7-1, while David Ginola is 8-1.

"Frankie Bridge has been by far the most popular selection in our betting to win I'm A Celeb this year. The Saturdays pop star is the clear favourite to the prevail ahead of soap actors Simon Gregson and Danny Miller," said Coral's John Hill.

Joseph Gamp




Phil Schofield WON'T do I'm A Celebrity

PHILLIP Schofield has revealed the bizarre reason he'd never do I'm A Celebrity.

The TV star said he would "starve to death" for one very peculiar reason.

The 59-year-old presenter spoke on This Morning earlier after the full line-up for this year's series was announced, featuring the likes of Richard Madeley, Frankie Bridge and David Ginola.

He said: "Well, I've always said I'm A Celeb is the only one I would do.

"But I wouldn't do it… I don't think. But I couldn't do it because they eat out of those metal cans with metal spoons, and I've got goosebumps even thinking about it.

"But scraping the spoon on the tin can, I couldn't do it, I'd starve to death!"

Milica Cosic




Bookies place odds

With I'm A Celebrity returning to our TV screens this Sunday for its 21st series, Paddy Power make popstar Frankie Bridge favourite to eat this year's first animal testicle (4/1).

The former Saturdays singer is 4/1 to eat the first testicle, with Coronation Street star, Simon Gregson, close behind at 5/1.

Danny Miller is priced at 7/1 to have a nutty meal, while David Ginola is 8/1 to become acquainted with a very different type of ball.

Once the eating trial is out the way, Arlene Phillips has the greatest cha-cha-chance of being axed first from this year's I'm A Celeb (3/1), and Naughty Boy's also unlikely to escape the punishment of an early exit (7/2).

But despite Paddy Power ranking her as the most likely to gobble gonads first, Bridge is still the 4/1 favourite to be named Queen of the Castle.

Milica Cosic




Everything you need to know about I'm A Celebrity 2021:

When does I'm a Celebrity start?
Where is I'm A Celebrity 2021 filmed?
How to vote on I'm A Celebrity
Where are Ant and Dec staying in Wales?

Where is the I'm A Celebrity hotel?

After I'm A Celeb camp members are evicted from the show, they will head to Carden Park Hotel, a luxury country hotel near Chester, Cheshire.

The hotel is just over an hour's drive from Gwrych castle, but the journey will be well worth it for the weary celebs.

The hotel boasts 1,000-acres of land as well as a spa, golf courses and even a vineyard.

The luxury hotel offers a £12million spa facility, which features a lavish outdoor champagne bar.

And Carden Park doesn't skimp when it comes to mealtimes – with four on-site restaurants and bars.

All of the food is overseen by executive head chef Graham Tinsley MBE.

Recap: I'm A Celebrity 2021 line-up

Frankie Bridg

Louise Minchin
Matty Lee
Snoochie Shy
Richard Madeley
Frankie Bridge
Dame Arlene Phillips, DBE
Naughty Boy
Danny Miller
Kadeena Cox, MBE
David Ginola
DJ Locksmith – in isolation and will be a stand by celebrity should one of the other stars drop out prematurely

Explained: What happened to Kiosk Kev and Keith?

Kiosk Kev, who is played by a farmer called Mark Herlaar, joined the show in 2019 as part of the Dingo Dollar challenge as Kiosk Keith's replacement.

However, as the show is now in a Welsh castle instead of the Aussie jungle, it wasn't possible to fly Mark out.

A source told us: "Obviously flying Kiosk Kev to the UK was a no-go so they've cast Kiosk Cledwyn."

Meanwhile Kiosk Keith, who made the role famous, was fired from the show in 2018, after five years on the series.

The Sun Online revealed how Kiosk Keith, who's real name was Raymond Grant, had been sacked after being accused of arriving to work drunk and behaving inappropriately towards a female colleague.

Milica Cosic




Who is Kiosk Cledwyn?

Kiosk Cledwyn was the grumpy shopkeeper who first appeared on I'm A Celebrity 2020.

When celebs were rewarded with treats from the Kiosk for completing challenges, stern-faced Cledwyn only let them have the items if their camp members answered a question right.

On Thursday, December 3, hosts Ant and Dec revealed it would be his final appearance on the show.

However, In the new I'm A Celebrity teaser, the narrator says: "Two heroes brave the elements to ready the camp."

Dec then says: "It's a bit chilly," to which Ant replies: "I can't imagine anything colder."

Dec addresses his grumpy co-star at this point, and says: "A frosty reception at Cledwyn's?" with Ant responding: "I'd still rather take my chances out here."

As it begins to pour with rain, Dec questions: "Maybe one night in his kiosk?"

Ant and Dec then agree there is room for both of them, and they race off to the famous hut.

Milica Cosic




Raking it in

The celebs agree a pay package before they enter the camp.

Unlike Strictly where all the stars get the same amount of money to take part, campmates on I'm A Celebrity can demand a fee.

In 2020 Olympian Mo Farah was reported to have pocketed a whopping £300,000 for appearing on the show while professional dancer AJ Pritchard was estimated to have banked a lower fee of £50,000.

The most highest paid star to appear on the show is believed to be Caitlyn Jenner who reportedly banked £500,000.

Milica Cosic




Explained: What does the winner of I'm a Celebrity get?

The winner of I'm a Celebrity gets…. nothing.

But, they usually get the prestigious title of King or Queen of the Jungle.

As this show was filmed in Gwrych Castle in Abergele, Wales because of Covid-19 travel restrictions, Giovanna was crowned Queen of the Castle.

The show is again back at the castle, and Giovanna will now have the honour of handing over her crown to the winner of the 2021 series.

Milica Cosic




Taking it *wayyyyy* back: The first winner of I'm a Celebrity

Radio DJ Tony Blackburn won the first series of I'm a Celebrity in 2002.

He defeated the late socialite Tara Palmer-Tomkinson and author Christine Hamilton to pick up the gong of King of the Jungle.

A firm favourite from the start, Tony and Tara both managed to remain safe from the public vote throughout their two week stay.

He took part in three trials during his time in the jungle – the Sneaky Snake Run (winning 2/6 stars), the spider web (winning 3/4) and the final trial with Tara, which he completed successfully.

Milica Cosic




I'm A Celeb's most DANGEROUS trial

The 12 stars lined up for this year's series of I'm A Celeb have been revealed. But with trials containing killer snakes, contaminated animal 'danglies' and fatal falls, do the contestants really know the real risks that lie ahead? 

Life insurance experts at I'm Insured have analysed the trials from last year's Gwrych Castle and previous seasons to reveal which challenges pose the biggest risk to this year's celebs.

Milica Cosic




When is I'm A Celebrity on TV?

Fans, there's not long left…

The show kicks off on Sunday (November 21, 2021) at 9pm on ITV.

It will then continue every day at the same time.

You can also watch episodes that have already aired on the ITV Hub.

Milica Cosic




How do I vote on I'm A Celebrity by phone?

Next we have the old-school way to vote.

One of the simplest ways to vote is by picking up the phone and dialling the number for your chosen campmate.

You just need to dial 09020 44 24 followed by the two numbers corresponding to each campmate, which are revealed by Ant and Dec during the show.

The calls do come with a a charge.

Votes made by phone come with a cost of 50p per vote, with 15p from each vote going to Britain Get Talking Help Out Helplines appeal.

They could also cost more depending on your phone provider.

You must ask the bill payer's permission before you vote.

Milica Cosic




How to vote on I'm A Celebrity

Once the show is underway, a quick and easy way to vote is to download the official I'm A Celebrity app which is free.

It is available for on the App Store, iTunes, and Google Play.

Once downloaded, you'll need to enter your date of birth before accessing the content.

To vote, click on the 'Vote' tab at the bottom of the app and when voting is open during the show simply press the button to chose a celebrity.

Milica Cosic




Recap: Where do they stay in Australia?

I'm A Celebrity producers and crew usually stay in Coolangatta, Queensland.

They hole up in the five-star Palazzo Versace hotel in Australia.

The luxe hotel boasts "200 light-filled bedrooms and suites, along with 72 condominiums, appointed with bespoke Versace Home furnishings and private 'Juliet' balconies welcoming the Gold Coast sunshine to pour in.

"Every room and suite is an oasis of pure indulgence, true glamour, ultimate relaxation and the very best that is possible in life."

Temperatures in Australia this time of year are around 30C (86F).

But in North Wales it is expected to be just 11C (52F) – so Ant and Dec will be happy to leave the castle for their toastie hotel rooms.

Milica Cosic




Where the I'm A Celeb crew are staying

The I'm A Celeb crew will be staying at the Golden Sands Holiday Park in Rhyl, North Wales, a convenient 15 minutes from Gwrych Castle where the celebs are based.

The caravan park usually offers Sun readers holidays for £9.50. 

A source told The Sun: "Thankfully, Golden Sands is more than equipped to host the giant crew, and is award-winning and really popular for holidaymakers.

"They might not get a tan though."

Source: Read Full Article