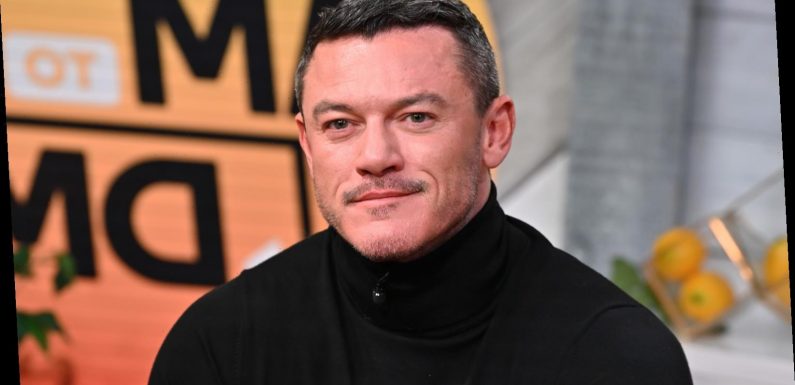 Breakups are never easy, but they're even harder for celebrities who have to confirm them publicly. Luke Evans was the unfortunate one who had to confirm his split with Rafael Olarra on Jan. 8, 2021, in his interview with The Times' Saturday Review, as per Page Six. The former couple began dating in 2019 and made their relationship Instagram official in February 2020, according to Out. "He loves my Welsh humour," Evans captioned the since-deleted video of him confirming their relationship, including the hashtags, "Hawaii memories" and "happiness."
Rumors of relationship trouble began in October 2020 when fans noticed that Evans had unfollowed Olarra and removed all traces of him on Instagram (via People).  Just Jared reported at the time that the actor and art director had spent the first few months quarantining together in Florida before traveling to Australia, where Evans was filming his limited series Nine Perfect Strangers. The breakup then was surprising to many fans, but perhaps not for Evans himself, who had an atypical reaction when he was asked to clarify his relationship status.
https://www.instagram.com/p/B4QNxP3hcDa/
A post shared by Rafismo ⚔️ (@rafaolarra)
Luke Evans confirmed speculations about his split with Rafael Olarra
"It is what it is," Luke Evans told The Times of his breakup with Rafael Olarra.
The Beauty and the Beast actor did not divulge any more information about his split, which makes sense as he's been largely private about his personal life throughout his career.
However, he later noted on his Instagram story (per ET) that "a simple one word comment made in an interview does not give gossip magazines anything more than that." He doubled down on his stance: "Just to be very clear, no one, I repeat, no one, knows what is going on in my personal life apart from me. … Relationships are hard, breakups are hard, and nothing is black and white. Love is a complex animal."
Although he's now single, Evans told The Times about his desire of starting a family on his own. "I thought about it many times," Evan answered when asked about if he ever thought about becoming a dad. "And as I get older I'm thinking maybe I should get on and do it."
"I don't want to be an old dad… but I would like to be a dad," he continued. "There's a lot of satisfaction to passing on your experiences and rearing a strong, open-minded, kind, respectful human being who can go in the world and do something good."
We're glad that Evans is cool with his single status and is optimistic about what the future holds.
Source: Read Full Article