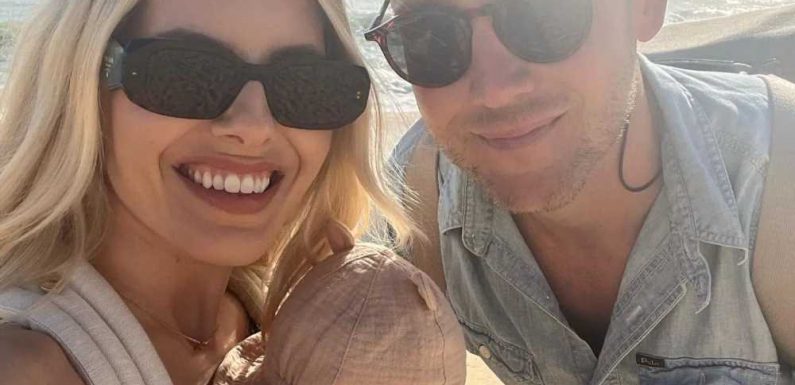 THE Saturdays Mollie King has jetted off for the first time with her new baby.
Mollie, who is best known for being part of the girl band The Saturdays, shared that she had gone abroad with an adorable picture posted to social media.
In the sweet post, Mollie could be seen beaming as she posed with baby Annabella.
The singer sported a sunhat, with her new baby girl also rocking a hat to protect her head from the sun, trimmed with tiny teddy bear ears.
Annabella snuggled into her baby-sling as her mum snapped the shots, with the two stood on the beach against the stunning blue ocean.
Opening up about her travel-anxiety, when embarking on the trip as a new-mum with her partner Stuart, the star detailed in the caption: "I was so anxious about travelling abroad with Annabella, I had really worked myself up and convinced myself that it wasn't worth all the stress.
More on Mollie King
Inside Mollie King's first Christmas with her new baby daughter
Mollie King 'heartbroken' as dad dies from brain tumour
"Panicking over so many things…what we would do if she became poorly, worried about how she'd be on the flight, how would she settle in a different place, car seats in taxis, renting a buggy…you name it, I'd worried about it!
"But my goodness, walking along the beach this morning at 8am with her in my arms, and @stuartbroad beside us was the best feeling I could ask for.
"Totally worth all the worrying beforehand. Feeling incredibly lucky to have these last few days of maternity with my little family in such a beautiful place."
Cricketer Stuart also shared a tribute to their first family holiday, with a series of stunning snaps of the ocean, Mollie golfing and an adorable snap with Annabella hiding behind a blanket from the camera.
Most read in Showbiz
Bruce Willis speaks for first time since dementia diagnosis in family video
Cheryl pulls out of West End show 'at the last minute' leaving fans devastated
Love Island star goes braless in very daring dress
Amber Davies left fuming after meeting Kim Kardashian backstage at West End show
He wrote in the caption: "Quality time with the family after tour.
Perfect."
Mollie and England cricketer Stuart, 36, first met through mutual friends in 2012, but didn't get together until 2018.
Their relationship fizzled out due to "conflicting schedules", but the pair rekindled their romance in 2019.
They then announced their engagement on New Year's Day in 2021.
The couple welcomed their first child in November 2022.

Source: Read Full Article