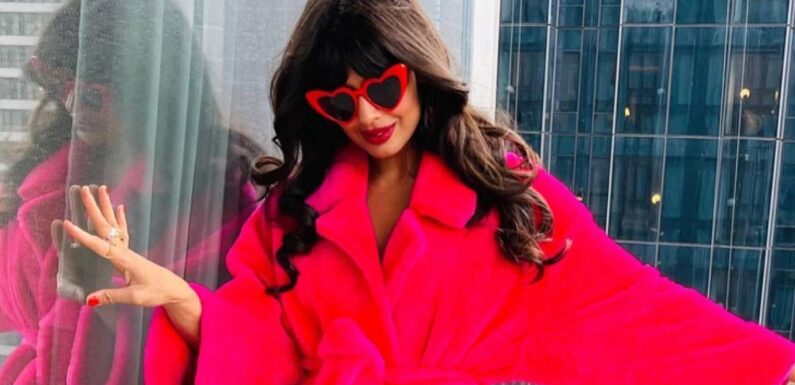 The 'Good Place' actress reveals to 'You' actor Penn Badley that she was supposed to audition for the most recent season of the Lifetime thriller series before she decided to pull out.
AceShowbiz –Jameela Jamil is particular when it comes to acting roles that she wants to do. "The Good Place" actress revealed that she canceled her season 4 audition for "You" because she didn't want to have to film a sex scene.
During her appearance on Stitcher Studios' "Podcrushed" podcast, Jameela explained to "You" star Penn Badgley, "I don't do sex scenes." She added, "In fact, I was supposed to audition for the most recent season of your show."
The 37-year-old continued, "My character was supposed to be quite sexy, and I pulled out of the audition, because I am so shy about anything sexy that I can't." Jameela, however, didn't specify which role she was talking about.
"And I was like, 'I didn't even know that was a boundary that we could draw.' But then I was like, I should have gone and done the f**king show," she continued. "I can't even watch sex scenes in films… Even on my own, I have to fast forward through sex scenes because I've become so shy about watching other people."
"It's not a shame," the actress clarified. "I feel there's an awkwardness around it."
Elsewhere in the episode, Jameela revealed that she's not comfortable exposing too much skin. "I don't think I've ever been someone who would have enjoyed objectifying myself, personally," the body empowerment activist shared. "But that's also because I have so much deep, like, childhood sexual trauma stuff."
"So I think that was never in the cards for me," she added. "You know, I still wear the little skirt or the busty top, but like, occasionally. But generally, I feel quite protective of myself in that way."
Prior to this, Penn drew criticism after he said that he wanted to limit his intimate scenes on the hit Lifetime thriller series, on which he plays serial killer Joe Goldberg. In response to the backlash, Penn said that his comments were "blown out of proportion."
"What I was speaking about wasn't actually the final product," the "Gossip Girl" alum said in an interview with GQ published in March. "It was sort of like the culture inherent to the production of all movies, but particularly those scenes. It's like, look, we know that Hollywood has had a history of flagrant exploitation and abuse."
In a separate sit-down, the actor claimed that he has "always" felt "disturbed" by sex scenes despite having "done a fair amount" of sex scenes." He told Variety, "It's not a place where I've blurred lines. There's almost nothing I could say with more consecration. That aspect of Hollywood has always been very disturbing to me – and that aspect of the job, that mercurial boundary – has always been something that I actually don't want to play with at all."
You can share this post!
Source: Read Full Article