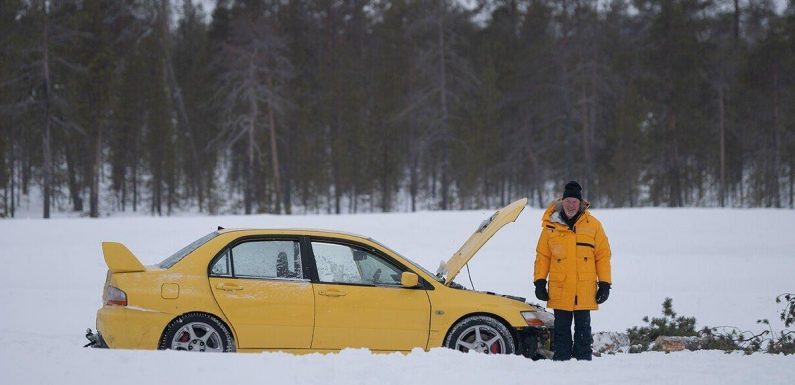 The Grand Tour Presents: A Scandi Flick trailer from Amazon
We use your sign-up to provide content in ways you've consented to and to improve our understanding of you. This may include adverts from us and 3rd parties based on our understanding. You can unsubscribe at any time. More info
James May was involved in a collision during filming of Amazon Prime Video's The Grand Tour: A Scandi Flick and the former Top Gear presenter has opened up on the aftermath of the crash in an interview with Express.co.uk and other press. The car expert admitted there was one outcome in particular that he wasn't happy with.
James was rushed to hospital during filming after crashing his rally car into a wall.
The Grand Tour host broke a rib but was allowed to return to filming after being given the all-clear following a brain scan.
James was asked whether in light of the crash he found this special more gruelling than the others.
He began: "I noticed the other day when I was thinking about it that I quite often end up putting up with more discomfort than the other two.
Read more: James May speaks out on 'weird' changes to The Grand Tour
"On the boat one I put up with more discomfort, in Madagascar I did because I spent half the time covered in s**t and things because I was in that cage so yes, that's just sort of par for the course really.
"It's not going to go down as one of the worst accidents in history."
"Richard Hammond has much bigger ones and I didn't suffer from going through the ice apart from getting very cold," he continued.
"But I was listening to a programme on the radio where people break the ice and go ice swimming in the Thames and in the Humber Estuary and things like that, apparently it's very good for you and it's good for your complexion and it's good for your circulation so there you go it was a health retreat."
James, Jeremy and Richard began presenting Top Gear in 2003 until 2015.
The trio then joined Amazon Prime Video and have hosted The Grand Tour since 2016.
James was asked how long he felt the hosts would continue to make the series.
He remarked: "To be honest, if if you're driving around in a car, it's not particularly arduous.
DON'T MISS
Richard Hammond details 'endless arguments' with Jeremy and James [INSIGHT]
Richard Hammond opens up on James May crash 'I was selfish' [INTERVIEW]
Richard Hammond admits pressure over new TV move 'Got to make it work' [INSIGHT]
"The most uncomfortable bit for me was that after I bent the car, the heater didn't work anymore, so I had to keep a big coat and a big jumper on.
"But, hey, there are far bigger problems in the world. I think we can probably keep doing it until one of us just dies and that might be quite soon when you look at the three of us, Jeremy especially.
"I don't think the actual nature of the filming will stop us. We're not doing cave diving or we're not attempting to play international football, where our age would count against us."
"I know somebody who's in his 90s who is still driving around in his car quite happily and that's what we do drive about in car," he added.
"So I think we'll be able to just keep going until somebody tells us to stop because they've had enough of us."
James, Richard and Jeremy's latest venture saw them cause chaos at a ski resort and race on frozen lakes as well as prank each other in typical Grand Tour style.
Their first road trip post-pandemic involved the presenters getting behind the wheel of their favourite rally cars in a trip from Norway to the Russian Border.
The Grand Tour Presents: A Scandi Flick is available to stream on Prime Video.
Source: Read Full Article