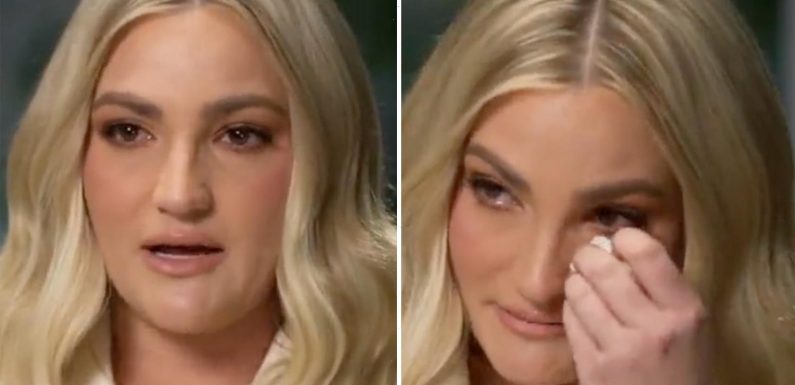 JAMIE Lynn Spears sobbed and insisted she "still LOVES" her sister Britney in a new Good Morning American episode.
The actress made the claim after slamming the singer in her new book.
Jamie Lynn, 30, opened up about her family's strained relationship with Britney, 40, while appearing on Wednesday's episode of GMA.
When asked what "caused the rift"between her and Britney, Jamie Lynn replied through tears: "That love is still there. 100 percent.
"I love my sister. I've only ever loved and supported her and done what's right by her and she knows that, so I don't know why we're in this position right now."
Later in the interview, the Zoey 101 actress opened about how her sister's conservatorship legal win.
When asked for her "reaction to when the conservatorship was dissolved," Jamie Lynn instead she was "happy."
She continued: "When it was put into place, I was a 17-year-old.
"I was about to have a baby, so I didn't understand what was happening nor was I focused on that.
Most read in Celebrity
SI DO!
Simon Cowell ENGAGED to Lauren Silverman after secretly proposing on holiday
Zayn Malik appears on plus size dating app in bid to find 'fuller woman'
Peter Andre fans gobsmacked as they spot Ant's ex Lisa Armstrong in his pic
Katie Price seen for first time since branding Emily Andre 'disgusting'
"I was focused on the fact that I was a 17-year-old about to have a baby."
Jamie Lynn then insisted that she's still confused about the situation, noting: "I understand just as little about it then as I do now."
The actress then opened up about her involvement in the conservatorship, sharing that Britney asked her if she "could be the person who assured that her boys got what they needed."
Britney shares two sons, Sean, 16, and Jayden, 15, with ex-husband Kevin Federline, 43.
Jamie Lynn then said she "didn't want to be part of" her sister's conservatorship and wanted to wait to help her until it was over.
She continued: "There was no, like, me overseeing funds or something like that and if that was, then it was a misunderstanding.
"But either way, I took no steps to be a part of it."
After calling herself Britney's "biggest supporter," Jamie Lynn claimed she tried to give her the resources to get out of the conservatorship.
She said: "When she needed help, I set up ways to do so.
"Went out of my way to make sure she had the contacts she needed to possibly go ahead and end this conservatorship and end this all for our family."
Jamie Lynn claimed she spoke to Britney's previous legal team and said it "did not end well in my favor."
She concluded: "I did take the steps to help, but how many times can I take the steps? She has to walk through the door."
More to follow…
For the latest news on this story keep checking back at Sun Online.
The-sun.com is your go-to destination for the best celebrity news, sport news, real-life stories, jaw-dropping pictures and must-see video.
Like us on Facebook at www.facebook.com/TheSunUS and follow us from our main Twitter account at @TheUSSun.
Source: Read Full Article