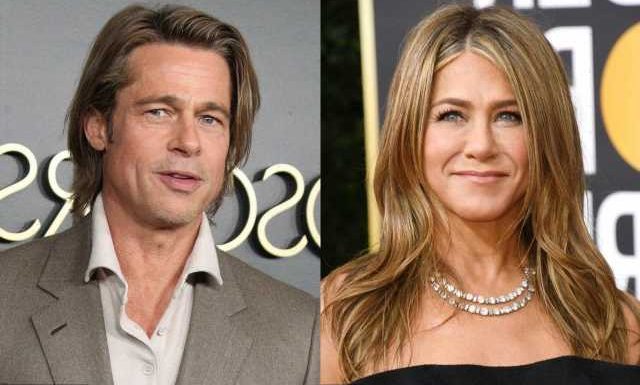 During a sit-down with Access Hollywood, the Rachel Green depicter, Courteney Cox and Lisa Kudrow, are asked to name a list of stars who made appearances on the beloved comedy show.
AceShowbiz –Jennifer Aniston name-dropped her ex-husband Brad Pitt during an interview with fellow "Friends" alums Courteney Cox and Lisa Kudrow. During a sit-down with Access Hollywood, the cast was asked to name a list of stars who made appearances on the beloved comedy show.
"You had every A-list star on there. Do you have a favorite or most memorable one?" Access' Kit Hoover asked. "I was blown away by so many," Lisa responded. Meanwhile, Jennifer, who played Rachel Green, mentioned Ben Stiller, describing his cameo "hysterical," and deemed Reese Witherspoon's portrayal of her character's sister Jill "brilliant."
As Courteney and Lisa ran through some of the big-name guests who made appearances on the show, Jennifer quipped, "And Mr. Pitt was wonderful." Lisa echoed the sentiment, saying, "He was fantastic."
Her comments quickly sparked chatter on Twitter. One excited fan tweeted, "OMG. Jennifer Aniston said Brad Pitt was one of her favorite guest stars on Friends."
In other news, Matthew Perry's slurring speech in "Friends" reunion trailer was reportedly due to his recent dental work. "Matthew turned up to the reunion [in April] and members of his team said that he had an emergency tooth procedure that day," a source claimed to The Sun. "That was said to impact his well-being and also how he was feeling."
"He had been in pain from what we understand, which caused the slurred speech," the insider added. "Obviously no one wants to film after a procedure, but it happened. The feeling was one of huge sympathy for Matthew, especially in recent days given how people have reacted online. Matthew has told those around him that he is sober, and there is no need to worry."
"Friends" is set to debut its reunion special on May 27. The much-anticipated HBO Max get together will also feature the co-stars checking out recreated sets from the beloved show, staging read throughs from favorite scenes, and reminiscing about their time on the hit series, which ended 17 years ago.
"I remember one time I had the news on and on the TV was an aerial shot of each of our houses and I remember looking at it and going, 'What the f**k? My roof is a mess,' " Matt LeBlanc said of the upcoming project. Meanwhile, Jennifer added, "I went to the producer of the show I was on and he said, 'That show is not gonna make you a star!' "
In addition to the returning original stars, the reunion special will see David Beckham, Justin Bieber, Bangtan Boys, James Corden, Cindy Crawford, Cara Delevingne, Lady GaGa, Kit Harington, Mindy Kaling, Tom Selleck, Reese and Malala Yousafzai appearing in special guest capacity.
HBO Max, however, stated that the new project is not a new, original episode of the series. "In order to avoid any misunderstanding about what this special is, we want to make it very clear that this is not a new, original episode of the series. The cast will be appearing as themselves, not as their beloved characters," it said.
Source: Read Full Article