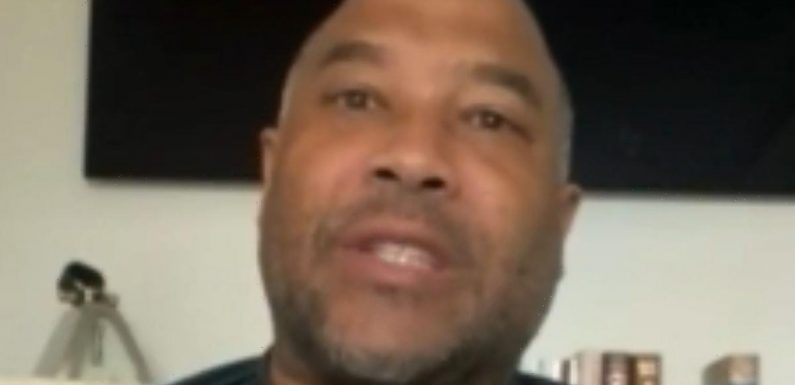 GMB: John Barnes on Gary Lineker's BBC tweet row
We use your sign-up to provide content in ways you've consented to and to improve our understanding of you. This may include adverts from us and 3rd parties based on our understanding. You can unsubscribe at any time. More info
John Barnes and Simon McCoy spoke via video link to Good Morning Britain hosts Susanna Reid and Ed Balls about Gary Lineker and whether the BBC was right to remove him from Match of the Day. John, who is friends with the football pundit, criticised the broadcaster, telling the hosts "the BBC can't have it both ways".
"It depends on what the rules are," John began. "I am sure from Sky's perspective they're allowed to do whatever they want to do.
"However, this impartiality rule that the BBC are pretending to have doesn't really happen.
"Because the BBC encouraged Gary in Qatar in the World Cup to be absolutely impartial.
"So where do the impartiality rules lie? You can criticise people in other countries and other religions, but you can't do that in this country.
"So this impartiality rule for me does not make any sense whatsoever."
He continued: "I was critical of Gary and the BBC for not being impartial in Qatar, and now all of the sudden because he's criticising this country, we're saying that it's impartiality rules."
Addressing the BBC, John added: "You can't have it both ways."
Ed chimed in: "So you think that the rules should be tougher, and universally applied so that you don't have any political comments, including when the BBC sanctions it about Qatar."
"You can't do both," John repeated. "Now, I don't know, I'm not a lawyer.
I don't know the content of Gary's contract, I don't know whether he's broken the rules or not.
"My support is not for Gary Lineker, in terms of, you know, whether he's right or not."
He went on to agree with Gary's tweet, where he compared the government's migrant policy to the rhetoric of Nazi Germany.
Don't miss…
Brendan Fraser triumphant as Oscar win marks Hollywood comeback [LATEST]
Oscars fans fume over Tems' 'disgraceful' outfit [REACTION]
Laura Kuenssberg faces calls to 'step down' over Lineker impartiality [VIDEO]
"My support is the content of these tweaks in terms of the language used against refugees," John told the hosts.
"And the fact that I believe he is completely right in talking about the language used is the similar language used in Germany in 1930.
"The outcome is not going to be the same. He's not suggesting…I'm not suggesting that it's going to be genocide towards refugees.
"But the language used towards the refugees in terms of being rapists and criminals coming over here is very similar to the languages in Germany in 1930."
He added: "So I'm supporting his tweets and the content, not necessarily his right to say because I don't know whether he has a right or not."
John's views sparked division among GMB fans, with many praising him for being "spot on".
Andy Cole wrote: "This describes the key point. There are many inconsistencies in the application of these rules, which leads us to think that the BBC has responded to pressure from the government. This in itself is a greater threat to impartiality than anything Gary has to say on Twitter."
"Spot on Barnesy," Paul Dennis wrote as @DjnQso added: "Great that @officialbarnsey made the point that the real discussion needs to be about the use of language by government around asylum/refugee/migration issues such as "invasion" "100 million" coming here etc. not whether or not BBC freelancers should tweet about it." (sic)
Good Morning Britain airs weekdays at 6am on ITV.
Source: Read Full Article