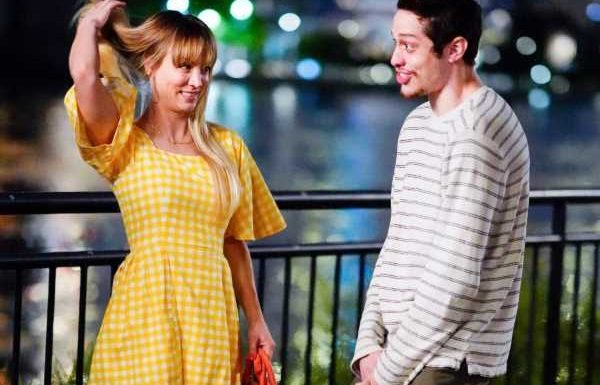 Kaley Cuoco and Pete Davidson make a cute couple—of co-stars. The two have been working on a new romantic comedy movie and they wrapped production in late August 2021. Cuoco sparked some buzz throughout the summer when she uploaded videos featuring Davidson to her social media.
Now that they've finished filming, Cuoco shared a sweet sentiment about her feelings for the project. Here are all the details about Cuoco and Davidson's movie and what Cuoco said about the flick.
Have Kaley Cuoco and Pete Davidson worked together before?
Cuoco is famous for her TV career, specifically with CBS' The Big Bang Theory and HBO's The Flight Attendant. Cuoco worked with CBS for 12 seasons and transitioned from her comedic role as Penny to a more complex role as Cassie Bowden.
Davidson is a comedian and is recognized for his performances on Saturday Night Live. Although he typically appears in the "Weekend Update" skit, Davidson also performs various roles. One of his most popular was his performance as former Governor of New York, Andrew Cuomo, in the Britney Spears cold open.
Davidson and Cuoco have not worked together on any known projects, nor has Cuoco hosted SNL in the past. If she hosts in the future, the actor could have the chance to reunite with her co-star. This movie, however, appears to be the duo's first collaboration.
What is Kaley Cuoco and Pete Davidson's new movie?
As with any rom-com flick, there's bound to be a love story. According to Hollywood Life, Cuoco and Davidson play the main couple in Meet Cute.
On Aug. 24, 2021, Cuoco was seen in New York City, sporting a yellow checkered-pattern dress while Davidson rocked a simple striped shirt in a scene for Meet Cute. Cuoco plays a woman who travels to the past to mend her lover's traumas so that she can make him the ideal partner. The flick is considered a deconstructed romantic comedy.
On Aug. 27, 2021, Cuoco shared a photo on Instagram of her and what appears to be Davidson hugging on the set of Meet Cute. The Big Bang Theory alum wrote, "That's a wrap on 'Meet Cute'!! What an experience! Loved every single human involved with this special gem of a film…would do it over and over and over again."
The Flight Attendant actor ended her caption with a wink face emoji, suggesting that "over and over and over again" is a hint at the movie's time travel storyline.
She then added another Instagram post, seemingly dropping their characters' names. "Sheila and Gary coming soon," Cuoco wrote.
Cuoco's followers want to find out when the movie would be released. While Meet Cute does not have a release date, many assume it will have a 2022 premiere.
Kaley Cuoco pranked Pete Davidson filming 'Meet Cute'
Throughout the summer of 2021, Cuoco shared several Instagram Stories of her pranking Davidson on the set. While the two were hanging out, Cuoco playfully distracted her co-star by playing songs such as "Let It Go." In the Instagram Story, the actor thought that "annoying Peter", while he was reviewing lines, became her "favorite pastime."
Later in the summer, she and Davidson visited a Six Flags park.
Apparently, Davidson took his co-star on a slingshot ride, which Cuoco didn't prefer. However, she got the last laugh when they went on her "favorite ride," the kid-friendly Air Jumbo.
Source: Read Full Article