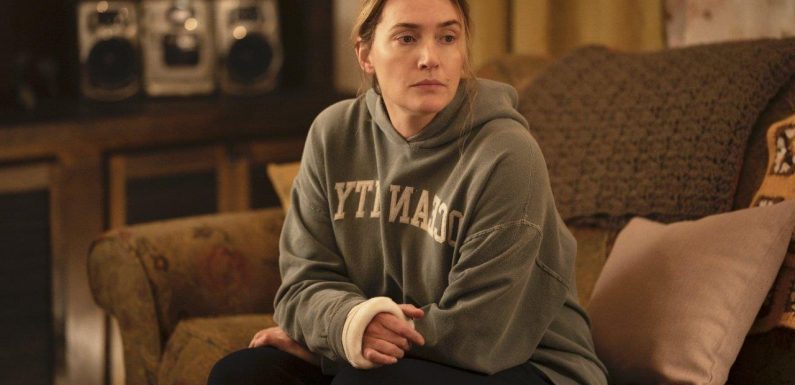 The actress, who plays Detective Mare Sheehan on the hit HBO series, receives praises for her performance on the show, but some people are not fans of her true-to-life depiction of her character.
AceShowbiz –Kate Winslet has reacted to the criticisim regarding her weight on "Mare of Easttown". The actress, who played Detective Mare Sheehan on the hit HBO series, received praises for her performance on the show, but some people were not fans of her appearance.
The 46-year-old star tried to present a realistic view of what a middle-aged working mother would look like. She opted out makeup and made sure that there was no editing of her body during her character's sex scenes. While some were impressed to her true-to-life depiction, some others blasted her for not matching the the unrealistic beauty standards.
Of the criticism, the "Titanic" actress told The Guardian, "The discussion about how Mare looked blew my mind." She went on to say, "People were asking, 'Did she gain weight? Didn't she look frumpy? Wasn't that brave of her?' "
"But why should that be brave? I suppose because it's not how leading actresses are represented. Maybe Mare will be the tipping point, and we're going to stop scrutinizing women on screen quite so much," Kate added.
The actress went on to note, "We were always saying on set, 'That's too TV. Keep it real.' I'd constantly be rubbing Marmite into the knees of my jeans, or scuffing up my sneakers with a Brillo pad. You can't just make one thing feel real: it has to be everything."
The seven-time Oscar nominee then brought up Mare's car as the example, explaining, "She would have been driving her grandson to and from kindergarten, feeding him breakfast on the fly. I know what the floor in the back of my own car looks like – there's crushed cereal, with bowls and spoons clinking around, because we've had breakfast on the school run. You're sitting on crumbs which are so embedded in the seat it would take a f**king blowtorch to get them out!"
Elsewhere in the interview, Kate talked about her emotional reunion with her "Titanic" co-star Leonardo DiCaprio. Explaining that "I've known him for half my life! It's not as if I've found myself in New York or he's been in London and there's been a chance to have dinner or grab a coffee and a catch-up," the Oscar-winning actress shared, admitting that she "couldn't stop crying" when she met him recently.
"We haven't been able to leave our countries. Like so many friendships globally, we've missed each other because of COVID," Kate shared. She also called "The Wolf of Wall Street" actor, who is also her co-star in "Revolutionary Road", her "friend, [her] really close friend," adding, "We're bonded for life."
Source: Read Full Article