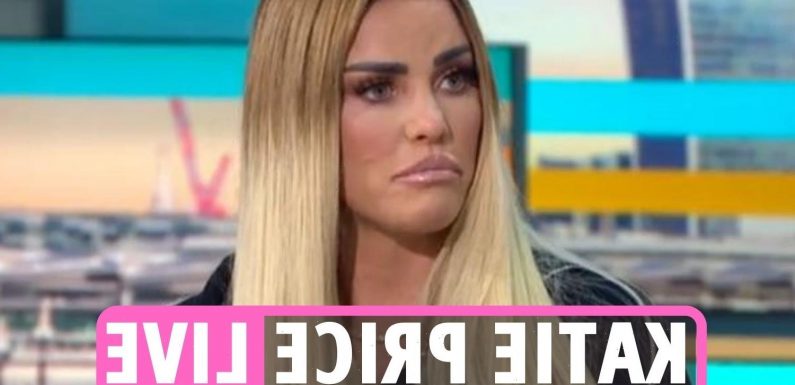 KATIE Price is 'letting her hair down one last time' in Vegas after being granted a marriage licence – despite insisting there would be no parties during the trip.
Katie, 43, insisted to her fans there would be "no partying" in Sin City, as she flew to America just weeks after was discharged from The Priory.
But the former glamour model, who was involved in a drink drive smash last month, has told her worried friends otherwise and will be enjoying "her freedom".
Insiders have exclusively revealed to The Sun Online that Katie, who looks set to wed beau Carl, 32, in Vegas, will likely be "letting her hair down".
"Katie's behaviour has taken us by surprise, especially so soon after her time in The Priory," a close pal explained.
"She's saying she just wants to let her hair down and make the most of what could be her last bit of freedom for a little while, depending on how her sentencing goes next month."
Read our Katie Price live blog below for the latest updates…
Milica Cosic




'Leave me alone'

KATIE Price has told her ex husbands Peter Andre and Kieran Hayler to "leave me alone" after reportedly facing an angry backlash over her Las Vegas wedding to Carl Woods.

The Mail reported tonight how Katie faces being distanced from her kids if she marries fiancé Carl this weekend as expected.

The exes are allegedly furious that the kids haven't had a say in the matter, with friends branding her decision "selfish".

A source told the publication: "Kieran and Peter are livid Katie hasn't taken the children's feelings into consideration and has gone completely behind everybody's back.

"Pete has already sent legal letters today. Kieran feels she is putting Carl first and is a very selfish mother and has done this because all she cares about is her relationship with him."

Read more here.

Milica Cosic




Katie Price picks up her WEDDING licence and knocks back booze

KATIE Price knocked back the booze to celebrate picking up her wedding licence to marry fiancé Carl Woods in Las Vegas.

The three-times-wed model , 43, and toyboy lover Carl, 32, were spotted applying for the paperwork for their wedding on Wednesday morning.

Katie was overheard jokingly telling the clerk "Ooh, signing our life away" before the happy couple raised their right hands to swear the information they had given was truthful.

The Sun's exclusive pictures show them celebrating at the Planet Hollywood hotel and casino, where Katie necked two Cosmopolitan vodka cocktails in 20 minutes just after midday.

Joseph Gamp




Pictured: Signed application for Vegas wedding licence

KATIE Price flying out to Las Vegas was only ever really going to mean one thing – wedding bells.

And so it proved when The Sun revealed the 43-year-old and fiance Carl Woods had gone to pick up their marriage licence.

While the news they were planning a Sin City wedding made the headlines, there were a lot of other interesting details hidden in the document itself.

The marriage licence, which bears Katie's flamboyant celebrity-style signature alongside Carl's, reveals both of their full names as well as a host of other interesting details.
Joseph Gamp




Katie Price's wedding secrets revealed (continued…)

An insider previously told Heat Magazine that her oldest son Harvey, 19, will take of the role of Carl's best man.

Back in May Katie revealed that their wedding will include plenty of "unexpected" and "never-seen-before" surprises.

The mum-of-five previously told The Mirror: "Put it this way, the wedding that I want, if you Googled it, no one has ever done it before.

"No wall-to-wall celeb faces. It'll be about us, Carl and our family, coming together as one. I want the focus on Carl as much as me."

Carl, 32, added: "Great food, lots of laughs, fun, top-class entertainment. Expect the unexpected. It will be a day to remember."

Joseph Gamp




Katie Price's wedding secrets revealed 

KATIE Price plans on having a woodland setting and son Harvey as the best man at her wedding.

The former glamour model, 43, got engaged to boyfriend Carl Woods back in April this year.

ources have told Closer Magazine that they are planning to tie the knot any day now and have even let slip about what the ceremony will be like.

They told the publication: "Katie's past ceremonies have been lavish, but she wants an intimate woodland wedding this time around.

"It's likely to be at Henlle Hall, near wales, where Carl took her for Valentine's Day this year."

Joseph Gamp




Who are Katie Price's past boyfriends?

Since her rise to fame in the 90s as glamour girl Jordan, Katie has had many boyfriends:

Carl Woods 2020-present
Charlie Drury 2019
Kris Boyson 2018 – 2020
Kieran Hayler 2012 – 2018
Danny Cipriani 2011
Leandro Penna 2011 – 2012
Peter Andre 2004 – 2009
Scott Sullivan 2002 – 2004
Gareth Gates 2001 -2002
Dwight Yorke 2001 – 2002
Dane Bowers 1998 – 2000
Warren Foreman 1996 – 1999

What are Katie Price's tattoos and what do they mean?

On the bow, a source told The Sun Online: "Katie's had a bow tattooed on her hip – it symbolises family and being tied together forever.

"It's a dedication to her children and her loved ones.

"She sees getting new ink as part of a new beginning – in the past she's inked over old tattoos, so a new fresh one is a fresh start."

But what else does the star have on her body?

How many times has Katie been married before?

The Sun told how Katie and fiance Carl have already obtained a marriage licence in Las Vegas, records show, as she sets to wed for a FOURTH time.

She walked down the aisle with pop star Peter, 48, in 2005 after meeting on I'm A Celebrity… Get Me Out Of Here!

Their relationship was documented by TV cameras and they had two children, son Junior, 16, and 14-year-old daughter Princess.

Katie and Pete divorced in 2009, shortly before she married cage fighter Alex Reid in 2010 an divorcing a year later.

The star's third marriage was to Kieran Hayley – and they share children Bunny and Jett. Their divorce was finalised earlier this year.

Her Las Vegas trip is said to have come as a shock to Kieran and Peter.

Who else has Katie Price been engaged to?

Katie does love a good wedding, and there are three other men she has nearly walked down the aisle to:

Kris Boyson 2019
Leandro Penna 2011-2012
Warren Foreman 1998 – 1999

It remains to be seen whether Katie will make it to the big day with current fiancé Carl Woods, after the pair recently announced their engagement.

Joseph Gamp




Katie Price's hearts and stars wrist tattoo

Katie has a number of red hearts on her right wrist.

They are surrounded by some black stars.

She got this tattoo as a tribute to her sons Harvey and Junior.

Katie has a red bow inked on her lower back.

She also has one around her ankle with some black string hanging down.

The reality star also once had the name of her ex Leandro Penna on her ankle along with the date they met.

She has since had this covered up following their split.

Joseph Gamp




Katie has been embroiled in legal issues

Katie has been embroiled in legal issues in recent months.

In September she was warned she faced prison after she pleaded guilty to drink-driving while disqualified and without insurance, following a crash near her home in Sussex.

She arrived in Las Vegas, which bills itself as the marriage capital of the world, the week the US reopened its borders to tourists.

Joseph Gamp




Katie 'will eventually move to Vegas with Carl'

Katie told her social media following she will "eventually move to Vegas with Carl and the kids" after getting her marriage license.

She took to Instagram Live alongside Cami Li to reveal her plans, as thousands of viewers accused the pair of being "drunk".

Her drunken boast comes as she hit back at exes Peter Andre and Kieran Hayler who are allegedly furious that the kids haven't had a say in the Las Vegas wedding, with friends branding her decision "selfish".

Katie took to Instagram and told her ex husbands to "leave me alone" after facing an angry backlash over her Las Vegas trip.

She accused her exes of having a negative impact on her mental health, writing: "I'm asking you both kindly to leave me alone now and stop making money from my name and using it for headlines involving our kids."

Joseph Gamp




Katie 'letting her hair down one last time' amid jail fears

Katie, 43, insisted to her fans there would be "no partying" in Sin City, as she flew to America just weeks after was discharged from The Priory.

But the former glamour model, who was involved in a drink drive smash last month, has told her worried friends otherwise and will be enjoying "her freedom".

Insiders have exclusively revealed to The Sun Online that Katie, who looks set to wed beau Carl, 32, in Vegas, will likely be "letting her hair down".

"Katie's behaviour has taken us by surprise, especially so soon after her time in The Priory," a close pal explained.

"She's saying she just wants to let her hair down and make the most of what could be her last bit of freedom for a little while, depending on how her sentencing goes next month."

The insider concluded: "Everything is up in the air at the minute, but wild partying isn't a great look given the circumstances. People are worried about her."

Joseph Gamp




'Drunk' Katie Price says she will move to Vegas with her kids

KATIE Price said she will "eventually move to Vegas with Carl and the kids" after getting her marriage license.

The 43-year-old star was seen on Instagram Live with reality TV star Cami Li when she made the remarks to fans – who accused the pair of being drunk.

Her drunken boast comes as she hit back at exes Peter Andre and Kieran Hayler who are allegedly furious that the kids haven't had a say in the Las Vegas wedding, with friends branding her decision "selfish".

Katie took to Instagram and told her ex husbands to "leave me alone" after facing an angry backlash over her Las Vegas trip.

She accused her exes of having a negative impact on her mental health, writing: "I'm asking you both kindly to leave me alone now and stop making money from my name and using it for headlines involving our kids. Using kids as a pawn is not fair."

Joseph Gamp




Katie Price picks up her WEDDING licence and knocks back booze

KATIE Price knocked back the booze to celebrate picking up her wedding licence to marry fiancé Carl Woods in Las Vegas.

The three-times-wed model , 43, and toyboy lover Carl, 32, were spotted applying for the paperwork for their wedding on Wednesday morning.

Katie was overheard jokingly telling the clerk "Ooh, signing our life away" before the happy couple raised their right hands to swear the information they had given was truthful.

The Sun's exclusive pictures show them celebrating at the Planet Hollywood hotel and casino, where Katie necked two Cosmopolitan vodka cocktails in 20 minutes just after midday.

Joseph Gamp




Katie Price and Carl Woods 'will marry in Vegas this weekend 

KATIE Price and Carl Woods will tie the knot in Las Vegas this weekend – after sparking speculation with their trip to Sin City.

Earlier today The Sun revealed that Katie, 43, and 32-year-old Carl had picked up their marriage certificate, and now it's been claimed that his parents will be present but hers won't as mum Amy is too sick to travel.

A source said: "Katie is planning on getting married in Vegas over the weekend. She wants a few days to get her tan built up, get her nails done and hair done before the big day, as well as pick out a dream dress."

The insider continued to OK! Online: "Amy isn't well enough to fly but Carl's parents will likely be flying out to watch the ceremony."

But Katie's family won't miss out altogether, as it's thought they'll have a registry office wedding back in the UK – followed by a huge party.

Joseph Gamp




Inside Katie Price's Vegas wedding to Alex Reid

KATIE Price is out in Las Vegas with fiance Carl Woods ahead of what fans expect could be her fourth wedding.

But if the former glamour girl does end up walking down the aisle it won't be her first marriage in Sin City – she also wed Alex Reid there back in 2010.

Her union with cage fighter Alex, 46, was her second, after breaking up with singer Peter Andre.

And this time around, instead of a big-money deal with a glossy magazine, Katie and Alex headed to Vegas for a ceremony pulled together in just three weeks.

Katie, 43, wore a huge white puffball gown for the occasion with a sparkling tiara decorating her hair.

While Alex spruced up in a baby blue suit with a matching tie.

While it's not known exactly how much Katie and Alex's nuptials set them back, wedding packages at the Wynn range from £14k all the way down to £700.

Unfortunately, less than a year later Katie confirmed their split saying, "We all make mistakes, and this was one."

Joseph Gamp




Katie Price's Vegas wedding is second attempt

KATIE Price and Carl Woods originally planned to marry in St Lucia back in July – but delayed wedding, claim friends.

The couple are set to marry this weekend in Las Vegas after picking up their marriage licence.

But the wedding actually should have happened when they were on a luxury trip to St Lucia in summer 2021, say sources.

"Carl and Katie wanted to marry when they were on holiday and even went as far as looking at dresses and doing a hair trial for the wedding," says a friend.

"They were right on the verge of doing it on the spot, but decided to wait and do it legally and properly another time."

The pair got engaged in April 2021, and Katie's divorce from ex Kieran Hayler was officially settled on 12 July.

Joseph Gamp




What are Katie Price's tattoos and what do they mean?

On the bow, a source told The Sun Online: "Katie's had a bow tattooed on her hip – it symbolises family and being tied together forever.

"It's a dedication to her children and her loved ones.

"She sees getting new ink as part of a new beginning – in the past she's inked over old tattoos, so a new fresh one is a fresh start."

But what else does the star have on her body?

Joseph Gamp




Five things on Katie's marriage licence

KATIE Price flying out to Las Vegas was only ever really going to mean one thing – wedding bells.

Here, we take a look at what we learnt from the document that paves the way for Pricey's explosive fourth wedding…

Katie's original name
The birth of Katie Woods
Katie's mum's real name
Their middle names
Katie and Carl's signatures

Read the article in full here.

Katie Price will rake in thousands filming fourth wedding for her YouTube channel 

KATIE Price is set to make a small fortune by filming her fourth wedding for her YouTube channel.

The mum-of-five is in Las Vegas with fiancé Carl Woods as they prepare to become Mr and Mrs.

While most of their nearest and dearest won't be in attendance, they will still be able to watch the special ceremony thanks to videographer Chris Harris, who also filmed her latest cosmetic surgeries in Turkey.

A source told us: "Katie and Carl flew their YouTube cameraman Chris out with them – he's staying in the same hotel as them and will be catching it all for their channel. Then, they'll be able to show family and friends how it all happened."

Read more here.

Joseph Gamp




Kieran left with job of 'explaining to children they have new stepdad'

A source told The Sun that Kieran was left with the job of explaining to Jett and Bunny that they would soon have a new stepdad.

The insider said: "Kieran was as surprised as anyone else. He suspected Katie was planning something when she flew to Vegas, but she didn't tell him directly," says the friend.

"He'll have to speak to Bunny and Jett about how Carl is their new step-dad and how their mum got married again."

Joseph Gamp




Katie Price's ex LIVID

KATIE Price's ex-husband Kieran Hayler is furious after she revealed plans to take his kids to live in Las Vegas, The Sun can reveal.

During an Instagram live with her former Celebrity Big Brother housemate Cami Li, the 43-year-old insisted that – after she and Carl Woods tie the knot there this weekend – the family will be relocating to Sin City.

But a source told The Sun: "Kate is delusional. There is no way in a million years that the kids are going anywhere. This is just another way for Kate to be spiteful towards Kieran, it's typical behaviour from her."

Milica Cosic




Raking it in

KATIE Price is set to make a small fortune by filming her fourth wedding for her YouTube channel.

The mum-of-five is in Las Vegas with fiancé Carl Woods as they prepare to become Mr and Mrs.

A source told us: "Katie and Carl flew their YouTube cameraman Chris out with them – he's staying in the same hotel as them and will be catching it all for their channel. Then, they'll be able to show family and friends how it all happened."

Katie's videos are often watched more than 200,000 times, and in some cases have nearly 1.5million views.

According to Business Insider, videos can make their creators up to $2,500 per 100,000 views.

It means the cost of the trip could end up being covered depending on how many fans tune in to see it.

Milica Cosic




Inside Katie Price's Vegas wedding to Alex Reid

KATIE Price is out in Las Vegas with fiance Carl Woods ahead of what fans expect could be her fourth wedding.

But if the former glamour girl does end up walking down the aisle it won't be her first marriage in Sin City – she also wed Alex Reid there back in 2010.

Her union with cage fighter Alex, 46, was her second, after breaking up with singer Peter Andre.

And this time around, instead of a big-money deal with a glossy magazine, Katie and Alex headed to Vegas for a ceremony pulled together in just three weeks.

Katie, 43, wore a huge white puffball gown for the occasion with a sparkling tiara decorating her hair.

While Alex spruced up in a baby blue suit with a matching tie.

While it's not known exactly how much Katie and Alex's nuptials set them back, wedding packages at the Wynn range from £14k all the way down to £700.

Unfortunately, less than a year later Katie confirmed their split saying, "We all make mistakes, and this was one."

In 2010 the former glamour model was there to marry Alex Reid Credit: ITV

Source: Read Full Article