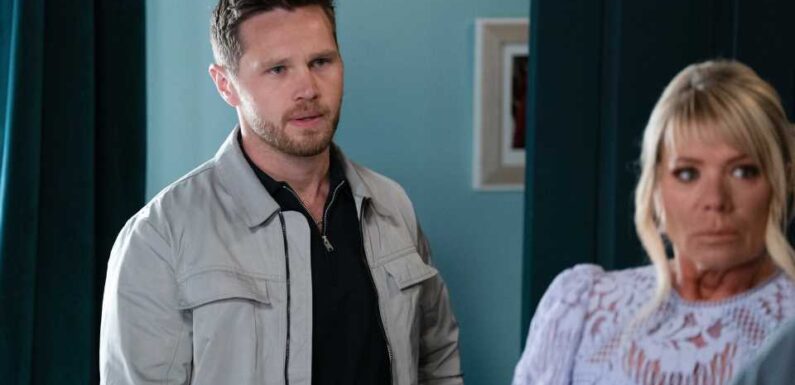 HELD at arm's length from Peggy, Keanu Taylor is determined to do whatever he can to be in her life.
In upcoming EastEnders scenes, the hunk portrayed by Danny Walters takes desperate action for his daughter.
Upon her return to Walford after more than three years of absence, Lisa (portrayed by Lucy Benjamin) lured Keanu Taylor into a scheme by using his daughter Peggy as bait.
Things quickly got out of control for Lisa as her former flame Phil Mitchell (Steve McFadden) was determined to figure out what she's been really up to as it became increasingly clear she was having money issues.
Keanu, on the other hand, was more than adamant on seeing Peggy and took a massive risk.
In upcoming scenes airing on BBC One, his fiancée Sharon Watts (Letitia Dean) is caught in the crossfire as she implores Keanu to come clean to Phil.
More EastEnders
EastEnders icon lands major new role in Agatha Christie drama Murder is Easy
EastEnders moved AGAIN in schedule chaos as Wimbledon takes over BBC
The hunk is convinced that if he follows through with Sharon's advice, he may never see his daughter again.
Sharon, who is only looking for peace ahead of her nuptials, goes to see Phil and begs him to let Keanu see Peggy.
She also asks Phil to hear Keanu out as he reveals what's really going on with Lisa.
However, when Keanu is evasive, Sharon blurts out the truth herself.
Most read in Soaps
EastEnders fans in shock at raunchiest ever episode for Kathy Beale's hen
Helen Flanagan looks amazing in sexy 'milkmaid dress'
Who plays the tai chi instructor in Coronation Street?
Stacey trapped with stalker Theo as she gets news in EastEnders
Phil is furious as Sharon begs him to calm down and when Keanu tries to explain his actions, the Walford tough man also has a truth to share with him.
Later on, Lisa arrives back in Albert Square to discover Peggy is with Phil.
She goes to collect Peggy and is confronted by Phil, Sharon, Kat Slater (Jessie Wallace), and Keanu, who have spoken to Louise – and all her lies unravel.
Despite her scheming, Sharon takes pity on a broken Lisa, leaving Keanu in disbelief.
Soon enough, Sharon makes it her mission to convince Phil to help Lisa as she realises how far her issues have gone.
Keanu, on the other hand, isn't happy when Lisa offers him some video calls with Peggy as the first step toward proper access to his daughter.
Hellbent on becoming the father he always dreamed to have, Keanu decided he has had enough and seeks legal advice over access to Peggy.
EASTENDERS NEWS
Everything you need to know about Eastenders
New, leaving and returning Eastenders cast
Can you visit the Eastenders set?
All the latest spoilers from Eastenders
The Sun's soap spoiler live blog
The best bits from Eastenders over the years
Lisa suspects he's is deliberately trying to keep her and the young girl in the UK.
With Eve Unwin's (Heather Peace) help, Keanu launces a race to get an order in place to keep Lisa from taking Peggy out of the country.
Meanwhile, Lisa tries to get what she needs to make a flight to Portugal that same night.
Read More on The Sun
Little-known rules for your own garden that can land you with £12k in fines
I wanted cute hair extensions but they left me bald, I had to shave my whole head
Can Keanu stop them in time?
EastEnders airs from Monday to Thursday at 7.30pm on BBC One.

Source: Read Full Article