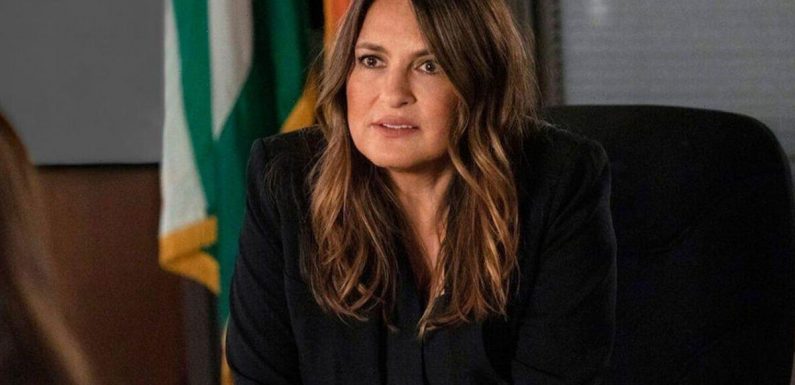 Law and Order: NBC teases crossover premiere event
We use your sign-up to provide content in ways you've consented to and to improve our understanding of you. This may include adverts from us and 3rd parties based on our understanding. You can unsubscribe at any time. More info
Law and Order, Special Victims Unit and Organized Crime will finally come together on Thursday for the franchise's first epic three-way crossover. Following the thrilling season premiere on NBC, SVU is set to delve even further into the challenging personal life of Olivia Benson (played by Mariska Hargitay) than ever before.
SVU season 24 will feature a major shake-up for Captain Benson, producers have confirmed.
In the popular spin-off's upcoming premiere, Benson will once again team up with her old partner Elliot Stabler (Christopher Meloni) to investigate a chilling murder.
Once they go their separate ways, the devoted detective will finally find some time to reflect on her own mental health.
Showrunner David Graziano previewed "a different sort of episode" in the ninth instalment of the season, just before SVU takes its winter hiatus.
"It's going to be about some of the trauma that SVU detectives absorb," he confirmed.
"And it's going to be [Benson] and another character, which I won't name, unpacking a lot of stuff that needs to be unpacked."
Could episode nine feature an appearance from Stabler or another SVU favourite to help Benson overcome some of the trauma she has packed away over the years?
David went on to hint the episode could touch on the terrifying kidnapping at the hands of William Lewis (Pablo Schreiber) Benson endured in season 14, and still hasn't opened up to Stabler about.
He teased to TVLine: "It'll be very intimate and very revealing about her on a personal level.
"Usually there's such huge cases and huge stakes to settle on the show that you don't get a lot of time to unpack things like that."
Most of the time, Benson is too caught up in her latest investigation to emotionally recover from the often horrifying events of the previous week.
Thankfully, this outing of SVU will finally take things down a gear to reflect on Benson's toughest experiences up to this point.
DON'T MISS:
Eamonn Holmes savages Holly and Phil 'They messed up!' [OPINION]
Outlander's Brianna actress pays tribute to co-star [TRIBUTE]
The Yorkshire Vet star recalls horror of losing patient [VIDEO]
The producer also spoke more about the newcomer joining the fold in season 24, Grace Muncy (Molly Burnett), who could eventually be groomed as Benson's replacement.
"She's rough around the edges," he confirmed. "She's going to have a steep learning curve for SVU… She's used to the gang unit."
The character will also be used "to teach the audience again, after 23 years of the show, what it takes to be an SVU detective.
"Some people have it, and some people don't. We're going to see if she has it."
"Benson is testing her a little bit, but also taking her under her wing."
Muncy could easily fit into the cast as a new protege for the long-running investigator, although David warned she won't find it easy to find her place in the precinct.
Mariska's future with the popular procedural seems secure, but the latest updates from behind the scenes could suggest her career solving some of New York's most hard-hitting crimes could be starting to run its course.
Law and Order's crossover event airs Thursday, September 22 on NBC in the USA. A UK release date is yet to be announced.
Source: Read Full Article