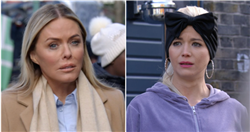 Lola Pearce (Danielle Harold) was left reeling in EastEnders upon discovering that client 'Nicole', whose real name is Emma Harding (Patsy Kensit), is her biological mum!
Emma, as viewers know, arrived in the Square a number of weeks ago after Billy Mitchell (Perry Fenwick) tracked her down at her place of work, hoping to convince her to attend her daughter's wedding.
Despite wanting to get to know her little girl, Emma refused to attend, but has since been unable to stay away, showing up to the salon to book appointments under the guise of Nicole.
Lola was none-the-wiser, believing Nicole to simply be a good customer and excellent listener.
The hairdresser discussed her terminal diagnosis, which came as a shock to heartbroken Emma, who has since gone out of her way to try and discreetly assist her, putting money through her letterbox and confronting the bully who was upsetting Lexi at school.
The truth was exposed in Monday's (February 6) edition of the soap, however, with Lola putting two and two together when 'Nicole' once again tried to give her a hefty tip.
Emma, still pretending to be Nicole, revealed she was just trying to help, but Lola wanted answers, admitting she was terrified that someone was stalking her as a result of her gestures.
Billy and Jay Brown (Jamie Borthwick), meanwhile, walked in on the scenes unfolding in the salon and the former recognised Emma, whose identity was subsequently revealed.
'You're my mum!', said a shocked Lola struggling to process the news. Just how will she react? Will she want a relationship with her mum?
Or is it too little too late?
EastEnders continues Tuesday February 7 at 7:30pm on BBC One.
If you've got a soap or TV story, video or pictures get in touch by emailing us [email protected] – we'd love to hear from you.
Join the community by leaving a comment below and stay updated on all things soaps on our homepage.
Source: Read Full Article