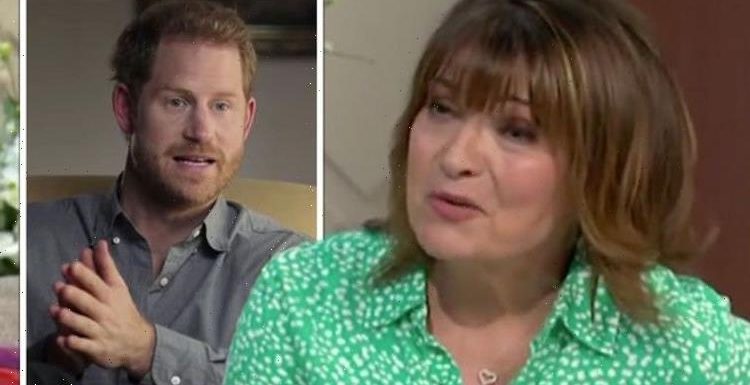 Prince Harry: Lorraine discusses Duke's 'ashamed' comment
When you subscribe we will use the information you provide to send you these newsletters. Sometimes they'll include recommendations for other related newsletters or services we offer. Our Privacy Notice explains more about how we use your data, and your rights. You can unsubscribe at any time.
Prince Harry spoke further about his wife Meghan Markle's mental health and suicidal thoughts in the new Apple TV series which was released on Friday morning. After a clip of the Duke of Sussex came to an end, Lorraine remarked it was "terrible" to hear what the couple had been going through. Her comment sparked a backlash amongst fans on Twitter with many pointing out she'd told Prince Harry to "be careful" about "frittering away" the support he has in the US earlier in the week.
Speaking in The Me You Can't See, Prince Harry said of Meghan's suicidal thoughts: "Meghan decided to share with me the suicidal thoughts and the practicalities of how she was going to end her life.
"The scariest thing for her was her clarity of thought. She hadn't 'lost it.'
"She wasn't crazy. She wasn't self-medicating, be it through pills or through alcohol.
"She was absolutely sober. She was completely sane. Yet in the quiet of night, these thoughts woke her up.
"I'm somewhat ashamed of the way that I dealt with them."
Harry added: "The thing that stopped her from seeing it through was how unfair it would be on me after everything that had happened to my mum and to now be put in a position of losing another woman in my life, with a baby inside of her, our baby."
"That's really interesting that he said he is 'somewhat ashamed' and also that's terrible," Lorraine commented as the clip ended.
"You know what's really terrible, we treat these people like cartoons almost and they're actually human beings trying to go on with their lives albeit in a very odd position."
Royal expert Russell Myers replied: "Well he's talking very candidly there isn't he.
"Not only about the relationship he has had with his own parents but also his own struggles.
"Very interesting that he said he was ashamed because he is a mental health advocate, it's one of his pillars of the work he does. Interesting he is admitting that, talking it forward."
Many viewers were quick to comment on Lorraine's remarks with one posting on Twitter: "Soo much disgust from #ITV #GMB #Lorraine this morning regarding the BBC/Diana interview.
DON'T MISS…
Naga Munchetty mortified as Francis Rossi threatens to walk off [VIDEO]
Our Yorkshire Farm's Amanda Owen shares 'worry' for daughter Clemmy [WATCH]
Kate Garraway bashes BBC over deceitful Princess Diana interview [REACTION]
"Much talk of William/Harry's mental health. Strangely silent when it was Piers Morgan slagging Megan off every day. Funny that."
Another added: "Not #Lorraine just saying it's really sad. When she's spent months slagging off Harry & Meghan."
A third continued: "'I don't know how much more we can hear from Harry' #lorraine and #thismorning are so quick to say that Harry and Meghan should shut up and go away.
"But here they are still talking about them. If the media didn't talk about them, they would go away."
"Shame she didn't think of him wen she decided to trash his family to the world #Lorraine (sic)," someone else tweeted.
It comes after Lorraine issued a warning to Prince Harry about his comments on podcast Armchair Expert.
She remarked to Ross King: "As we know, Prince Harry and Meghan left the UK partly because they didn't like the intrusion into their private lives but since they've gone to America they have done quite a lot of interviews and things, and poor wee Harry has put his foot in it, hasn't he?"
She went on to add: "He just has be careful. It's a difficult one and obviously they are very, very popular in the US and he doesn't want to fritter all that away, I guess."
Lorraine airs weekdays on ITV at 9am.
If you have been affected by any of the issues mentioned in this article, you can find support from the Samaritans.
You can call 116 123 or email [email protected]
Source: Read Full Article