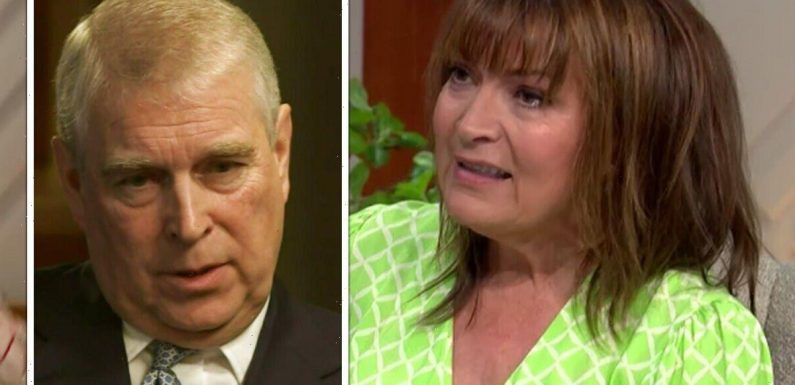 Lorraine Kelly makes heatwave joke about Prince Andrew
We use your sign-up to provide content in ways you've consented to and to improve our understanding of you. This may include adverts from us and 3rd parties based on our understanding. You can unsubscribe at any time. More info
Prince Andrew's disastrous Newsnight interview might be made into a movie, Lorraine Kelly announced on Tuesday's instalment of her ITV talk show. BBC viewers will recall how the royal defended himself against sexual assault allegations by claiming he could not sweat after experiencing trauma during the Falklands War. Lorraine couldn't resist making a jibe about the remark as the heatwave across the nation continues.
Lorraine invited Sam McAlister, the former Newsnight producer who secured the infamous interview, onto her programme to talk about her tell-all book Scoops.
Ahead of Sam's appearance, Lorraine showed a clip from the now infamous interview where Andrew claimed he could not perspire.
The disgraced royal told journalist Emily: "There's a slight problem with the sweating because I have a peculiar medical condition which is that I don't sweat, or I didn't sweat, at the time."
Andrew said it refutes Virginia Giuffre's claim he was "dripping with sweat" when they allegedly danced together two decades ago.
However, Lorraine looked at the camera and said: "God love him in this heat.
"Sam McAlister was the Newsnight producer who secured that interview, she's with me now.
"Sam this is a cracking book, Scoops, and what a lot of scoops you've had in your career, so, so many."
Sam joked: "Emily was sitting here, let's imagine, and you are Prince Andrew, sorry Lorraine, let's take a moment, I apologise.
"At least you're not sweating in the heat."
The former criminal defence barrister then opened up about Andrew inviting his daughter Princess Beatrice to come along to the Newsnight interview.
"Imagine speaking about the things we had to talk about in the tiny room, face-to-face, with her next to her father," Sam exclaimed.
Lorraine said it was "astonishing" how unprepared the Queen's son was for the explosive interview.
"I think he was unprepared I think in a very arrogant way as if he didn't have to," the ITV host added.
"You'd done your homework and Emily obviously had, and you knew you were, but he did seem as though he hadn't prepared.
"He hadn't realised just how serious it was."
However, Sam told Lorraine she thought the royal did prepare for the BBC interview.
But she felt "it all went out of the window as soon as the cameras went on".
Lorraine said she was shocked everyone around Andrew thought he had "done a good job" with the interview.
Andrew has always denied Virginia's allegations that he sexually abused her when she was 17 years old.
Lorraine airs on ITV on weekdays at 9am.
Source: Read Full Article