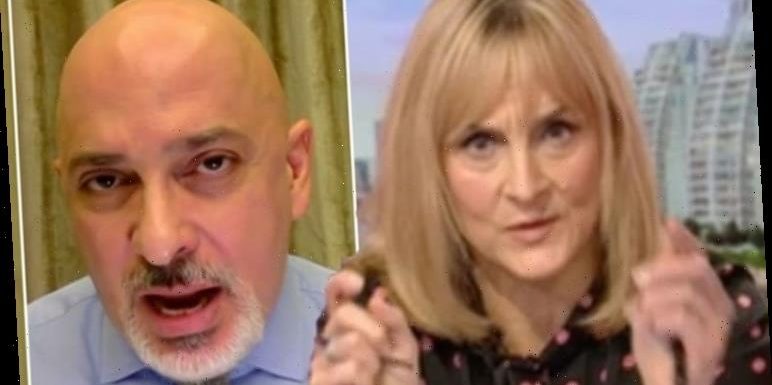 Breakfast: Minchin apologises for Nadhim Zahawi 'misspeaking'
When you subscribe we will use the information you provide to send you these newsletters.Sometimes they'll include recommendations for other related newsletters or services we offer.Our Privacy Notice explains more about how we use your data, and your rights.You can unsubscribe at any time.
With Prime Minister Boris Johnson set to address the nation this evening with a "roadmap" of how the UK can exit lockdown, Louise Minchin and Charlie Stayt welcomed Nadhim Zahawi onto the show to discuss the importance vaccines will be in making that possible. However, just moments into the BBC Breakfast chat, Minchin was forced to clarify one of Mr Zahawi's quotes after he "misspoke" – leaving many viewers confused and blasting the chat as a "car crash".
Confusion first arose during the chat with the vaccines minister when Minchin probed on the reopening of schools for "all pupils" on March 8.
Mr Zahawi replied: "Correct, that is all schools because, as I said, it is three weeks after the over-50s will have received the first dose of vaccine protection,
"And it also -" Mr Zahawi tried to continue before Minchin promptly pulled him up on his mistake: "Sorry, do you mean the over-50s?
"Because there are people here who are in their over-50s and have not yet had their vaccination."
The vaccines minister realised his error as he tried to backtrack: "So, so – sorry, my apologies, it's – March 8 is three weeks after the cohort that is the most vulnerable will have received their protection from the mid-February deadline.
"The middle of April is when over-50s will have received their protection. That is the target for the vaccine deployment."
But keen to make sure there wasn't confusion with viewers, Minchin interrupted to clarify that was a "misspeak" during Mr Zahawi's answer.
Despite Minchin trying her best to get clarity for viewers, several were left fuming by the miscommunication and took to social media to make their thoughts known.
"Nadhim Zahawi hasn't got a clue what's going on with the vaccine programme. Car crash interview on #BBCBreakfast," blasted one fan on Twitter.
A second agreed: "Oh look. What a surprise, Nadhim Zahawi not across his brief on #BBCBreakfast but Louise Minchin apologising on his behalf reminding him he was misspeaking."
Another weighed in: "Vaccines Minister completely b****xing it up on @BBCBreakfast What is wrong with these people?"
"Great. The vaccines minister has absolutely no idea who has been vaccinated or what month we are in. Really instilling a lot of confidence. Not. @BBCBreakfast," a fourth sarcastically commented.
DON'T MISS:
Louise Minchin opens up on pressures of hosting BBC Breakfast
Lockdown end: Zahawi says travel and family visits ok from March 29
Labour MP hits out at Rishi Sunak 'sit down' with Gordon Ramsay
And a fifth also made their views clear: "Nadhim Zahawi explaining things as clear as mud #BBCBreakfast."
While a sixth concurred: "Stop putting Zahawi on. I am much more confused now than before he started speaking. @BBCBreakfast."
Later in the discussion about schools reopening, Minchin asked what would happen if a school felt it couldn't reopen safely.
Mr Zahawi replied: "Well, we've been working with teachers, we've supplied three million tests for teachers since January for regular testing.
"Many, many, many more millions of test kits are going out to teachers and we'll be working with schools to have them reopen safely,
"And I think the majority of the teaching profession feels it's the right thing to do."
Mr Zahawi concluded it was important than eve to "work together" now to ensure children returned to the classroom on March 8.
BBC Breakfast continues daily at 6am on BBC One.
Source: Read Full Article