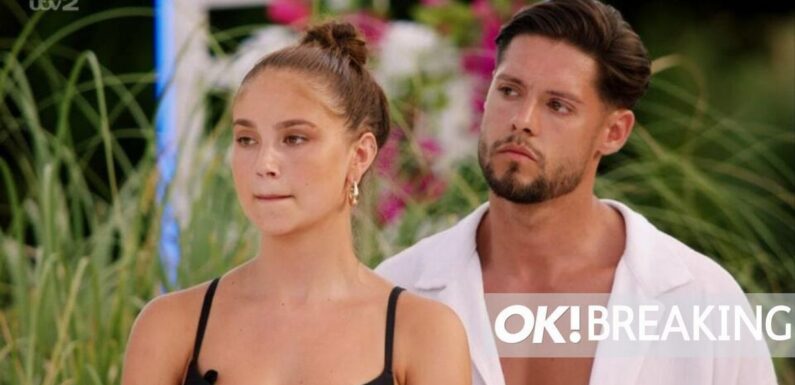 Follow OK! on Threads here: https://www.threads.net/@ok_mag
Love Island has dumped two more couples from the island, as with only two weeks left until the season's grand final, it's time to slim down the islanders.
Amber Wise and Josh Brocklebank, and Kady McDermott and Ouzy See said their goodbyes on Tuesday night.
Fans were left horrified as presenter Maya Jama returned to the show to reveal which three couples were voted as the least popular in the villa, and Amber and Josh were dumped immediately.
But in a surprise twist, Whitney Adebayo and Lochan Nowacki were then asked to choose which of the other two couples – Kady and Ouzy, and Mitchel Taylor and Ella Barnes, would be going home too.
As the drama unfolded in the latest instalment of the hit ITV2 dating show, things became tense as the final two couples were also told to tell Whitney and Lochan exactly why they still deserved their place in the villa.
As they pulled out all the stops to keep their place, and potentially go through to the final, both couples shared all their reasons for wanting to stay.
And after private deliberation, Whitney and Lochan decided that Mitch and Ella deserved a chance to get to know each other better.
They also agreed that Kady and Ouzy have struggled in recent days after Kady kissed Zachariah Noble in the Snog, Marry, Pie challenge.
In the morning, the group woke up to a text announcing they were heading off for a VIP party at the beach club, something which producers have set up every season in recent years.
After a day of partying with superstar singer Rita Ora, the group were unfortunately brought down to earth as Maya revealed the disappointing news someone would be going home.
In an interesting twist, the host also revealed that Whitney and Lochan were the nation's favourite couple, as wig shop owner Whitney cheered at the news.
"Get yourself with the good guy ladies," the star giggled.
Maya then revealed that the other least popular couples were Mitchel and Ella, and Kady and Ouzy.
Upon hearing she was going home, Amber said on camera: "Being dumped obviously it's not nice, but I feel like I've made some really good friendships in here.
"My hot girl summer starts now do you know what I mean?" the star then declared, as Essex bombshell Josh burst out laughing in response.
The pair unfortunately didn't gel in the villa, despite Josh's attempts to connect with footballer Greg Wise's daughter.
Love Island continues every night at 9pm on ITV2 and ITVX
Source: Read Full Article