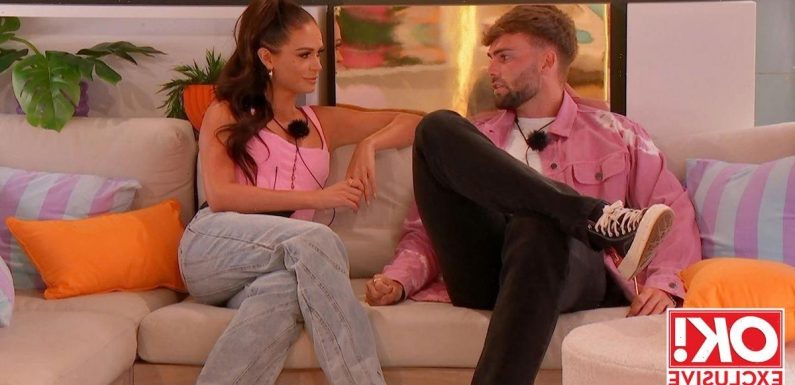 From spilling on what life in the villa is really like to giving her verdict on the latest Love Island bombshells, Danica Taylor isn't holding back in her exclusive OK! column.
This year, the star – who fast became a fan favourite when she arrived in the Mallorca villa last summer – is giving her verdict on all the latest drama every week.
The latest episodes have seen no shortage romantic moments and tea spilling, with one couple going from strength to strength while others have faced test after test.
Read Danica's latest column below…
Shaq is a national treasure!
Shaq has proven to be a man of his word. He isn't afraid of putting the other boys in their place and delivering no-nonsense advice. It's gone a long way and we could have done with a guy like that in my series, to be honest.
Love Island boys are typically quite carefree and just do whatever they want. Last summer, none of them really called each other out and said 'bro, this isn't what you should be doing'. Look at Casa Amor – Luca just egged them on! Those lads all had each other's backs, which I get, but it would have been nice to see at least one of them speak out about some of the behaviour. Shaq is proving that not all men are trash!
And I hope he and Tanya are the real deal
Tanya and Shaq went all the way in the hideaway and seem smitten with each other! I have faith that they could be a couple who will last through Casa Amor and to the final.
I do struggle to not look at them from a contestant's point of view though. Maybe they could be playing a game… If you stay with someone from the start and you have a strong romance going on, then it's always a winner. Whatever their intentions though, it's nice to see people actually being loyal to one another.
Tom needs to remember what Love Island is actually about
One girl isn't enough for Tom – he even prefers a love pentagon to a triangle. He's a good-looking guy and he's probably used to having a lot of attention in the real world. I think that right now, he's just moving how he would outside… It's just awkward because he keeps getting caught as everyone is in such close proximity to each other all the time.
He doesn't seem to realise what he's actually doing at the moment either. He's on Planet Tom! He's running away with himself and getting lost in the sexual energy when what you're actually on Love Island to do is find a connection and build on that romance.
Maybe none of the girls are the right one for him but even if that's the case, it doesn't excuse his behaviour and he needs to realise that he is hurting people's feelings. Take liability for what you've done and be a man about it!
I've been in Olivia's position
Like a lot of these Islanders, Olivia probably receives a lot of attention on the outside and is used to getting what she wants. Now she's in the villa though, and Tom isn't giving her that. She's chasing after him even though she knows he is no good. I've been in that position!
Deep down, she knows he's not loyal, which won't be what she wants, but it seems like she's got carried away with the fantasy of potentially being the one to turn his head and get him to commit. If she was thinking rationally, she'd know she's so much better than that but her ego is getting the better of her and she doesn't want to cut it off.
I think I did the same with Josh. When we were in the villa, there was always a part of me that wasn't totally ready for it to be finished. It's something a lot of women can relate to. I've always said though, don't let a man tell you he doesn't want you twice. Stop romanticising his actions, Olivia!
Zara, on the other hand, made her thoughts crystal clear and said 'absolutely not'. She called him out so publicly because she knows there's no going back.
The simplest things become huge mysteries in the villa
Tanya celebrated her birthday this week, but you never usually know what date it is on the show! At lunch time, we would sometimes ask the producers what date it was but they'd always fob you off as much as possible.
Because I went in late as a bombshell, and on a certain date, I tried to count each day off as time went by. It was my mum's birthday while I was on the show too and I wanted to remember so I could sneakily ask one of the producers to send her a message for me.
One day, I thought 'I think it's the nineteenth…' and then I realised: 'Oh my god, it's my graduation today'. And I spent it sat on a beanbag! There was about a week where I went totally foggy and it was honestly a nightmare. We were all sat there trying to work it out.
The only days when you could even find out the time were when you got to go on a date, and could sneak a look at the clock in the car. We knew dinner was always between 5pm and 6pm then, as producers always tried to get you back to the villa in time for it. We worked out the sun set at around 10pm so I'm pretty sure every evening for us started after then. This is what happens when you don't have anything else to think about!
READ MORE:
All the pictures from James Bye's stunning St. Lucia vow renewal including 'Disney movie' moment and unexpected disasters
Pregnant Dani Dyer announces identical twins' gender as she asks fans for advice
Love Island's Samie 'disappointed' over boy who picks her in dramatic recoupling

Nicola Peltz and Brooklyn Beckham's wedding planner saga revealed in dad's $160k lawsuit

For the latest showbiz exclusives, sign up to our daily OK! newsletter
Source: Read Full Article