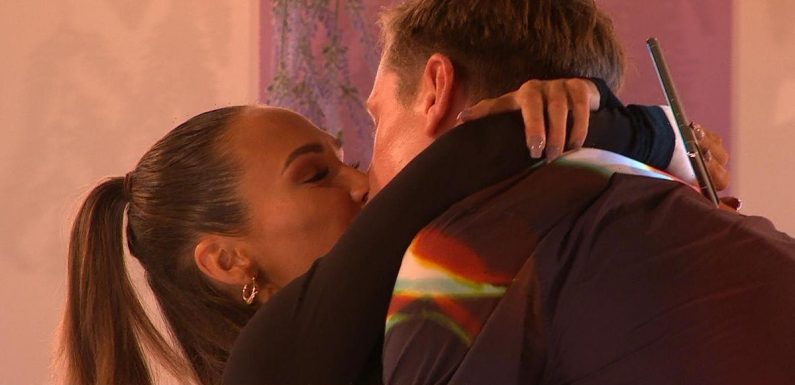 Love Island viewers have branded Jessie Wynter a "fake" after spotting her crying without tears when Love Island beau Will revealed his true feelings.
The Aussie babe was treated to a romantic gesture from farmer Will, as he attempted to make up for snogging another girl during the Casa Amor test.
As Will roped in islanders to spell out his love for Jessie and each say a reason why he loves her, she was overcome with emotions and jumped up to kiss Will – but viewers are sceptical about her display of affection and have accused her of being overdramatic and playing the game.
READ NEXT: Love Island's Tanya 'sneaks out' of bed to find Shaq while surprise guest enters villa
One viewer tweeted: "I love Jessie but I can't with this crying that you never see actual tears."
Another agreed, as they wrote: "I like Jessie, but as much as she's "cried"…I've not seen any tears."
"Jessie keep crying with no tears," said another.
A fourth wrote: "Jessie love I would maybe believe you if there was actual tears coming out of your eyes, you can't just pretend."
One viewer thought Jessie's emotional displays were evidence she was playing a game: "Jessie and her fake nonexistent tears! Ima need y'all to stop falling for her theatrics! She knows how to play the game.. she's done this before, remember? She knows how to gain the sympathy of the audience."
However, some fans leapt to the Aussie babe's defence as one wrote: "Why do ppl keep implying Jessie is faking her tears over Will? I defo saw tears and the veins on her forehead kinda bulge when she's upset. Some ppl r reaching with this."
The emotions came after Will gathered his fellow islanders to help him make it up to Jessie, as he gave them each a line to say on what he loves most about Jessie. Taking her onto the terrace, he said: "Jessie, I think we've done a lot of talking and I just want to show you how I feel," before she looked down to see the Islanders in a line looking up to them.
Each islander stepped forward to say a line before Tanyel ended the reasons as she said: "I love the way we all love you and Will wants to let you know."
Turning to Jessie, Will said: "That Jessie, I do, really do, love you."
Love Island continues on ITV2 and ITVX at 9pm.
For more of the latest showbiz news from Daily Star, make sure you sign up to one of our newsletters here.
READ NEXT:
Loaded In Paradise star was almost thrown off ITV show after not listening to guidelines

Love Island fans confused as split couples 'reunite' on-screen after recoupling

Love Island's Olivia Hawkins red-faced as she exposes 'wet bum' in racy blunder
Source: Read Full Article