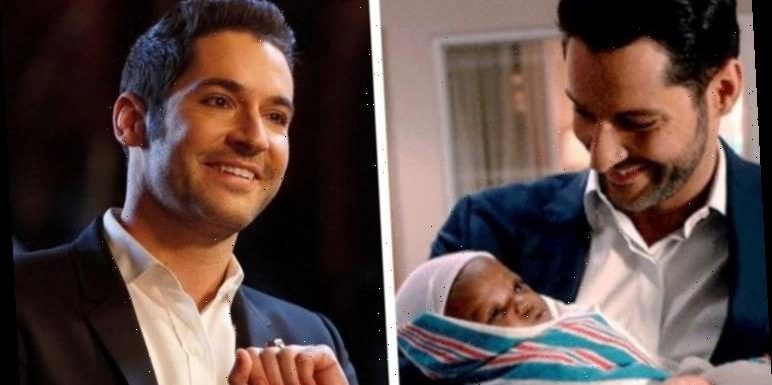 Lucifer meets Trixie Espinoza in 2016 pilot episode
Fans of Lucifer have followed Lucifer Morningstar's (played by Tom Ellis) story from when he first made the trip to Los Angeles back in season one on FOX. The show has seen him solving crimes as well as grappling with his growing feelings towards Chloe Decker (Lauren German). Now the pair are finally together in the now-Netflix show, some will be wondering whether they might have a family in the future and if Lucifer is even capable of this.
Can Lucifer have children?
In the television series Lucifer, the devil is portrayed as an immortal angel charged with looking after Hell.
Given this, some may have wondered if Lucifer can do all of the same things humans can.
This includes whether he is able to conceive and have children in the series.
There seems to be no reason why Lucifer would not be able to have a baby on the show.
We will use your email address only for sending you newsletters. Please see our Privacy Notice for details of your data protection rights.
This is because it seems like angels can procreate with humans in the series' mythology.
This was confirmed when Amenadiel (DB Woodside) became a father to baby Charlie with Linda Martin (Rachael Harris).
Although whether Lucifer would want to have a baby is another story entirely.
Fans of the show will know he has grappled with his dislike of children since season one.
However, the feeling is often not mutual as children are generally drawn to him, much to his annoyance.
In season five, part one, he found out baby Charlie loves his devil face.
As well as this, Chloe's daughter Trixie Espinoza (Scarlett Estevez) has always wanted to be his friend.
As the seasons have progressed, Lucifer's relationship with Trixie has grown and the pair are quite close now.
DON'T MISS…
Tom Ellis height: How tall is Lucifer star Tom Ellis? [PICTURES]
Lucifer season 5 part 2: Trixie to help Maze take out Michael in twist [INSIGHT]
Lucifer season 5: Tom Ellis wows fans with Lucifer body transformation [VIDEO]
Therefore, it doesn't seem unreasonable to think Lucifer could be happy with a child of his own on the show.
This is something Tom Ellis himself has addressed in an interview with Entertainment Tonight in 2019.
When asked if a Deckerstar baby could be on the cards, he said: "All of these things could happen.
"Lucifer did say to Amenadiel it's really surprising that he hasn't gotten someone pregnant. If Father (Dennis Haysbert) blesses it, then maybe."
However, some fans have also pointed out how Lucifer would probably have to become more mortal in order to have a baby.
This is because this is what allowed Amenadiel to have a child in the show.
Posting on Reddit, Chocolatechippig explained: "When Amenadiel tells Luci that Linda is pregnant, Luci says that Amenadiel must have become more mortal than they realised.
"Amenadiel lost his wings and his power to stop time during that time (and evidently his strength, since Uriel was able to beat him).
"Even though Luci is vulnerable/can get hurt around Chloe, he still has his wings and 'desire' power, and we've seen him use his angel strength around her, so does he really become mortal, or just vulnerable?
"I feel like he'd have to lose his wings and/or power and/or strength to be mortal enough to get Chloe pregnant (if we're using Amenadiel as a model)."
Viewers will just have to wait and see whether or not the writers pursue this storyline when the show returns once again.
Lucifer season 5, part 1 is available to stream on Netflix now.
Source: Read Full Article