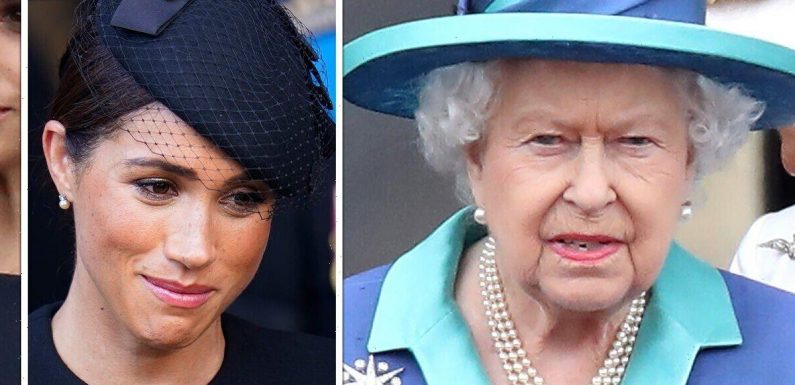 Stephen Dixon says Prince Harry needs to tell Meghan 'no'
We use your sign-up to provide content in ways you've consented to and to improve our understanding of you. This may include adverts from us and 3rd parties based on our understanding. You can unsubscribe at any time. More info
Conservative MP Shaun Bailey has advised the Duke and Duchess of Sussex to tread carefully following Queen Elizabeth II's death. He debated whether Prince Harry should scrap his plans to release a tell-all memoir entirely. Bailey told GB News viewers the couple needs to understand they cannot attack the Queen or the King "without attacking the whole country".
Harry's explosive book was due to be published later this year, but the release date has reportedly been pushed back following his grandmother's death.
Bailey discussed whether the book should be thrown out altogether so the Royal Family could come together again.
He told GB News viewers on Saturday: "All this is possible if, particularly Meghan, changes direction.
"From a very hard point of view, she should realise why people are interested in her is because of her link to the Royal Family.
"She shouldn't break that link to the Royal Family, she needs to think about the future of her children.
"They are not just her children, they are somebody's grandchildren and they are linked to a family."
"She needs to think about that as well," the 51-year-old added. "But also, on a very personal level, this will give her pause to think about a change in direction.
"I would be surprised, pleasantly, if the book did not come out – that would be a real revelation."
He quipped at how their publisher would react if they decided to bin the book completely.
"I think it would be a time to come together because the important thing Harry and Meghan have to understand is you cannot really attack the Queen or the King without attacking the whole country," Shaun exclaimed.
"I think that is where all of that uneasiness came from."
His comments divided viewers who took to Twitter to voice their opinions on the Duke and Duchess.
Mark Lissaman said: "She shouldn't 'change direction'. The Royal Family need to get with the times and modernise and stop being stuck in the past. No one should be controlled the way they do and there should be some autonomy."
Gordon Snowden penned: "Prince William extended the olive branch, good on him. If it's not accepted by Prince Harry and his wife in the same spirit, they should both be ignored in future. King Charles and the royals have a great country and people to oversee."
The GB News debate comes after a source close to the Sussexes told The Telegraph Harry's memoir will no longer be released as planned as the mourning period continues.
However, it is understood the manuscript is finished and has been approved by lawyers.
Meanwhile, Meghan has put her podcast, Archetypes, on hold until after the Queen's funeral in Westminster Abbey on Monday.
Her Spotify podcast launched in August and she has released episodes where she's interviewed Serena Williams, Mariah Carey and Mindy Kaling.
Source: Read Full Article