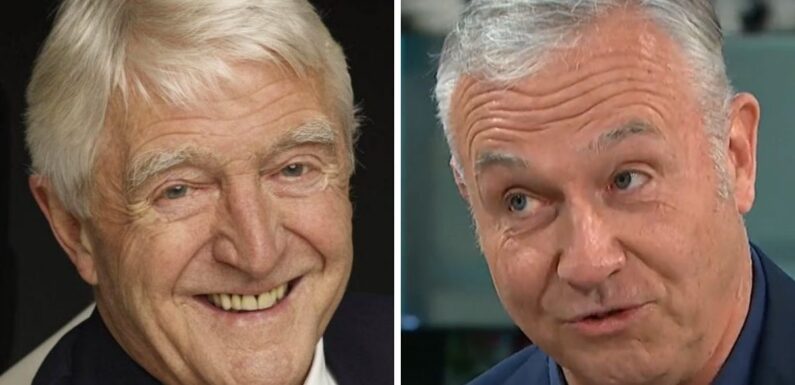 GMB: Mike Parkinson talks about his dad's insecurities
Michael Parkinson's son Mike Parkinson opened up about his father having "imposter syndrome" throughout his career and feeling it would all end abruptly.
Good Morning Britain presenters Kate Garraway and Richard Madeley were joined by the TV star's son on Monday morning to discuss his incredible career.
However, Mike admitted that his father was always scared that one day it would all come to an end and someone would take his passion away from him.
He explained: "One of the things he used to do on his interview show was reveal the man or the woman behind the fame.
"Everyone imagines that famous and talented people have this wonderful guild of lies, well they don't actually they are subject to the same insecurities that we all are.
READ MORE Win a pair of tickets to The Coronation Street Experience
"Which is what my dad revealed and he was subject to them as well and mainly because he came from a working-class background in a mining village.
"Because of his talent, he exploded onto the scene, all the way along he was haunted by the idea 'What am I doing here?'
"'I shouldn't be here really, there are better-educated people to talk nicer than me,' and he ran all his life with this fear behind him.
"That someone was going to tap on his shoulder and go 'Come on' he thought he was going to lose everything."
Elsewhere during their conversation, Mike admitted that his father would "laugh" at the fact many people see Michael Parkinson as a national treasure.
Don't miss…
Michael Parkinson 'very insecure' at BBC as he 'constantly questioned' himself[LATEST]
Michael Parkinson's son shares family's pain at being unable to grieve for him[INSIGHT ]
World Cup Willie lost royal game of thrones, says Ann Widdecombe[WATCH ]
We use your sign-up to provide content in ways you've consented to and to improve our understanding of you. This may include adverts from us and 3rd parties based on our understanding. You can unsubscribe at any time. More info
He laughed: "It is a strange experience to go through and it is a very interesting experience to see what other people thought of my father.
"I know you use words such as national treasure and legend and icon, he would have been laughing, he is laughing now when people say that about him.
"He in no way shape or form did he think anything he ever did would live beyond what he did at the time, he never did.
"He viewed himself very much as a jobbing broadcaster, a jobbing journalist and he just kept going forward."
As his death was announced, the family released a statement which revealed the star had been battling a brief illness.
Good Morning Britain airs weekdays from 6am on ITV.
Source: Read Full Article