Miley Cyrus is getting *real* about what it was actually like playing Hannah Montana. Sure, the Disney Channel show launched her into fame, fortune, etc., etc., but it also took a toll on her mental health. Honestly, it's not surprising that playing a character with alternate identities as a teen could get complicated quickly.
"Talk about an identity crisis," she said on Spotify's Rock This with Allison Hagendorf podcast. "A character almost as often as I was myself, and actually, the concept of the show is that when you're this character, when you have this alter ego, you're valuable. You've got, like, millions of fans, you're the biggest star in the world, and then the concept was that when I looked like myself, when I didn't have the wig on anymore, no one cared about me, I wasn't a star anymore."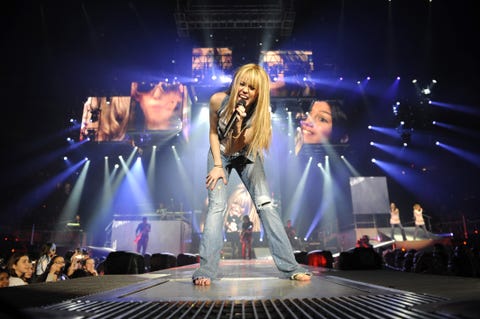 She continued, "So, that was drilled into my head. Like, without being Hannah Montana, no one cares about you. And that was the concept."
Ugh, that breaks our hearts because obvs Miley > Hannah, since ya know, Miley is a real person and Hannah… isn't. She explained that her transition into singing about sex, drugs, and partying (like she did on Bangerz) helped her to break out of the dreaded Disney mold.
"I think that's maybe why I almost created a characterized version of myself at times," she revealed. "I never created a character where it wasn't me, but I was aware of how people saw me and I maybe played into it a little bit."
Okay, now the whole twerkin' with a teddy bear thing makes much more sense.
You love all the nitty-gritty deets on Miley Cyrus. So do we! Let's overanalyze them together.
Source: Read Full Article