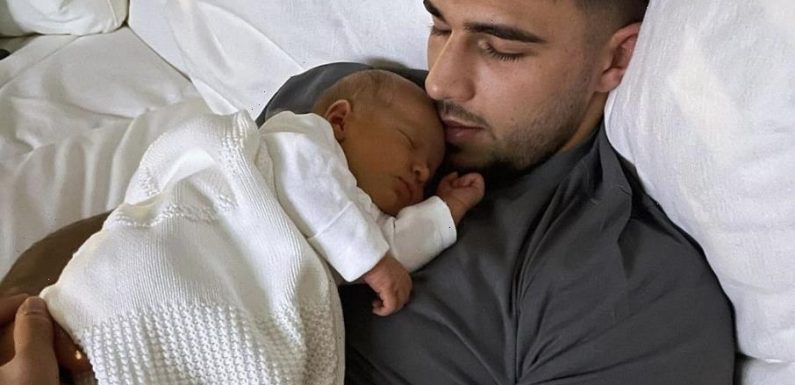 MOLLY-MAE Hague has shared a sweet new picture of baby Bambi after fans called the tot Tommy Fury's twin.
The new mum stepped out for a walk with the pram yesterday and took a snap of Bambi asleep in her furry cream coat.
Molly wrote: "Everyone's saying she's Tommy's twin! I also massively see my sister in her."
While out on the walk, Molly was passed by her boyfriend Tommy, who was making his way to training after temporarily moving out of the family home.
The professional boxer has swapped the couple's luxury £3.5million pad for a "hellhole" apartment as he trains relentlessly for his bout against bitter rival Jake Paul later this month.
Molly was buzzing to see her man, albeit briefly, and shared a picture of him behind the wheel of his black Mercedes.
READ MORE ON MOLLY-MAE
Molly-Mae Hague reveals adorable new shots of baby Bambi
Tommy Fury drives past girlfriend Molly-Mae after moving out of family home
She wrote: "Look who drove past on our walk on his way to training.
"Two weeks until we are always together again, we are so proud of you dadda."
Tommy is leaving no stone unturned as he looks to silence Jake once and for all after two years of feuding.
He told Sky Sports last week: "I'm a professional athlete, I'm a professional boxer.
Most read in Celebrity
Ex-Towie star and wife welcome baby & reveal name
Tommy Fury drives past girlfriend Molly-Mae after moving out of family home
Pregnant Stacey Solomon worries fans after disappearing off social media
Devastated Molly-Mae reveals fears she was 'starving' her baby
"My job is not to make little sly jokes and comments on Instagram and social media.
"I'm in a training camp. I'm in bed nine o'clock every single night, I'm up 4.30/5am running. Solely focussed on this man.
"One man is flying around the globe, coming here to do media stuff going here, there and everywhere and you've got one man that's living in a hellhole.
"I've moved out of my own house, I'm living in a little apartment, I've gone back to the dog mindset.
"And that's what's going to get me through this fight, he's not working as hard as I am, I'm putting the work in.
"I'm not just putting the work in when the camera's in front of me. All the cameras are off when I'm working."

Source: Read Full Article