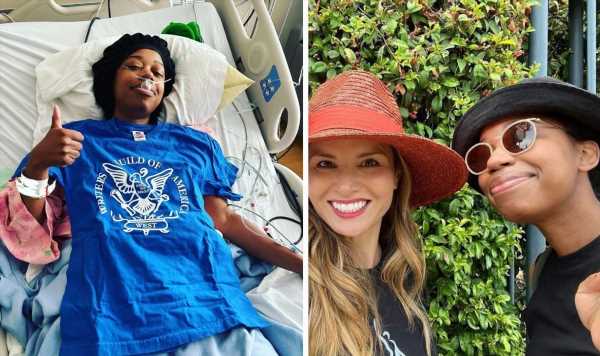 Sneak Peek at the season finale of NCIS
NCIS actress Katrina Law and her co-stars stood in solidarity for the ongoing writers' strike that began in May.
In a post to Instagram, Katrina who stars as Jessica Knight in the long-running CBS show, shared a series of snaps with her cast members taken outside the Walt Disney Studios in Burbank, California, on August 1.
Among them was Diona Reasonover, who has just recently undergone a myomectomy "to remove 10(!) fibroids" as per her latest social media post.
In one pic, Diona threw a peace sign with her fingers and posed for a selfie alongside Kat and Brian Dietzen, who plays Dr Jimmy Palmer.
She appeared to be recovering well from her recent surgery as she boasted a big smile for the camera.
READ MORE: NCIS' Diona Reasonover shows support for writers' strike from hospital bed
Katrina captioned her carousel post, which showed all the NCIS cast showing their support for the strikes: "@JANEFONDA ATE OUR ICE CREAM!!!!
"So proud of the #NCIS actors and writers coming out in support of each other and for providing a relief to the heat by sponsoring an Ice Cream Truck @cvtsoftserve #sagaftrastrong #wgastrong #sagaftrastrike."
Fans were quick to flood Katrina's comment section to show their support for the actors' stand.
One user @chrismallett7963 penned "This is so great. I love that you all are standing up for what's right. I am with you all in spirit."
Don't miss…
Stanger Things co-creator teases 'emotional' Will Byers season 5 storyline[TEASER]
Outlander's Sam Heughan says he's 'pushing for a different ending' to drama[REVEALED]
Chris Noth denies sexual assault allegations but admits he 'strayed' from wife[LATEST]
View this post on Instagram

A post shared by Katrina Law (@katrinalaw)
We use your sign-up to provide content in ways you've consented to and to improve our understanding of you. This may include adverts from us and 3rd parties based on our understanding. You can unsubscribe at any time. More info
As a second fan, @andrew1974ah pointed out: "Why the NCIS family is loved and respected."
Meanwhile @ncisknight wrote: "I hope we get new NCIS soon," as the show is one of many that is set to be affected by the strikes going on in Hollywood.
Another fan @laurennbaily was pleased to see Diona back on her feet as she pointed out: "@katrinalaw great to see Diona with you after recently being in hospital," followed by a red love heart emoji.
Although Diona, who plays Kasie Hines in the long-running CBS drama, was there in person with her NCIS crew earlier this month, the actress still showed her support for the strikes from her hospital bed after she came out of surgery in July.
The actress shared a snap of herself that showed her lying on a hospital bed with a blue WGA West shirt laid on top of her.
She told her 48,000 followers that she was at home recovering and encouraged them to show their support for the ongoing writers' strike.
"Union strong even after surgery," she captioned her pic, before explaining: "Had a myomectomy to remove 10(!) fibroids. I'm home now and resting. Patricia is the best nurse. We're good on food, flowers and errands, just picket extra hard for me, plz." [sic]
NCIS airs on CBS in the US.
Source: Read Full Article