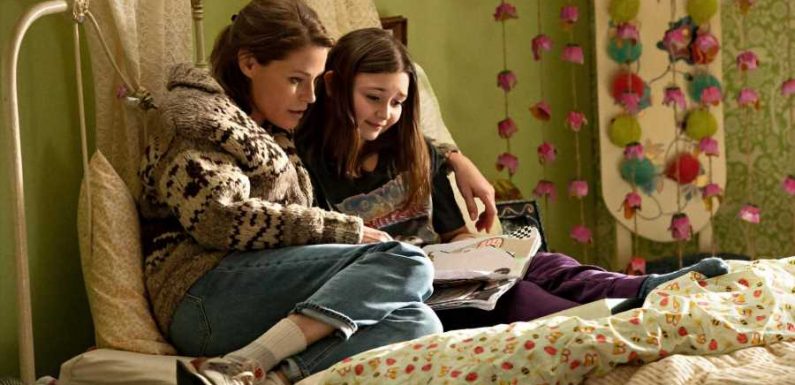 NETFLIX is keeping the nation entertained over the next week with more new releases coming out all the time.
The streaming giant will be dropping different movies and TV shows on their site.
What's new on Netflix? Latest releases for November 28 to December 4, 2021
December 3
Mixtape
On the eve of Y2k, orphaned, awkward 12-year-old Beverly Moody (Gemma Brooke Allen) discovers a broken mixtape crafted by her teen parents.
Raised by her grandmother Gail (Julie Bowen), a former teen mom herself who finds it painful to speak about her late daughter, Beverly sees this mixtape as a chance to finally learn more about her parents.
So she sets out on a journey to find all the songs on the tape.
Along the way, she makes friends with her quirky neighbor, Ellen (Audrey Hsieh); intimidatingly tough, Nicky (Olga Petsa); and Anti (Nick Thune), an anti-everything record store owner who's the key to finding these tracks, and a renewed bond between Gail and Beverly.
Coming Out Colton
Former professional football player and star of The Bachelor Colton Underwood embarks on a journey of self-discovery – coming out as a gay man.
This included addressing his past and embracing his place in the LGBTQ community.
December 2
Single All The Way
Desperate to avoid his family's judgment about his perpetual single status, Peter (Michael Urie) convinces his best friend Nick (Philemon Chambers) to join him for the holidays and pretend that they're now in a relationship.
But when Peter's mother (Kathy Najimy) sets him up on a blind date with her handsome trainer James (Luke Macfarlane)— the plan goes awry.
The best series on Netflix
The best movies on Netflix
December 1
Lost In Space – Season 3
In the third and final season of Lost in Space, the stakes are higher than ever and the Robinson family's survival instincts will be put to the ultimate test.
After a year of being trapped on a mysterious planet, Judy, Penny, Will and the Robot must lead the 97 young Colonists in a harrowing evacuation — but not before secrets are unearthed that will change their lives forever.
Meanwhile John and Maureen — with Don at their side — must battle overwhelming odds as they try to reunite with their kids.
The Robinsons will have to grapple with the emotional challenge of not just being lost – but being separated from the ones they love… as they face the greatest alien threat yet.
November 30
The Summit of the Gods
A breathtaking adaptation of the manga series by renowned manga artist Jirô Taniguchi and writer Baku Yumemakura, he film follows a young Japanese photojournalist, Fukamachi, who finds a camera that could change the history of mountaineering.
It leads him to the mysterious Habu, an outcast climber believed missing for years. Fukamachi enters a world of obsessive mountaineers hungry for impossible conquests on a journey that leads him, step by step, towards the summit of the gods.
Lead Me Home
500,000 Americans experience homelessness every night.
Lead Me Home is a documentary short by Jon Shenk and Pedro Kos that captures the experience from multiple perspectives.
This immersive, cinematic film personalizes the overwhelming issue by telling the real-life stories of those going through it as a first step toward challenging uninformed attitudes and outmoded policies and gives the audience a rare, in-depth look at the scale, scope and diversity of unsheltered America today.
November 29
14 Peaks: Nothing Is Impossible
The film explores Nepal's deep connection to high-altitude mountaineering through the eyes of Nirmal "Nimsdai" Purja, a fearless, fun-loving Nepali climber on a quest he dubs "Project Possible"—to summit all 14 of the world's 8,000-meter mountains in just seven months, breaking the previous record of seven years.
With a team of skilled Sherpas, he traverses Mount Everest, K2, and other iconic peaks through extreme weather, life-or-death decisions, and the emotional weight of his mother's illness back home.
14 Peaks is a thrilling, action-packed story about courage, perseverance, and pushing the limits of human endurance.
November 28
Elves
Hoping to reconnect over Christmas, a family of four travels to a remote island in the Danish archipelago, only to find it controlled by members of a strongly religious community living in balance with fierce creatures in the woods revealed to be… elves.
Real, monstrous beings that inspired the folklore and myths we all know.
When the girl in the family finds and brings home a baby elf, she inadvertently disrupts the balance and throws everyone on the island into a life-or-death battle for faith, family and pure survival.
More on Netflix:
November 26
November 24
Selling Sunset – Season 4
True Story – Limited series
November 23
Jonas Brothers Family Roast
Waffles + Mochi's Holiday Feast
November 18
The Princess Switch 3: Romancing the Star
November 17
November 12
November 10
Happiness Ever After
Animal – Season 1
Passing
Gentefied – Season 2
November 9
Your Life Is A Joke – Season 1
November 5
Lovehard
Narcos: Mexico – Season 3
The Unlikely Murderer – Limited Series
October 29
Army Of Thieves
Colin in Black and White
October 28
Luis Miguel: The Series – Season 3
October 27
October 21
Sex, Love, & Goop
Life's A Glitch with Julian Bam – Season 1
October 20
Found
Night Teeth
Stuck Together
October 19
October 15
You – Season 3
Little Things – Season 4
The Four Of Us
The Forgotten Battle
October 11
The Baby-Sitters Club – Season 2
October 8
October 7
October 6
Bad Sport – Season 1
Baking Impossible – Season 1
October 5
Dave Chappelle: The Closer
October 4
On My Block – Season 4
October 1
September 29
September 28
September 24
The Starling
Jailbirds New Orleans
Midnight Mass
September 22
Confessions of an Invisible Girl
Intrusion
Crime Stories: India Detectives
Dear White People – Season 4
September 19
Love on the Spectrum – Season 2
September 17
September 16
September 15
Schumacher
Nailed It! – Season 6
Too Hot To Handle: Latino
September 14
September 10
September 9
Blood Brothers: Malcolm X & Muhammad Ali
September 8
September 7
September 3
Money Heist – Season 5 Vol. 1
September 2
September 1
Turning Point: 9/11 and the War on Terror – Season 1
How can I sign up to Netflix?
The standard package for Netflix is £8.99 per month. This means two devices can be used to watch it at the same time. You can sign up here, and cancel your subscription any time.
What's on Netflix and Amazon Prime?
Looking for a new Netflix series to binge or the best movies to watch on Amazon Prime? We have you covered…
New on Netflix: The best series and films released every day
The best movies on Netflix to watch right now
The best series to watch on Netflix
The most terrifying horrors to watch on Netflix right now
The best documentaries to watch on Netflix right now
The best comedies to watch on Netflix right now
The best thrillers to watch on Netflix right now
The best kids' shows on Netflix to watch right now
The best movies to watch on Amazon Prime
The best series to watch on Amazon Prime

Source: Read Full Article