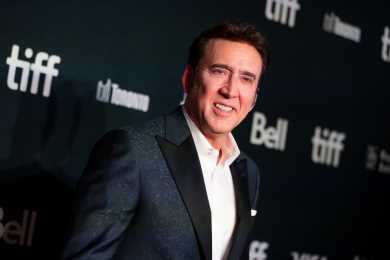 Nicolas Cage's favorite cult film role is one he did for free.
The Oscar winner revealed during a Reddit AMA with "Renfield" co-star Nicholas Hoult that, among his best underseen roles, his favorite remains a small cameo in 1989's "Never on Tuesday."
Cage was asked by a fan what his "favorite lesser-known performance out of your filmography" is, to which Cage responded, "There was a little cameo that I did that lasted all of about one minute in a movie called 'Never on Tuesday.' I don't recommend the entire film. But, it was a performance I did."
The indie movie was written and directed by Adam Rifkin and starred Andrew Lauer, Pete Berg, and Claudia Christian as a trio with car trouble. The film was direct-to-video and produced by Cassian Elwes.
The "Peggy Sue Got Married" star added, "I didn't get paid but the agreement was with the director and whoever was financing the picture that if I do it, they would let me do whatever I wanted. So it was a complete avant-garde experiment and of course I played a character who had a prosthetic nose, which was very long and pointed. And I had this whole concept of this guy who had a very long nose and was having trouble meeting girls so his father bought him a Ferrari Testarossa to help him with that. So I showed up on set with a prosthetic nose and a very high voice driving a Ferrari Testarossa and of course it was very frustrating for all the other actors."
Cage admitted, "They like it now, apparently, but at the time it was like, you can't really fire me because that was the agreement. You said I could do whatever I wanted and he did and so that's my favorite lesser known performance."
Hoult asked, "But wait, did you bring the Ferrari yourself?"
Cage replied during the Q&A, "No, it was somebody's Ferrari and they took it away from me because I was driving it too fast."
Hoult added, "What were you inspired by?" to which Cage confirmed, "Just sort of like a troubled live action version of 'Pinocchio.'"
When later asked what his most "difficult challenge" onscreen was to date, Cage admitted that playing himself in "The Unbearable Weight Of Massive Talent" was a daunting task.
"No muscle in my body tells me to play myself in a movie, and I wanted them to cast somebody else," Cage said.
"Never on Tuesday" director Rifkin told Entertainment Weekly in 2019 amid the cult film resurgence that Charlie Sheen, Emilio Estevez, Cary Elwes, Judd Nelson, and Gilbert Gottfried each came on set for a day to do a "kooky character" and leave. Cage specifically was "given free rein to do whatever he wanted," which was the "caveat" for his contract.
"So, he came, with a big rubber nose, that he wanted applied, and he wanted to play this insane character, which we thought was hilarious," Rifkin recalled. "Now, there's an uncut version of his scene that needs to be unearthed, from somewhere, where he says way more crazy things. That is not the version that ended up in the final film, sadly. But, now, I wish we could find it, because it's really really bizarre. But that's the story of how his character ended up in the film and became such a weird character."
And "Never on Tuesday" is not the only role that Cage didn't get paid for. "Leaving Las Vegas" writer-director Mike Figgis claimed that both he and lead star Cage "never got paid." Cage won the Oscar for Best Actor for his turn in the 1995 film. "They said the film never went into profit," Figgis told The Hollywood Reporter of production company Lumiere Pictures, which financed the film.
Figgis concluded, "Whatever. I mean, my career then took off again, and the next film I did, I got really well paid. And within a year [Nicolas Cage] was earning $20 million a film, so that was quite good."
Source: Read Full Article