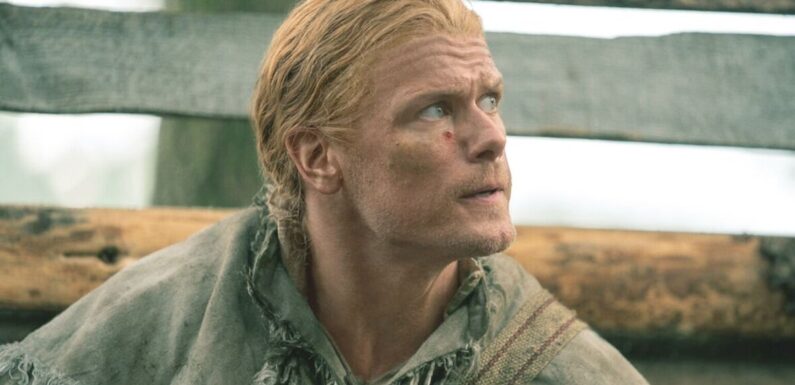 Outlander: Season 7 part 2 teaser for STARZ drama
WARNING: This article contains spoilers from Outlander season 7, part 1
Matthew B. Roberts has addressed why Outlander's hero Jamie Fraser (played by Sam Heughan) was nearly thrown into the jaws of death again during the second Battle of Saratoga in season seven.
Despite enlisting as a sniper, Jamie found himself on the battlefield and taking on other soldiers before he was nearly left for dead.
Claire Fraser (Caitríona Balfe) was left terrified after she thought she'd lost her beloved husband once again to war and she sought him out once the fighting was over.
She eventually located him with two scavengers circling him and hoping to loot what they thought was Jamie's corpse.
However, Claire pulled out a sword and had some choice foul-mouthed phrases to send the mother and son on their way.
READ MORE Outlander producer addresses season 8 and teases series finale ending
Claire also realised Jamie was very much alive if badly wounded from the conflict.
Outlander's boss Roberts reflected on the scene on the Starz show's official podcast: "I always like when Jamie goes up and gets himself hurt usually and near death, Claire finds him.
"That visceral reaction of the relief of seeing the loved one alive and well and it's that moment where you want to shake him and go, 'Why did you do that stupid thing you did?' And then the relief turns to love.
"But I love that initial reaction by Claire and also by Jamie, who always tries to lighten it for the person he's talking to, whether that be Claire or Young Ian or Jenny or whoever he's talking to in the past.
Don't miss…
Outlander's Rachel actress opens up on awkward first meeting with co-star[INTERVIEW]
Outlander's Brianna Fraser star lands new role away from Starz series[UPDATE]
Outlander's Sam Heughan winds up Men in Kilts co-star Graham McTavish again[VIDEO]
We use your sign-up to provide content in ways you've consented to and to improve our understanding of you. This may include adverts from us and 3rd parties based on our understanding. You can unsubscribe at any time. More info
"He tries to make them feel at ease even though he knows he was in grave danger and his life was very much on the line."
Roberts continued: "So, those are always fun, to me, fun moments and you get to see this passion really pop off on screen and they do such a great job there in that particular scene."
Part of the reason for having the cliffhanger between episodes seven and eight with Jamie's fate hanging in the balance was down to the show's scheduling.
Roberts explained how the writers had to sustain audience interest week to week because they didn't drop whole seasons in one go like some dramas.
Not only did this scene heighten the drama but showed the continued burning flame between Jamie and Claire despite the years.
The Droughtlander is now in full force and is expected to be ending at some point next year when season seven, part two premieres.
Roberts has been sharing plenty of nuggets including the absence of one character, who wasn't "production-friendly".
When the show does return for the back half of the season, fans can expect plenty more of these precarious life-and-death moments between the star-crossed lovers.
Outlander season 7, part 2 will premiere in 2024 on Starz and Lionsgate+
Source: Read Full Article