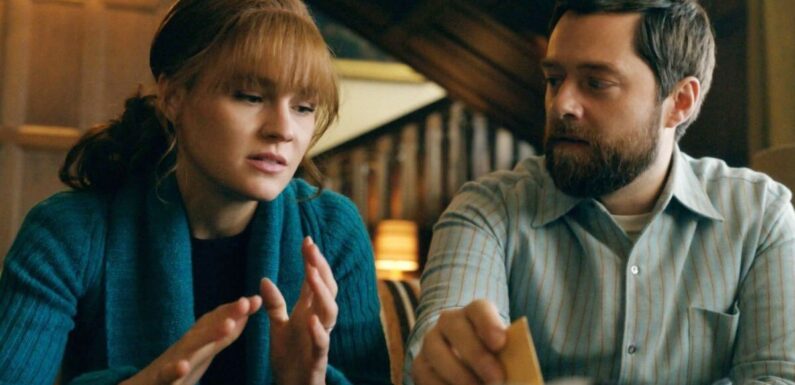 Outlander author Diana Gabaldon returns to the show's set
WARNING: This article contains spoilers from Outlander season 7
While Starz's hit romance drama Outlander concluded for its midseason finale, viewers took to social media distraught about the long wait ahead. 
After a two-week hiatus, the time-travelling series returned to screens for the final episode of the year. 
When episode seven ended with Jamie Fraser (played by Sam Heughan) face down and seemingly unconscious on the battlefield, viewers were able to let out a major sigh of relief. 
Thankfully the finale revealed the beloved Highlander survived and reunited with his wife Claire Fraser (Caitriona Balfe) to fulfil a long-held promise. 
After their journey to Scotland took an unexpected turn, the couple returned to Lallybroch with Young Ian (John Bell) in tow. 
For all the latest on news, politics, sports, and showbiz from the USA, go to Daily Express US.
READ MORE: Outlander boss teases 'devastating' twist for Brianna and Roger
Despite the emotional ending, fans will be forced to wait for a number of months as season seven, part two will premiere in 2024. 
Taking to Twitter with devastation @JBLuvsCeltic wrote: "Sad to have to wait months for it to resume. So many questions to answer. Can't wait. These 8 episodes were great."
@richlyblessed fumed: "Ugh! We have to wait until 2024 to see the rest of the season?!! When did mid-season finales become a thing?"
As @Infiltradax remarked: "I'm sad for the end of #Outlander."
Don't miss…
Outlander boss admits it 'took a long time' to find pivotal season 7 character[INTERVIEW]
Outlander star issues 'squeamish' warning to fans with health update[INSIGHT]
Outlander's Sam Heughan says he's 'pushing for a different ending' to drama[UPDATE]
We use your sign-up to provide content in ways you've consented to and to improve our understanding of you. This may include adverts from us and 3rd parties based on our understanding. You can unsubscribe at any time. More info
While @ismagoga warned: "If they don't release it in January/February at most I'm going to get p***ed off."
Other fans were taken aback by the finale and left emotional by Jamie and Claire's journey back home after many years in America. 
An amazed @DebW88 tweeted: "WOW – What a fantastic episode with every emotion and a perfect mid-season finale."
@shanifraser echoed: "Wow… what a beautiful ending to the first half of season 7, and what an all-around amazing episode! Can't wait for 2024."
Despite Jamie and Claire's happy ending, little did they know their son-in-law Roger Mackenzie (Richard Rankin) was travelling back to the past. 
Roger and Brianna Fraser's (Sophie Skelton) son Jemmy (Matthew Adair) was kidnapped by Rob Cameron (Chris Fulton) after reading Roger's time-travelling guide. 
In hopes of finding his son, he was travelling to the past completely unaware his family had also gone there. 
Outlander seasons 1-7 are available to stream on Starz in the USA
Source: Read Full Article