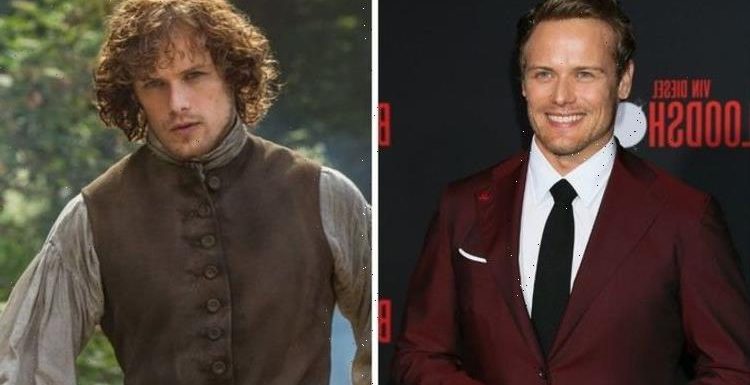 Outlander: Caitríona Balfe discusses season five episode
We use your sign-up to provide content in ways you've consented to and to improve our understanding of you. This may include adverts from us and 3rd parties based on our understanding. You can unsubscribe at any time. More info
Outlander followed the lives of Jamie Fraser (played by Sam Heughan) and his wife Claire Fraser (Caitriona Balfe) in Starz time-travelling series, as they tried to survive in Scotland's 18 century. As the sixth season's premiere nears, the actor opened up about the difficulties he experienced on set.
In June the show gave fans a huge update and announced the production of season six was officially wrapped.

The patient streamers were forced to wait since May 2020, after the unprecedented pandemic delayed shooting by nine months.

During an interview on the Just for Fact podcast with Alex Zane, Sam was asked how he decompressed and made an insightful revelation.

"It really is a transitional moment and it's very hard to switch off," he confessed," for the first few days after shooting and completing a season of Outlander you're still on this hamster wheel of getting things done and everything."
He went on: "I came to London as I had a bunch of meetings and various things going on, suddenly it just dawned on me that I'm done."

"It's the shortest season we've done, it's only eight episodes but it's potentially one of the hardest because we were shooting during a pandemic and there were a lot of factors involved that made it pretty difficult to shoot," Sam explained.

Like much of the TV and film industry the Covid-19 pandemic brought production to a screeching halt as bosses tried to come up with a way to continue filming safely.

The actor added: "I've been celebrating, I've been enjoying being amongst people again and things opening up again."
As well as season six being one the most "difficult" for Sam, showrunner Matthew B Roberts also revealed that it would also have some major changes.
With the upcoming instalment having a shortened seven episodes compared to the 12 episode season five had.
In an interview with express.co.uk, he stated: "[This] led us to the decision to truncate the season in order to bring the fans the most vibrant and dynamic season as soon as possible."
However, viewers had good news as the showrunner shared that the premiere would be an extended episode – lasting 90 minutes.
Season five's finale ended with some major cliffhangers, Brianna MacKenzie (Sophie Skelton), her husband Roger MacKenzie (Richard Rankin) and son Jemmy's attempt to return to the future failed.

Although they had disappeared after being bound together at the mysterious stones, the family returned back to where they started.

Confused, they returned back to Fraser's Ridge – hopefully, season six will explain why the time travel didn't work.

There was also an impending war between Jamie and Richard Brown (Chris Larkin).
Richard's brother Lionel Brown and his men took turns and brutally raped Claire after she encouraged women to become sexually liberated.

Thankfully Jamie came to the rescue, killed the men and brought Lionel to face trial.

However, Claire refused to break her promise of never killing anyone so Marsali Fraser (Lauren Lyle) injected him with a lethal substance.

When Jamie delivered his corpse to Richard, he declared war and threatened the Frasers.

Outlander season six premieres on Starz and Starzplay in 2022.
Source: Read Full Article