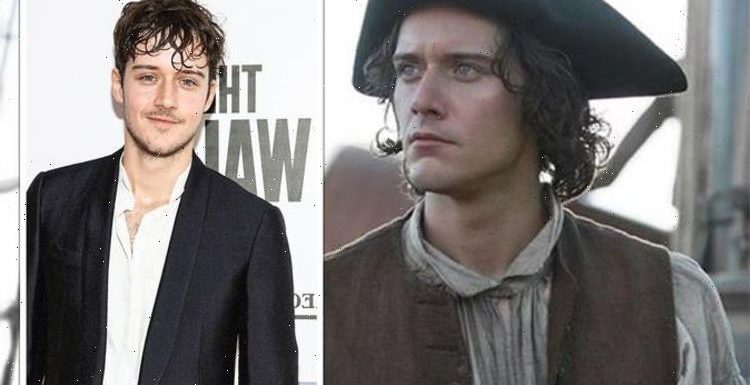 Outlander: Claire and Fergus speak in deleted scene
When you subscribe we will use the information you provide to send you these newsletters. Sometimes they'll include recommendations for other related newsletters or services we offer. Our Privacy Notice explains more about how we use your data, and your rights. You can unsubscribe at any time.
The new BBC drama series SAS: Rogue Heroes' cast list is hotting up as more and more actors join Steven Knight's latest project. Now, Outlander star César Domboy is the latest to join the impressive line-up in an important supporting role with fans sure to tune in in the build-up to season six of the hit historical Starz drama.
On Outlander, César Domboy portrays the beloved French immigrant Fergus Fraser who first joined the series in season two.
The character was unaware of his true parentage and was living in a brothel, until Jamie Fraser (played by Sam Heughan) took the young man under his wing.
Fans have loved witnessing the two form an incredibly close bond, and Domboy's portrayal has frequently been praised.
However, as fans wait for season six of Outlander to arrive sometime in 2022, they should be excited to hear that the actor will be returning to the small screen soon for another project.
Domboy has joined the cast of upcoming BBC drama series, SAS: Rogue Heroes, which is created by Peaky Blinders writer and creator Steven Knight, and directed by The Serpent director Tom Shankland.
Both Knight and Shankland have had immense success with their BBC series over the past few years, and SAS: Rogue Heroes look set to be just as triumphant.
In a report to Deadline, it was revealed that Domboy would join Sex Education's Connor Swindells, Jack O'Connell, Alfie Allen, Sofia Boutella, Dominic West, and Amir El Masry in the series.
The BBC show will explore the formation of the Special Air Service during World War 2.
While little is known about the primary plot, Deadline has revealed a short synopsis, giving a little insight as to what fans have to look forward to.
The series follows the character David Stirling (Connor Swindells) who, after surviving a training exercise injury, decides his current commando training program is not working at all.
He creates a revolutionary new warfare plan and is forced to fight to recruit the toughest soldiers he can find.
These newly recruited soldiers will form a small undercover team and face increasingly dangerous circumstances.
Shankland will direct all six episodes of the series and it is reported that filming is already underway.
SAS: Rogue Heroes is produced by Karen Wilson, Tommy Bulfin for the BBC, and Martin Haines and Emma Kingsman-Lloyd for British production company Kudos.
Alongside the fantastic main cast, the supporting actors include: Theo Barklem-Biggs, Jacob Ifan, Corin Silva, Dónal Finn, Miles Jupp, Michael Schaeffer, and Jacob McCarthy.
The script for the series is loosely inspired by Ben Macintyre's book SAS: Rogue Heroes – the Authorised Wartime History about the creation of the SAS in the summer of 1941.
Creator Knight spoke to Deadline about the project and its casting, saying: "The people who are depicted and who did such extraordinary things were young, in their 20s.
"We have made a conscious decision to cast people of the same age," he continued.
"We enter this project with a spirit of adventure and believe our young and talented actors will do justice to this period of history."
While little is known about how Domboy's character will fit into the story, the rising actor will surely make an impression on screen, and it looks like the BBC have another hit on their hands.
Outlander season 6 is tipped to premiere on Starz in 2022.
Source: Read Full Article