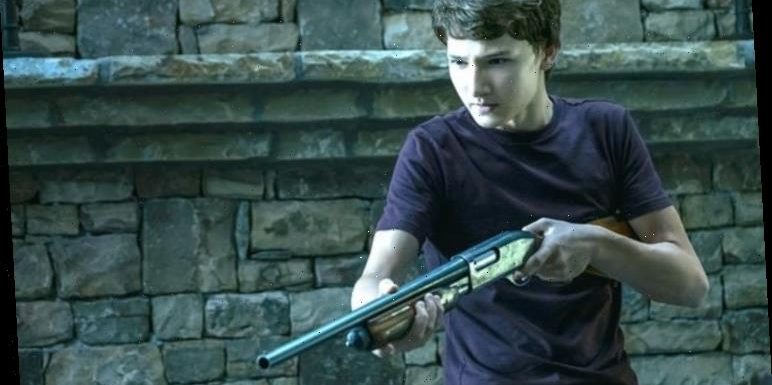 Ozark: Jason Bateman say series four ending is 'satisfying'
When you subscribe we will use the information you provide to send you these newsletters.Sometimes they'll include recommendations for other related newsletters or services we offer.Our Privacy Notice explains more about how we use your data, and your rights.You can unsubscribe at any time.
Ozark season four is coming to Netflix soon and fans believe there will be a huge shake-up in the Byrde family. Jonah (played by Skylar Gaertner) had always shown an interest in his family's affairs and the cartels they are involved with. Some viewers believe the pressure will cause Jonah to suffer a nervous breakdown in the upcoming season.
Will Jonah Byrde be the next Ben Davis?
Jonah has been through the biggest transformation in the series as he evolved from a shy and introverted character to having a violent streak.
At the end of the third season, he realised that villain Helen Pierce (Janet McTeer) had put his family's lives at risk.
He took a shotgun to her home and threatened her, but she threw Jonah off by revealing the truth about his uncle, Ben Davis (Tom Pelphrey).
His mother Wendy (Laura Linney) had been responsible for Ben's death and when Jonah found out the truth, he was heartbroken.
In a fit of rage, he picked up the shotgun and fired it at the family home.
Fans believe this marks the start of Jonah's downfall and he may suffer the same fate as his uncle.
They have taken to the online platform Reddit to discuss their concerns about Jonah's future.
One fan said: "He's an uncle Ben waiting to happen. Seriously every other scene he's in he looks like he's on the verge of a psychotic break.
"I was disappointed in Charlotte for bringing up in front of him that their parents said he acts like a school shooter.
"Twice now, he's been in a situation where he felt the need to threaten someone at gunpoint. Both times it was unclear whether he should've pulled the trigger.
"He's a bright kid who's completely ignored. Seriously nobody acknowledges this guy. He wouldn't be doing other students homework if he wasn't gifted.
"Anyone who he related to is dead now. His family ruined Erin's life right after they kissed. He's seen a looooot of traumatic s*** for his age too.
He has that deer caught in the headlights look for the majority of season 3." [Sic].
Jonah has faced plenty of trauma for a child of his age and it will undoubtedly catch up with him further down the line.
His empty threats could soon lead to real catastrophe if he is pushed too far by his family.
DON'T MISS…
Ozark season 4 theory: Will Jonah take over money laundering business? [THEORY]
Ozark: Why did Del have to die? Fans call for star's return [FAN DISCUSSION]
Ozark season 4: Jonah to help take down FBI for Marty and Wendy Byrde? [THEORY]
Another fan said: "Totally agree with you, I like his character and I'm sad for what's to come."
A third viewer said if Jonah was to survive season four, he would turn into a very "messed-up" adult.
Some fans believe his parents are destined to die in the upcoming season, meaning Jonah will take over the business.
With such an intense amount of power, there is no knowing what he could be capable of.
One fan pointed out how Wendy feared Jonah would end up like his Uncle Ben, and his grandfather.
Another added: "It's not clear that he is like his uncle and his grandfather. Maybe he has a mental illness, but he is angry and violent as a response to losing his uncle and recognizing how crazy his situation is."
Viewers have said they would be disappointed if Jonah became like the rest of his family as he was seen as the most "stable" of them all.
A fan said: "Thinking about it, it honestly wasn't strange at all that he suffered from a mental breakdown at the end of the season.
"His parents have lied to him all of his life. They promised him that everything would be ok with Ben, but one day later his ashes are on their table.
"Then everything gets worse by Helen who told him the truth. Jonah knows she did because her story made sense. It was so sad to watch him realise that his parents actually approved of killing Ben (their family member!)."
Ozark is streaming on Netflix now.
Source: Read Full Article