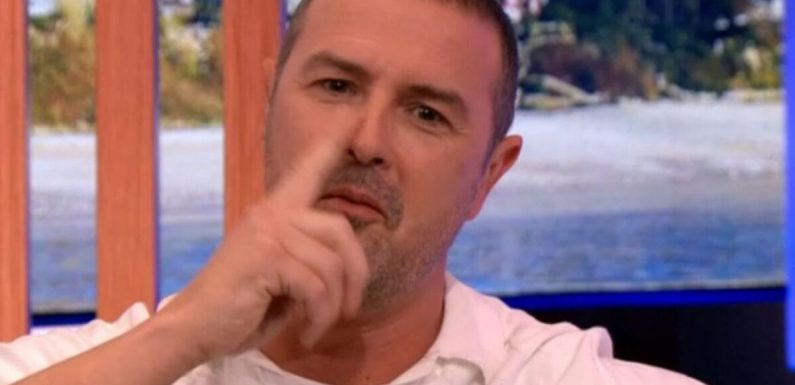 Paddy McGuinness told 'I think we should move on'
We use your sign-up to provide content in ways you've consented to and to improve our understanding of you. This may include adverts from us and 3rd parties based on our understanding. You can unsubscribe at any time. More info
However, things took a slightly awkward turn when Paddy McGuinness was told "to move on" by Jermaine Jenas. The comment came as The One Show hosts chatted about smaller shops wanting customers to pay for items using cash rather than cards because they lose out on money.
Alex Jones began: "A lot of smaller shops beside me only took cards, now they're asking for cash because they're losing out on money every time people use cards, especially under £5 and £10.."
"Fair enough," Alex continued: "I've never got cash on me…"
Turning to Paddy, Jermaine asked: "When was the last time you paid with cash?"
Paddy explained: "Well, weirdly, I mean we are heading towards a cashless society but I kind of just presume everything's chip and pin.
"But there's a little dry cleaners near me that still does cash only, which catches you out and all my mates are in the building game, they're gutted."
Paddy motioned with his hands that his pals used to pay in cash on the sly, as he joked: "They used to like doing the odd… one of them, you know what I mean?"
"Say no more," Alex said awkwardly before Jermaine added: "I think we should move on, I reckon."
Paddy also made another joke about avoiding tax at the end of the programme when he was joined by Busted on the sofa.
Jermaine said: "Talking about being on stage as well quickly… stand-up we haven't seen you for awhile. Can you give us a little bit?"
"We are talking about doing something next year," Paddy replied before adding: "It's not official yet.
"We are just sorting stuff out," he said as he referred to Busted's comeback.
"When you said about, what made you get back together again and why get the band back together.
Don't miss…
Coronation Street's Michael's life at risk as he makes discovery [LATEST]
Four in a Bed star 'hurt' after two guests refuse to stay [VIDEO]
The Bay star hits back after being 'fat-shamed' while pregnant [REACTION]
"All I was thinking in my head was, 'Tax man'. That is my reason."
"The tax man and a mortgage," the Question of Sport presenter added as Busted burst out laughing over his joke.
The One Show airs weekdays at 7pm on BBC One.
Source: Read Full Article