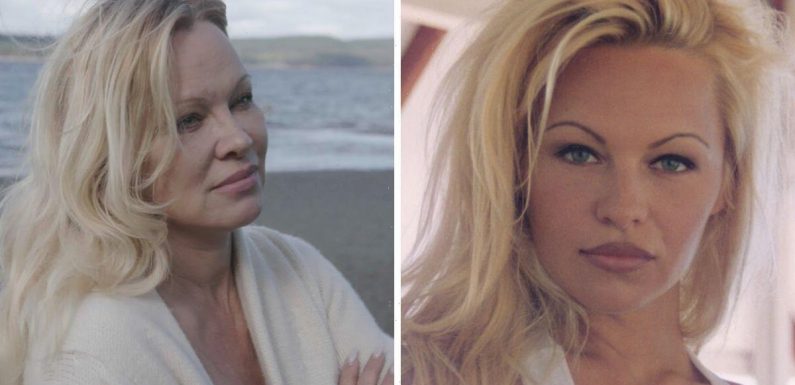 Pamela, a love story: Trailer for Netflix documentary
We use your sign-up to provide content in ways you've consented to and to improve our understanding of you. This may include adverts from us and 3rd parties based on our understanding. You can unsubscribe at any time. More info
Pamela Anderson's insightful and candid documentary titled Pamela, A Love Story has finally landed on Netflix. While fans gain a fresh and unique look as the actress, production bosses have lifted the lid on an important task Pamela was unwilling to do.
For the first time ever, Pamela Anderson has invited the public into the initiate details of her private life.
Her new documentary explores her troubled childhood as well as her international career.
With the addition of journal entries and never-before-seen home videos, fans will also see the former Playboy model as a doting mother to her two sons, Brandon Lee and Dylan Lee.
However, during the makings of the show it was revealed there were a few things Pamela was unwilling to do to aid production.
As well as not wanting to narrate her own journal entries, the 55-year-old had no interest in reshooting scenes.
The producer Ryan White disclosed: "She never wants to wear a microphone, which again makes me love her, but is frustrating technically as a filmmaker.
"If you miss something with Pamela, she is absolutely not willing to do it again.
"She doesn't want to be directed, but I learned to love that in her and adapt to it very quickly."
Ryan continued: "You were always having to chase Pamela because she would be saying these incredible things or telling an important part of the story, but she's running around the room or walking down the beach and she's facing away from the camera.
"As a filmmaker, it gutted me at times because we missed some amazing moments and she isn't willing to do a second take, but I love that as a true character. That's just who she is."
Although a number of things didn't make it on screens Pamela addressed her infamous sex tape, following the release of Hulu's controversial miniseries, Pam and Tommy.
DON'T MISS…
Death in Paradise double exit as fans 'work out' how Neville leaves [INSIGHT]
Pamela Anderson's net worth amazed Netflix director [INSIGHT]
Pamela Anderson wows with Baywatch bombshell look in tight dress [INSIGHT]
Pamela became a household name during the late '80s after she landed a starring role in Baywatch.
As well as embarking on a modelling career, her relationship with Motley Crew drummer Tommy Lee pushed her further into the spotlight.
During their marriage, she gave birth to Brandon Lee in 1996 and then to her second child, Dylan Lee the following year.
However, Pamela and Tommy made headlines after their sex tape was stolen and leaked for public consumption.
The couple had privately recorded it on their honeymoon but the footage was stolen from inside their mansion.
Although the event took place in 1995, the sex tape was brought back to the spotlight with the release of Pam and Tommy.
Ahead of the premiere of Pamela, A Love Story, the actress revealed she had no interest in watching the drama and criticised Hulu for its release.
When asked to describe the network bosses and people behind the series, she labelled them "a**holes," describing the depiction as "salt in the wound".
Pamela has no interest in the show as she revealed she hasn't watched a single minute.
Pamela, A Love Story is available on Netflix
Source: Read Full Article