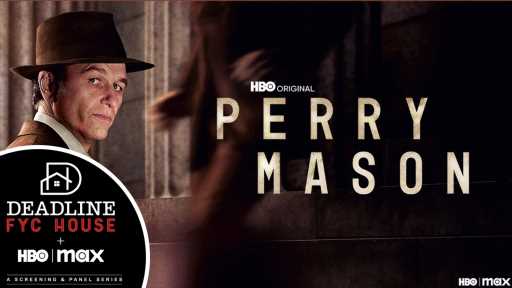 Editor's note: This interview was done outside of the FYC event as there was no cast or creatives panel as a part of the event.
"I think there's a certain pace a noir allows, which at times can be an indulgent luxury," says Perry Mason's Matthew Rhys of the 1930s-set HBO series from Team Downey. "But it really allows you the time for things to unfold. It's a real luxury, I think, for actors to have that kind of time and space, and real estate."
Chatting before Perry Mason was cancelled by HBO on June 6 after a two-season run, The Americans alum certainly has a strong sense of time and space tacking the iconic character in the heart of the Great Depression and the rise of Fascism in Germany, Italy and Spain. Having concluded its second season on April 24, the Rhys, Juliet Rylance, Chris Chalk, Shea Whigham, Justin Kirk, Diarra Kilpatrick, and Jee Young Han starring show left viewers with Mason behind bars for hiding evidence.
Related Story
Mark Ruffalo To Star In Crime Drama Series For HBO From Brad Ingelsby
"It's not justice that's an illusion; it's the system," he tells Rylance's Della Street in the Michael Begler penned Season 2 finale. "So, what are we supposed to do with that?" Mason's legal firm partner responds. "We fight."
To that end, Emmy winner Rhys spoke about the power of Perry Mason's ensemble, the necessary shifts from Season 1 to Season 2, and noir. Rhys also talked about the power of writers, as Begler and fellow The Knick creator Jack Amiel came aboard as showrunners for what turned out to be the show's final season.
DEADLINE:The second season of Perry Mason really saw an evolution of the character. We saw him start to find his footing as a lawyer but also very unsteady as an individual — changing his life to selling of his family home and of course at the very end we see him behind bars. For you, what was the arc of the season getting him from where we saw him at the beginning to where we see him at the end?
RHYS: I think what I was focusing on most, or what I was pushing, especially the writing team, is that I wanted to see the big difference between the end of Season 1 and the beginning of Season 2.
We had the Charlie's Angels moment with him at the end of Season 1. He was in the office. All in the garden is rosy and golden and you think everything is on ascent. What I really wanted at the beginning of Season 2 was that you find Mason in a very turbulent place where he's suffering intensely from imposter syndrome. He realizes the judicial system isn't what he thought it might have been. He realizes he's not the lawyer that he thought he might have been or could be. His world is crumbling around him. I wanted to see how he deals with that.
DEADLINE: How did that manifest itself narratively for you, especially with Michael Begler and Jack Amiel coming on board as showrunners for Season 2?
RHYS: The after-effects of what he achieved in the first case with Emily Dodson in Season 1 really come back to haunt him in a way that he didn't think would. That's what I wanted to start Season 2 with, with this great unrest within him about A who he was, B what the system was, and C how he can see a way forward and then obviously how he then climbs his way back up the ladder. It's not so much an arc. It's more of a vertical ascent but that's what I was interested in.
DEADLINE: Now, of course you play Perry Mason, and that's what the show is called, but this past season was an ensemble effort by anyone's definition, even more so as the series got darker and darker as the times it depicts did with the Great Depression and the rise of the Fascists in Europe. What has that been like?
RHYS: You know, we were just very blessed in the team of people, the cast, that the show has put together.
We're all very likeminded, we all know that the work comes first. So, it was an incredibly focused set, and we all knew it was a bigger, especially Season 2, a bigger ensemble piece really — and that's where it really thrives I think as a show. Everyone is very accepting and very bracing as were the writers. And so, I think everyone strove for that. The work ethic for how we make the scenes the best they could possibly be was always the most present and prevalent for everyone which I just think always elevates television. We all know, you're only as good as you scene partner. So, it's all about hitting the ball back across the net to see what they do with it.
DEADLINE: Of course, there was the absence this season of John Lithgow, because of the death of his E.B. Jonathan character in Season 1. I know that working with him was a great treat for you. In many ways EB is still a character in Season 2, as he looms so large. What was John's absence like for you?
RHYS: Honestly, there's a part of me that wanted to keep him a little more, but you know you cant do everything and it's hard to juggle it all. You know, E.B.'s influence on Mason has been so profound and Mason is the lawyer he is solely because of E.B. He's the lawyer that he listened to and followed and imitated and shadowed and as you say his presence is still very much present. For me, on a more personal note, Lithgow is just enormously missed because he had such an influence on Season 1, and so great to work with.
DEADLINE: From that, you're playing a character who for many people is so iconic. But, unlike the past Perry Mason, this Perry Mason is much more a noir than a procedural and, in that it plays to your strengths. What do you think is the advantages of that in terms of a format?
RHYS: I think there's a certain pace a noir allows, which at times can be an indulgent luxury. But, it really allows you the time for things to unfold. It's a real luxury, I think, for actors to have that kind of time and space, and real estate.
DEADLINE: How?
RHYS: Well, you don't feel rushed or burdened with the speed of narrative really. I always felt like as a genre, noir allowed us to really stretch out like a cat at times.
DEADLINE: You know, as you say that, it makes me think of the opening scene of Season 2.
RHYS: The milk bottle scene?
DEADLINE: Yes, there's so much visual information in it. It harks back to Mason's family dairy farm, the past, the life not lived, and then you come out looking like you've had like either the greatest night of your life and the worst morning. You look at the paper, you take that swig from the milk bottle. It set the stage, just like it was supposed to. It said, he's here and this is happening now. You know what I mean?
RHYS: Oh Yeah, yes. I think they always strive to do as much storytelling in any one scene that's possible, and like you said I think that opening shot said so much about where Mason is and what he's going through. That's when I think we're best is when we're doing an incredible amount of storytelling in basically one shot. That for me is a measure of success.
DEADLINE: In that context, how did Michael and Jack joining the show change things, and the way the show worked for you?
RHYS: Dominic, I was very fortunate on this show.
Both sets of writers were incredibly open to anything I kind of had to say, and they were very much on board together to make this a great collaboration. I think the concern of coming back to Season 2 is you're never quite sure whether you should repeat. If you are brought back, it means there's a degree of success with the first season, so I think the temptation is to repeat what you did or to go completely the other direction. Both can be equally as dangerous.
DEADLINE: Well called …
RHYS: (Laughs) So, I did welcome fresh eyes and ears onto the project because obviously they can't completely change the project or the characters, but what they can do is bring a new perspective to an audience and that I thought was very exciting. What they had to pitch I thought was great. Jack and Michael had an immense amount of layers that they want to build the conflict. Conflict not just within everyone, but with each other. There was a degree of humor they wanted to open up in Mason which I was both reticent and welcoming of as long as it was done properly. I think there was a great deal of gallows humor that could belong to Mason.
DEADLINE: It was highly effective actually.
RHYS: Yeah. I totally agree. There was a levity I think the show needed also because we deal with such at times dark materials. Yeah. It was executed very deftly and subtly in a way which I thought felt right. But, that's what I think of the whole Perry Mason experience, you know.
Must Read Stories
In-Person Screen Tests Loom As 'Superman: Legacy' Closes In On Clark Kent & Lois Lane
Ryan Reynolds & Kenneth Branagh To Lead Action Pic 'Mayday'; Director Duo Set
'Indiana Jones And The Dial Of Destiny' Tracking For $60M Debut: Here's Why
25-Year CBS Studios Vet Kevin Berg Exits As Production Consolidated Under Liz Miller
Read More About:
Source: Read Full Article