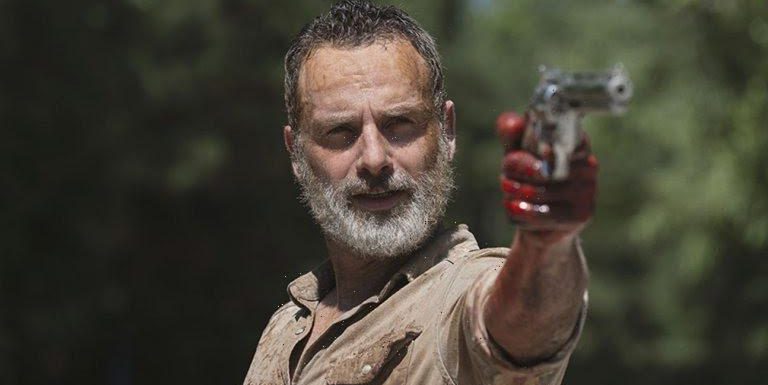 ANDREW Lincoln is returning to The Walking Dead in three new movies for AMC.
The 45-year-old actor revealed he is leaving the hit zombie drama at the end of series 9, but fans will be delighted to hear that he will reprise his role as Rick Grimes in a movie franchise.
AMC content chief Scott M. Gimple told The Hollywood Reporter: "There is more story to tell and we'll be telling it.
"The story of Rick will go on in films. Right now, we're working on three but there's flexibility in that.
"Over the next several years, we're going to be doing specials, new series are quite a possibility, high-quality digital content and then some content that defies description at the moment.
"We're going to dig into the past and see old characters. We're going to introduce new characters and new situations."
However, Gimple hinted that Rick doesn't live on past the TV series.
He added: "Rick Grimes is an amazing character and Andy has done an amazing performance.
"There were story ideas brewing that, as the years went on, seemed very compatible with continuing to tell the Rick story in another format that would allow him time with his family."
The star was supposed to leave at the end of season 8.
There was speculation that Lincoln decided to leave because of creative differences with AMC.
He was thought to have objected to the current state of the show, and fans wondered if it was because Rick's son Carl was killed off.
He said last year: "This will be my last season playing the role of Rick Grimes. It means everything to me."
However the star, who lives in London, told Entertainment Weekly that he wanted to spend more time with his family and said: "I have two young children, and I live in a different country, and they become less portable as they get older.
MOST READ IN TV & SHOWBIZ
LEGEND DEAD
Meat Loaf 'dies of covid' age 74 with wife by his side as tributes pour in
Adele's wrecked God knows how many dream trips for fans, says Piers Morgan
Elton John forced to cancel tour dates after testing positive for Covid
Carol Vorderman reveals heartbreaking reason mum forced her to leave home
"It was that simple. It was time for me to come home."
He tried to leave then to spend more time with his family, but backed out when he realised he wasn't ready to go.
He said at the time: "I can't do it. I've got Norman, I've got Danai, I've got Jeffrey, I've got Melissa McBride, I've got Greg Nicotero. All these beautiful friends of mine and I don't know if I can do it yet. I don't know if it's time."
You can catch up on seasons 1-8 of The Walking Dead on NOW TV.
Source: Read Full Article