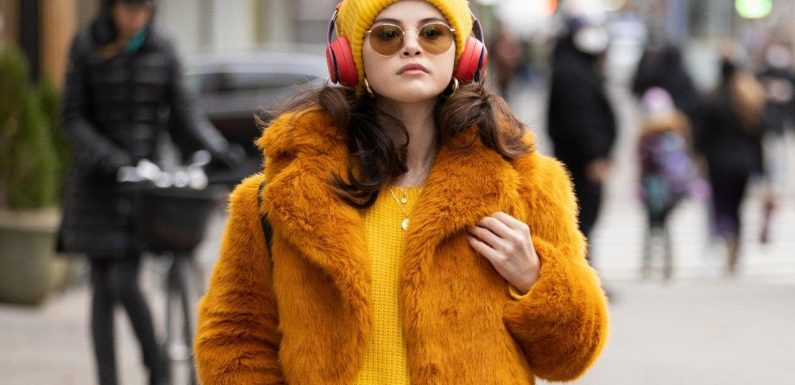 The 'Lose You to Love Me' singer, who receives praises for her portrayal of Mabel Mora on the hit Hulu series, however, appears to have drawn the line at how much she's attached to the character.
AceShowbiz –Selena Gomez shares some common things with Mabel Mora, her character on Hulu's "Only Murders in the Building". In a new interview, the singer/actress reflects on her ability to step into the character, who is depicted as a bada** young woman.
"Being standoffish is not foreign to me," Selena admitted in an interview with the U.K.'s The Sunday Times which was published on Sunday, June 26. The "Lose You to Love Me" singer went on to say, "Most of the time, I don't trust a lot of people."
Despite sharing some similarities with Mabel, Selena appeared to draw the line at that. Back in May, she talked about her hesitation to co-sign on a musical episode of the show's second season, which is set to premiere on June 28. "Personally, I want to be kind of careful," she explained on Deadline's "Crew Call" podcast. "I love being Mabel and I love that she's an extension of me, but she isn't necessarily me."
That aside, Selena teased that Mabel's story is a triumph in season 2 compared to the first one. "With my full confidence in my body, this is a millions times better than season one," she shared. "We've just got our characters down, we really have a well-blended cast, it's really diverse. You're going to be surprised."
"Only Murders in the Building" is a mystery-comedy streaming television series created by Steve Martin and John Hoffman. It follows three strangers, Charles (Steve), Oliver (Martin Short) and Mabel (Selena), who share an obsession with a true crime podcast. "When a grisly death occurs inside their exclusive Upper West Side apartment building, the trio suspects murder and employs their precise knowledge of true crime to investigate the truth," the official logline reads.
Debuted as the most-watched Hulu Original comedy on premiere day as well as the most-watched comedy on premiere day across all SVOD titles ever on the platform, the series has received critical acclaim. It won The Comedy TV Star of 2021 at People's Choice Awards and earned several nominations, including Best Actress in a Comedy Series for Selena, at the 2021 Critics' Choice Television Awards.
Hulu renewed the series for a second season which is set to premiere on June 28. "Everyone in our amazing 'Building' worked with such love and expertise through extraordinary times – and with incredible support from Disney, Hulu and 20th TV – to create a first season that might live up to our legendary cast, our beloved New York City, and to make a show about connection," said Hoffman back in September 2021.
He added, "To feel we've connected with our audience and hit the mark enough already to have the chance to continue – and to carry on our show's wild ride of mystery-comedy-empathy – is too exciting for words. So I'll shut up now, and just say a huge thanks to all and I can't wait for more!"
Source: Read Full Article