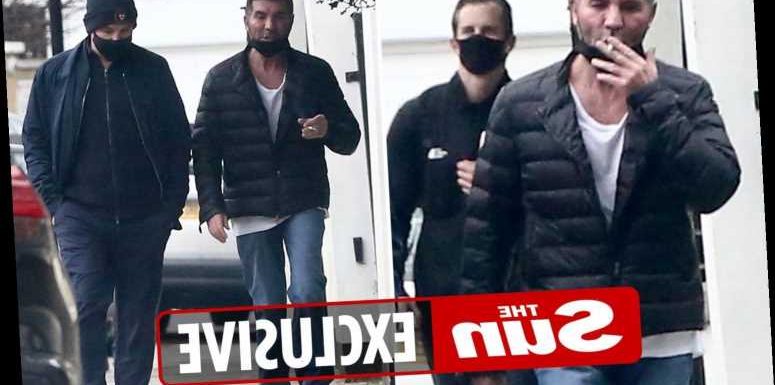 SIMON Cowell was spotted smoking in London after vowing to quit.
The music mogul, 61, was seen walking through the capital with a cigarette as he spoke to a friend.
Simon wore a black puffy coat with blue jeans and a low-cut white T-shirt.
His mask was pulled down to his chin as he puffed on the cigarettes.
Meanwhile, his friend wore blue trousers with a matching jacket, complete with a bobble hat and black fleece.
The pair seemed engrossed in conversation as they walked near his home in London.
The long time smoker has tried to kick the habit a few times.
In 2013, he Tweeted that he had "cut down smoking" and was using an electronic one.
Then when his son Eric was born in 2014, he attempted to give up – but eventually decided to make his home a "smoke-free zone".
Then in October 2017, he was rushed to hospital after fainting and taking a tumble at his London home while fetching some milk.
He then promised to take better care of himself, and told Now magazine that he was cutting down to two cigarettes a day.
Since then, he's followed a mostly vegan diet and has managed to keep off 20 pounds of weight.
Simon has recently said he's "fitter than ever" after smashing "his spine to pieces" following a horrific bike accident last year.
The X Factor boss passed out from the pain of breaking his back when he fell from his electric scooter last August.
Speaking to ex-girlfriend Terri Seymour on Extra, Simon said: "I've never been in this situation in my life where you literally can't move.
"The pain was off the charts… But you've got to stay positive…
"I made a promise to myself I'd be fitter than I was before I had the accident. Sure enough, that's what happened."
He added: "I knew I'd broken my back the minute I landed. It was really, really kind of sudden and it hurt.
"It could have been a lot worse. When I saw the X-ray, I really nearly could have smashed my spine to pieces, so I literally wouldn't have been able to walk."
Source: Read Full Article