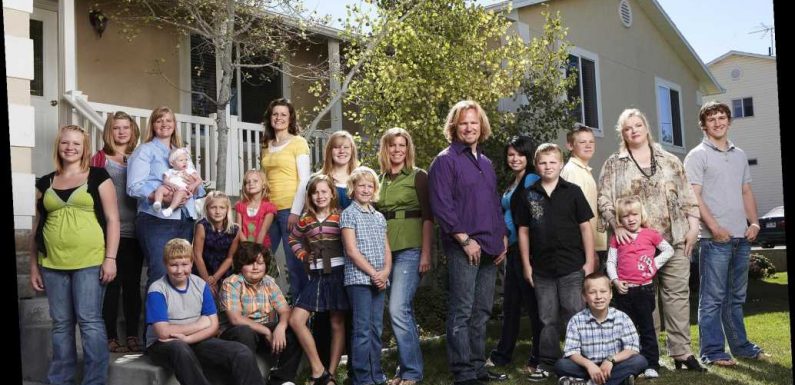 Meet the Browns!
The Brown family has long captured public attention as the stars of the TLC series Sister Wives, providing a glimpse into the unconventional lifestyle of their plural family for more than a decade. 
The series follows polygamist Kody Brown and his wives Meri, Janelle, Christine and Robyn, with whom he shares a combined 18 children. The family tree can be hard enough to pin down, especially now that some of the children are getting married and having children themselves — so we've rounded up everything you need to know about the sprawling Brown family and some of their most dramatic moments in the show's 10-year history. 
1

of

9
Meri Brown
The first of Kody's wives, Meri grew up in an expansive polygamous family of her own — she's one of 25 siblings! — and was introduced to Kody by one of his sisters in 1989. The pair wed the following April. Five years later, they welcomed their only child together, daughter Mariah. Mariah, who came out to her family in January 2017, popped the question to now-fiancée Audrey Kriss in February  2019, after two years of dating. 
2

of

9
Meri Brown (Cont.)
Meri was Kody's only legal wife until 2014, when they divorced (while remaining "spiritually married") in order for Kody to marry fourth wife Robyn so he could adopt her children from a previous marriage (more on that later!). 
The pair's relationship is currently strained, with Kody recently revealing that they rarely see each other since they "quit dating" after he stopped pursuing her. 
They've experienced a number of ups and downs over the years, starting with their divorce, which Meri found more difficult to process than she'd anticipated. 
Just a few months later in October 2015, they were caught up in a catfishing scandal when Meri revealed she'd been in an online relationship with someone she thought was a man – but was actually a woman. The couple tried therapy afterward to rebuild their marriage, though they remain on the rocks. 
3

of

9
Janelle Brown
Three years after tying the knot with Meri, Kody and Meri introduced Janelle into their marriage. Kody's union with Janelle remains a "spiritual marriage," and the pair have welcomed six children together: sons Logan, Hunter, Robert and Gabriel as well as daughters Madison and Savannah. 
The pair's oldest child together, son Logan, proposed to his longtime love Michelle Petty in 2017. Kody and Janelle's oldest daughter, who goes by Maddie, wed husband Caleb Brush in 2016, and the couple have welcomed two children together — the only grandchildren in the Brown family as of yet —  son Axel, born in May 2017, and daughter Evangalynn, born in August 2019. 
4

of

9
Janelle Brown (Cont.)
Janelle spoke candidly on the show about the changes in the plural family dynamic since the crew's move from Las Vegas to Flagstaff, Arizona, in the summer of 2018.
"Our family has been feeling really challenged since we came to Flagstaff because we've had to be in four separate homes," Janelle explained. "I'm very worried, because it looks like it's going to even be more separation," she added at the onset of the COVID-19 pandemic, when the family hunkered down to avoid potentially spreading the virus among households.
5

of

9
Christine Brown
Kody's romance with third wife, Christine, was a whirlwind. The pair were first introduced in 1990, and after developing a friendship, they went on their first date on Valentine's Day in 1994 — when Kody proposed. The couple "spiritually married" the following month, and went on to welcome six children together.
Christine grew up in a polygamous family and knew she would pursue the same structure for herself. "I only ever wanted to be a third [wife]. I never wanted to be a first, at all … I only ever wanted to be a third because it sounded the easiest," she previously said on the show. 
In a recent teaser for the new season, Christine's relationship with Kody also appears to be on the rocks as she admits, "I freakin' want to move back to Utah, even though the girls don't want to." She later confides in Meri that she is second-guessing her marriage to Kody, sharing, "Meri, I can't do marriage with Kody anymore." 
6

of

9
Christine & Kody's Kids
https://www.instagram.com/p/CJXISKGBOEu/
https://www.instagram.com/p/CJXISKGBOEu/https://www.instagram.com/p/CJXISKGBOEu/
Christine and Kody share six children together: son Paedon and daughters Aspyn, Mykelti, Gwendlyn, Ysabel and Truely. Aspyn tied the knot with husband Mitch Thompson in June 2018, and Mykelti is currently expecting her first child with husband Tony Padron.
7

of

9
Robyn Brown
The most recent addition to the Brown family, Robyn and Kody met at church in 2009 and "spiritually married" the following year. In order to adopt Robyn's three children from her previous marriage — son David and daughters Aurora and Breanna — and provide them with access to the same insurance and other benefits as his other children, the pair legally married in 2014, following his legal divorce from Meri. They've also welcomed two children together, son Solomon and daughter Ariella. 
8

of

9
Celebrating Utah Decriminalizing Polygamy
The current season of the show sees the Brown family celebrating the May 2020 decriminalization of bigamy in Utah. The family, who had previously sued the state to legalize polygamy, originally left Utah for Las Vegas in 2011 out of fear of persecution for their plural family structure. 
"This is news we've hoped to actually give our kids for 10 years or more," Kody said on the show. 
Prior to the law, "bigamy was a third-degree felony, legally punishable by up to five years in prison and up to a $5,000 fine," according to CNN.
"This change in polygamy law is hard-earned and way overdue as the polygamist community in Utah has been marginalized for over a century. I feel that this is just the first step to destigmatize plural families," Kody explained.
9

of

9

Source: Read Full Article